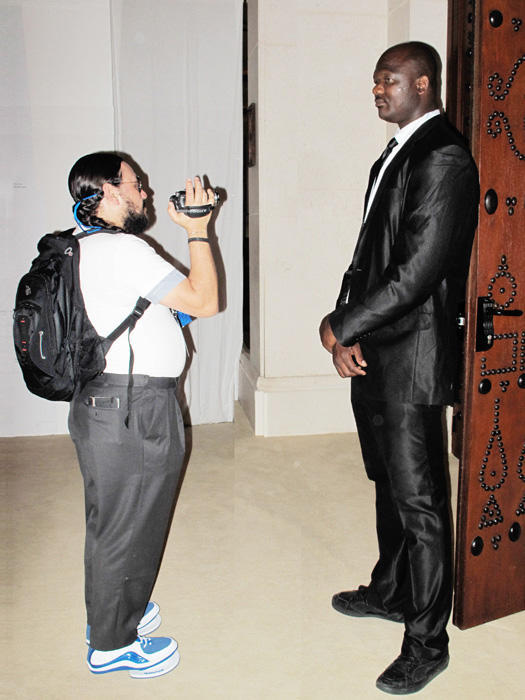 This past March, Bidoun Projects was the curatorial partner of Art Dubai. We would like to extend a big thank you to all of the artists and curators who contributed to our programs, performances, talks, and exhibitions at the fair.
Among the projects produced were substantial new commissions by Ebtisam Abdulaziz, Vartan Avakian, Farhad Moshiri, and the duo of Shamma Al Amri and Mona Fares, as well as the remaking of Alice Aycock's seminal 1971 work Sand/Fans. Matt Sheridan Smith and Nikolas Gambaroff produced a version of their collaborative piece Stoop, and Khalil Rabah, Sophia Al-Maria, and Daniel Bozhkov each led highly popular artist's tours of the artworks and booths throughout the fair. 'A New Formalism' was a group exhibition curated by Bidoun that included work by U5, Iman Issa, Mahmoud Khaled, and Hazem El Mestikawy. We also exhibited a version of 'Forms of Compensation' (a project featured in our last issue) at a booth within the fair, featuring counterfeits of iconic artworks fabricated in the auto mechanic neighborhood around the Townhouse Gallery in Cairo. Several days later, the same show (with second-wave counterfeits of the same artworks) opened at Townhouse.
The Art Park in the Bidoun Lounge was the place for panels and discussions, and this year we celebrated our yearlong and growing collaboration with UbuWeb, an incredible online resource of avant-garde film and sound, by inviting the site's founder Kenneth Goldsmith and filmmakers Peggy Ahwesh and Hamlet Hovsepian to present their work in Dubai. We also featured a discussion on artists and libraries courtesy of Banu Cennetoğlu, Vasif Kortun, and Payam Sharifi of Slavs and Tatars, and The Big Idea, a "pitching forum" for new ideas that was packed by young Emirati artists, designers, and entrepreneurs on the opening night of the fair.
Many thanks also to project staff of Tima Ouzden and Badriah Al Khoury, and a dynamic team of interns managed by Bader Saud Bukhari.
We also launched Bidoun Video, an annual touring video program curated by our staff and guests, which at the time of writing is about to screen at Townhouse, as part of 'Invisible Publics,' curated by Sarah Rifky (May 23–June 20). This year we're showcasing four programs: Strike a Pose (Özge Ersoy and Sohrab Mohebbi); Cloudy Head (Bidoun); Hollywood Elegies (Aram Moshayedi); and Exploding Nostalgia (Masoud Amralla Al Ali and Antonia Carver).
The Bidoun Library also continues its peregrinations, from Art Dubai to 98Weeks in Beirut during April. Next stop is the New Museum in New York. June 1 marks the opening of a permanent home for the library at Shelter, our base in Dubai.
The six-month Writing About Art program came to an end in May, with around forty writers from the Gulf and beyond completing this intensive course of seminars and workshops. Managed by Antonia Carver and Hassan Khan, with Ali Al-Sabi, lead tutors included Kaelen Wilson-Goldie, Kevin Mitchell, and Shumon Basar. Guest presenters and artists included Douglas McLennan, Wael Shawky, Clare Davies, Abbas Akhavan, Jeffar Khaldi, Jonathan Shainin, and Murtaza Vali. Thanks to the support of Dubai Culture and Arts Authority (Dubai Culture), the course was offered for free.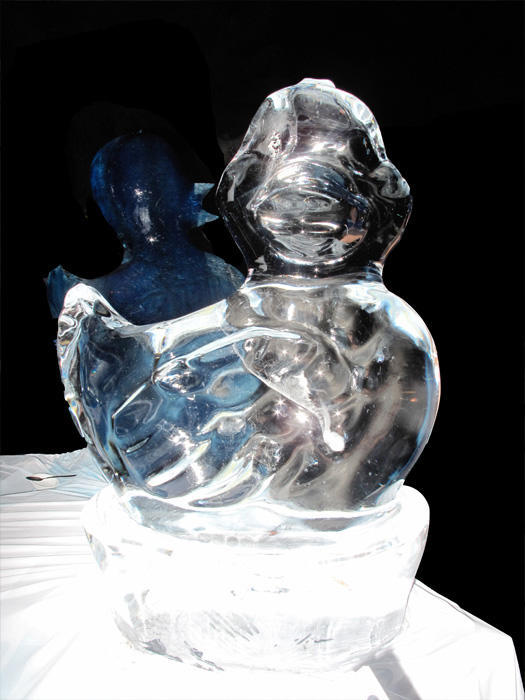 And as ever, keep abreast of our media archive BubuWeb, our repository for avantgarde media from in and around the Middle East, hosted by UbuWeb (www.ubu.com). Our latest additions to Bubu include rare animations by Iranian artist and Kanoon pioneer Ali Akbar Sadeghi, an early short by Senegalese filmmaker Djibril Diop Mambéty, animations by Indian avant-garde filmmaker Rani Day Burra, and more.
See www.bidoun.com and sign up to our e-newsletter for further news and updates.