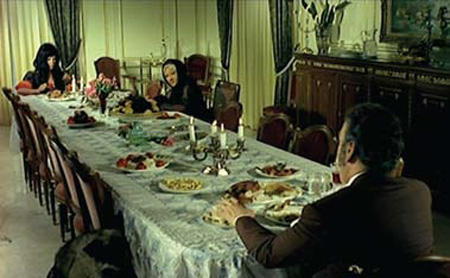 In a grand reception room, little girls holding candles circle a throng of chanting adults; Kuwaiti men recline in sofas, dazed, smoking what appears to be hashish; and two German shepherds are caressed by the writhing, just-short-of-orgasmic hostess, Soraya. Stumbling in by chance, a fellow named Anwar recognizes her and recalls their meeting and short-lived affair of years past, back when she was an exotic dancer in Bangkok. A little later, we learn Soraya is having an affair with her mother-in-law, an old woman dressed in an Abaya and confined to a wheelchair.
Welcome to the world of Thiab la ta'kol al laham (Wolves That Do Not Eat Meat). Occasionally referred to by its second name, Kuwait Connection, Wolves was made in 1973 by Lebanese film director Samir A. Khouri with the cooperation of the Kuwaiti Ministry of Communication. I was introduced to Wolves by a friend in the fall of 2005, in Kuwait. I swiftly made a small batch of bootleg copies of the already pirated DVD and gave them to many others, both at home and abroad. I was in love with the huge cop cars, the cops' tight-waisted pants, the Kuwaitis wearing dishdashas with aviator sunglasses (doubtless inspiring the drooling of any gay child), and the old Hilton as a mecca of bad behavior.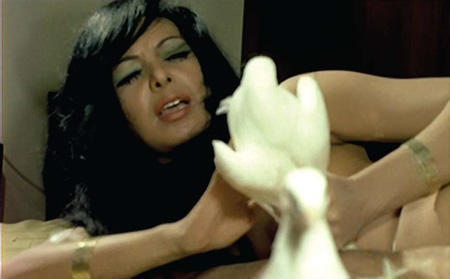 Here's how the story goes: Anwar, a former journalist of ambiguous provenance, commits a murder and is chased by the cops into the desert. Half-awake, he walks into a mansion, meets his ex-lover Soraya, and is nursed by her, promptly inspiring the resumption of their affair. As he recovers, he learns that Soraya's husband is not entirely thrilled by his presence. Soraya, as noted, is also involved with her mother-in-law. In one scene, we see her thigh-high suede boots rocking back and forth on a swinging garden seat in front of the old lady (Kuwaiti actor Mohammed Al Mansour in drag), who confesses, "You're the only one who's obedient and loyal to me, so much that you haven't withheld your soft body from me."
Anwar and Soraya later become embroiled in a fast-paced gang plot, having stolen money from a group of American gangsters staying at the Hilton. Another chase takes place. Meanwhile, Soraya's husband is killed, and the entire house is under investigation by the Kuwaiti police, who later pinpoint the mother-in-law as the culprit (who turns out to be Soraya's daughter-in-law's fiancé dressed up as the old woman). The film ends with the cops and robbers chasing Anwar and Soraya onto a beach at sunset. Their jeep comes to a halt as they die from bullet wounds while contemplating their doomed love. A backdrop of slow-motion shots of the main characters in skull masks, running with outstretched arms toward the camera, ensues.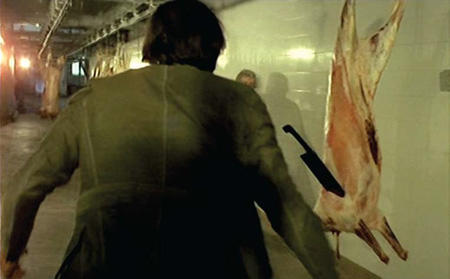 What sort of country could have inspired such a strange tale? Kuwait in the 1970s was hardly a conservative place. After all, how many countries could boast a water tower holding a state-of-the-art disco with breathtaking views? (An exceptionally odd combination of utilitarianism married to debauchery.) ABBA, James Brown, Boney M., and Andy Warhol were among the many artists who played in this tiny, unassuming state. This was the world of Wolves That Do Not Eat Meat, a film romp through that decade, care of Kuwait's old souk, baroque mansions, deserts and beaches, the sheep market, and — perhaps most iconic — its original Hilton Hotel. (Partially demolished sometime in the 1980s, its ruin is now a pitiful simulacrum of its former self.)
Of course, whether Kuwait was swinging or not, the film's pan-generational lesbianism alone would have audiences running into the streets screaming, back then or today, especially when coupled with witchcraft, drug-taking, brutal sheep killing, and sex involving live animals. In one particularly memorable scene, Anwar and Soraya rub doves on their bodies in the bedroom of a slow-moving yacht. (In another scene on the very same yacht, the lovers spill champagne on each other and make out with surprising vigor.) But the film's penultimate scenes' unusual candor — with the exception of the use of fleshy tights (a strange form of censorship) — seems more liberating than sinful. The fact that Anwar and Soraya are portrayed, in all their soft-focus glory, as happy and innocent during their lustful times in Bangkok seems to confirm that.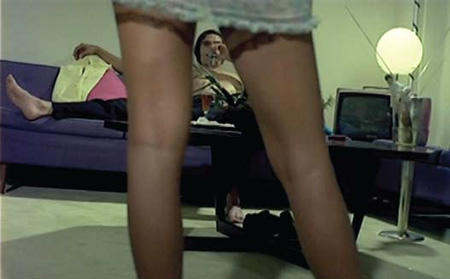 The saving grace of Wolves may have been its particular moral universe. Indeed, on some level, Wolves also operates as a traditional tale of good and evil. All the characters who have sex in the film end up dead or, in one case, betrayed beyond belief. Anwar, in the meantime, has been thrust into a life of violence and decadence due to the many horrors he witnessed in his former life as a journalist. The most moving, and also perhaps most disturbing, scenes in the film pop up as he recalls the horrific faces of the dead at the site of the massacre of Deir Yaseen, where countless Palestinian lives were lost.
What the Kuwaiti state was doing funding such a film remains a mystery to this day. Was it to present a "liberal" face to the world? All we know is this: Khouri, the film's foreign-educated director, considered his an artistic film rather than a simple B movie. He produced two other films in his lifetime. One, the Eyes Wide Shut-esque Sayidat el aqmar el sawdaa' (The Lady of the Black Moons) was filmed in the streets of Beirut and was equally racy, marked by just as many generous shots of thighs and other unmentionables (remember, films with the standard codes of international intrigue — tough guys, hot girls, and drug cartels — were a dime a dozen during this time). Years later, in 1984, Khouri directed Amani tahta qaws el qozah (Amani Under the Rainbow), a weirdly stirring, if histrionic, musical about the Lebanese civil war, featuring child star Remi Bandaly.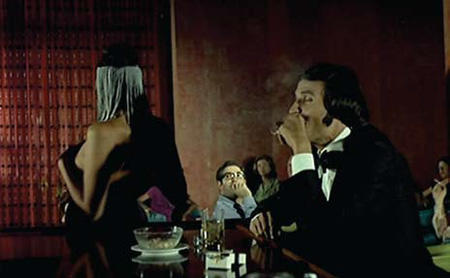 As for Wolves, it did not enjoy the level of success his first film did, nor that of The Cats of Hamra Street (Qotat sharia el hamra), which was released the same year and remained one of the few R-rated Arab films produced, screened, and released as such. And though Wolves was screened successfully in Lebanon and Tunisia, this perfect meeting point of tragicomic play and porno was banned in Kuwait, the country of its birth, three days after its cinematic release and also banned in Egypt, the film-industry capital that could have made it famous.