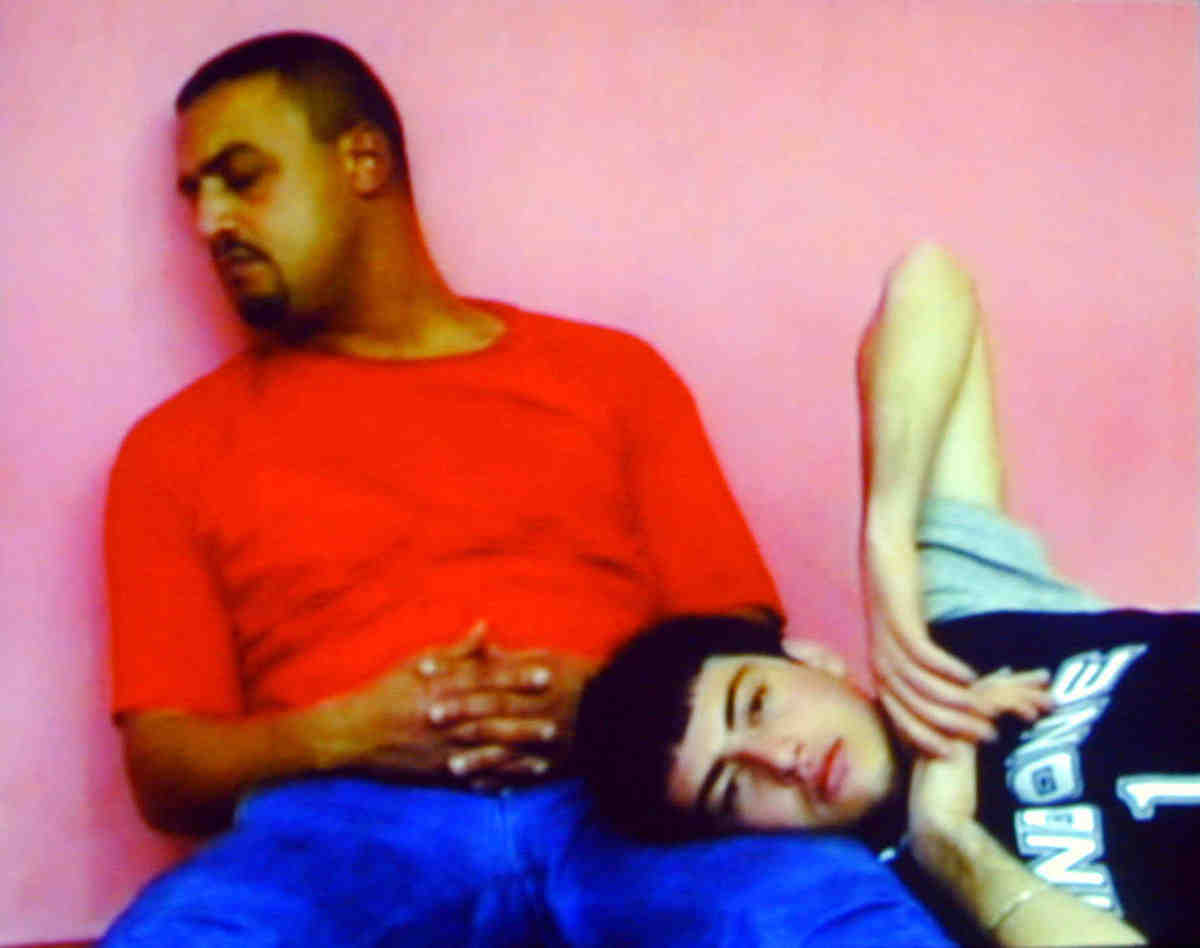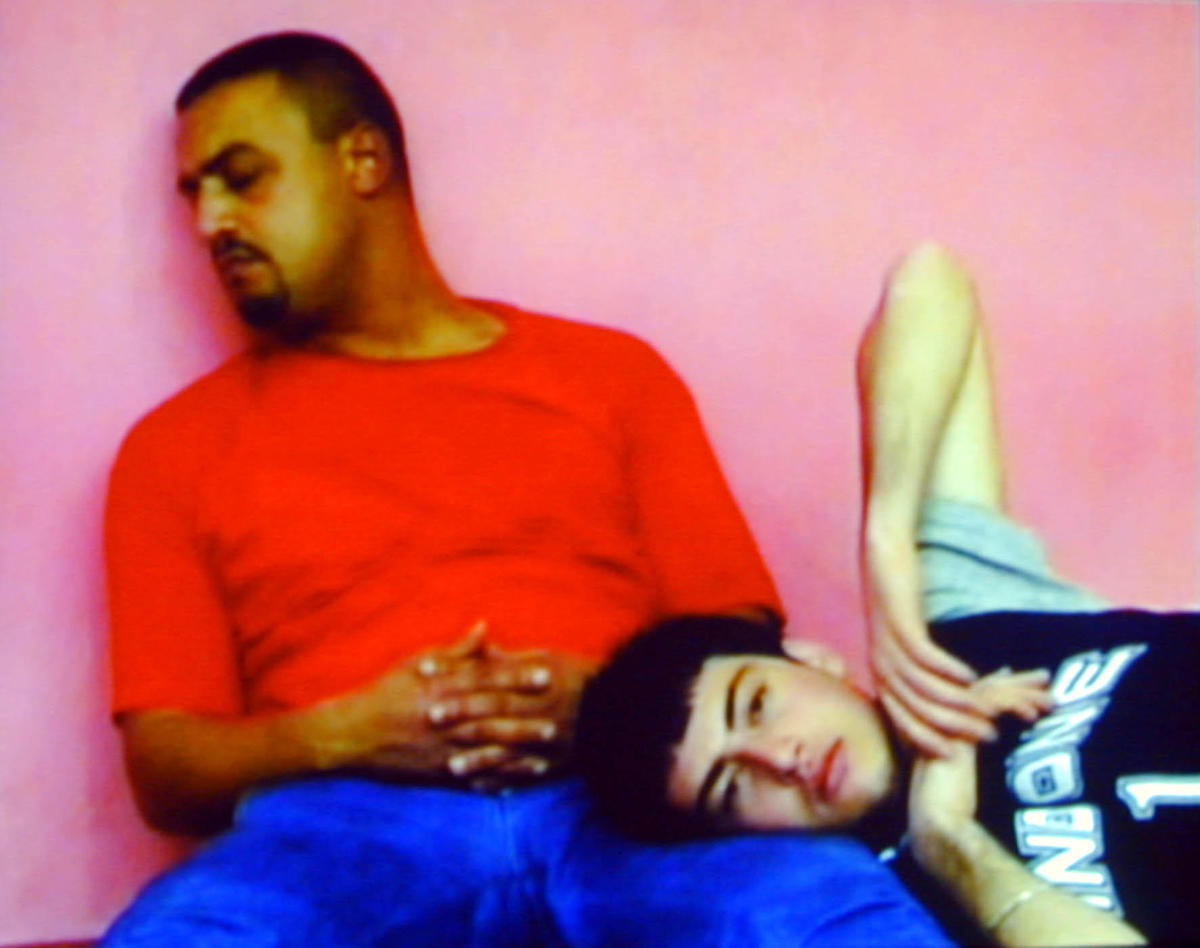 Dublin
They Shoot Horses
Kerlin Gallery
May 8–June 5, 2004
In March 2004, artist Phil Collins held auditions in Ramallah, and consequently filmed two separate groups of young people dancing throughout the course of a working day, without any breaks. The resulting video, They Shoot Horses — a two-screen, seven-hour installation depicting a disco dance marathon — was exhibited at the Kerlin Gallery, Ireland, two months later. The gallery described the work as being "about cultural translation and cultural imperialism; about the liberating nature of music, and the cabin fever mentality, generated by eight hours of repetitive action. It is at once concerned with survivalism and collapse; heroism and exploitation. For Collins the point of an artwork is to fall in love, and the point of love is to realize our place within the world."
Currently based in Brighton, UK, Phil Collins has lived, worked, and exhibited his work in live performance, photography, video, and social activism in numerous locations, including Belfast, Belgrade, New York, and Baghdad. Bidoun asked Collins to keep a diary of his experiences in making They Shoot Horses in Ramallah.
"It all started I suppose with me writing to Jack Persekian. Now Jack is the director of the Al Ma'mal Foundation in Jerusalem. But still, I didn't know whether he'd be interested in my idea — to organize, execute and film a disco dance marathon in Ramallah, which would afterwards be exhibited as a real-time video. In fact, I thought he'd hate it. Something so dumb and frivolous as this exploitative conceit, which spoke precisely about exhaustion, collapse, and heroism but in a palette of pop idol candy-pink colors. In Britain, when we think about Palestine, it never seems to be in reference to modernity, or culture — in fact it's relentlessly positioned in the media as uncivilized, philistine. The disco dance marathon would be a way of looking at beauty under duress and entertainment in a place of routine indignities.
"Ten days later I'm standing with Iman Hammouri in the Popular Art Center over the road from the local mosque, and I'm holding auditions in which I play Beyoncé and Joy Division over and over. And the dancers, they're heart-stoppingly beautiful, I mean they take your breath away — they're kind of shy and awkward but when they rock, they really flip out. I choose nine, and I film two groups over successive days dancing to the same soundtrack, from northern soul to acid house, from Love Hangover to Xanadu, from ten in the morning until six without breaks. Or so I thought. I take the role of cheerleader, DJ, cameraman, bouncer. I'm like a one-man band but with more to do. Have you ever tried to dance for eight hours? It's a killer. There's a kind of madness, or cabin fever that slowly descends upon a group. It's insane. In the course of the video they do aerobics to hi-NRG hits, they do folk dancing to Gina X. Someone starts dry-retching at Aretha Franklin. They belly dance to the Smiths. Later on some actually fall asleep to Fame. They've almost had it, stumbling about, bags under their eyes as Irene Cara rattles on in the background. It's halfway through Bananarama in the second hour though when we hear the first call to prayer. Which punctuates the video as we turn the music off and wait until it's appropriate to put Primal Scream or whatever it is back on.
"I'd also not counted on the power cuts. On the second day, the whole of Ramallah goes down. We're left sat in a shuttered room with everybody telling me this is completely normal, and would I like a piece of fruit, except I'm getting back on the plane the next day and I know that half the dancers have to get through checkpoints that close at nine. Of course I did have the piece of fruit and also a silent nervous breakdown.
"The end of each day had me literally in tears. The dancers showed such fortitude, resilience, grace and, most importantly, had better, sharper moves than anyone I'd ever seen. I wanted everyone who saw it to literally fall in love with them, to admire their incredible perseverance, and to wonder why it should seem odd to us — in the West — if they knew the words to Donna and Althea's Uptown Top Ranking or went crazy to the insistent harmonica of Groovin' With Mr Bloe. It shows a dire failing in our understanding—it's stranger surely that we're uncertain what music young Palestinians would love, whether they do aerobics, go to bars on a Saturday night. The last track they dance to is Olivia Newton John's superb, saccharine Xanadu.  For me there really is a heroism to live in a place it's impossible to leave, to be split from families, imprisoned by a Berlin wall, and maybe worst of all to be forgotten by a world who refuses to understand you."