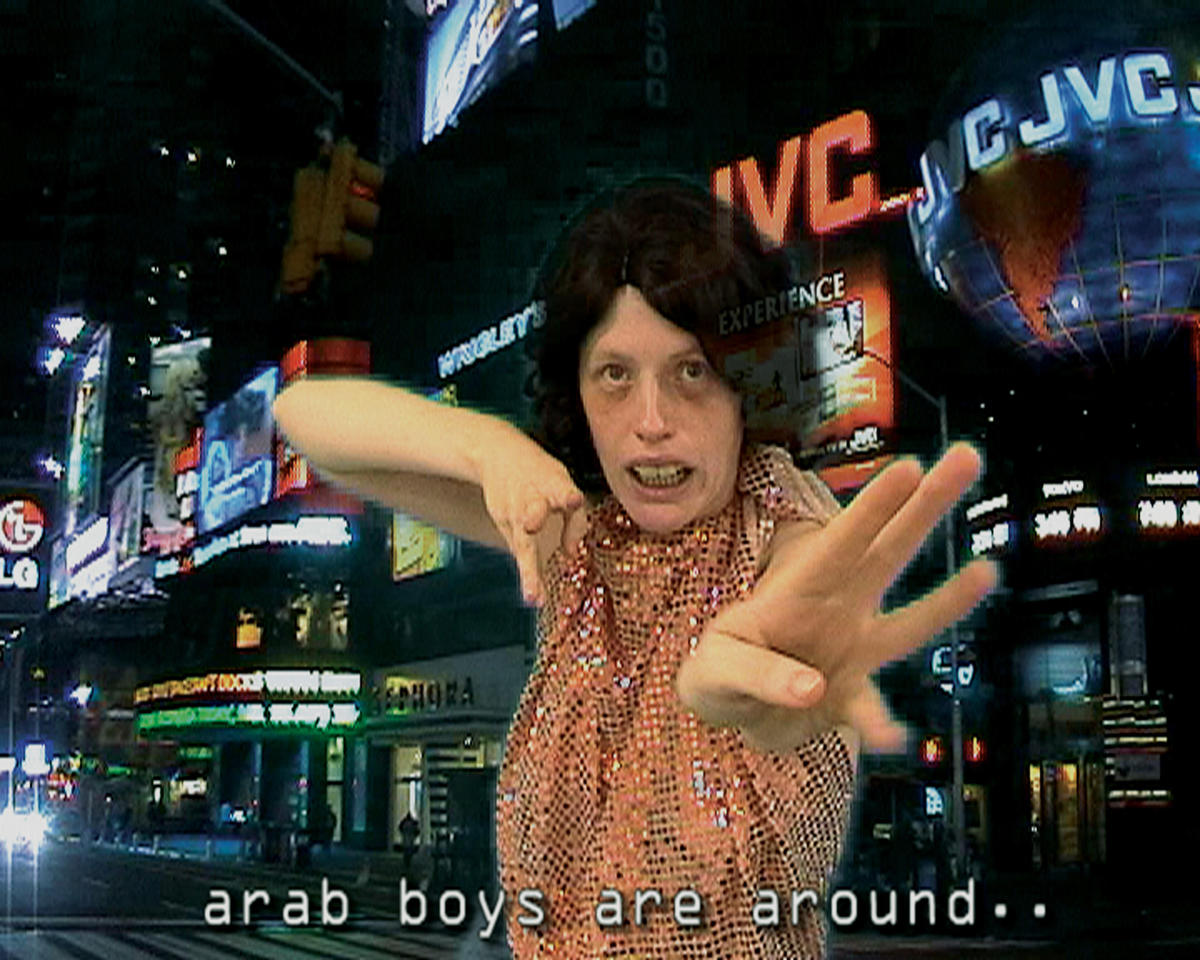 New York
Tamy Ben-Tor: Exploration in the Domain of Idiocy
Zach Feuer/LFL
November 17, 2005–January 14, 2006
Israeli artist Tamy Ben-Tor's New York solo exhibition, 'Exploration in the Domain of Idiocy,' at Zach Feuer/LFL has already been lovingly reviewed by several major art critics. The 30-year-old even sat on a New York Times panel discussion of feminism alongside heavy hitters such as Barbara Kruger and Roberta Smith. (Ben-Tor is emphatically not a feminist. More on that later.) The fact that the young artist has not yet graduated from Columbia University's MFA program makes these accolades even more impressive and posits Ben-Tor as a precocious force.
The video in the main gallery, Girls Beware (2005), addresses forms of propaganda and indoctrination through short vignettes. One scene has the artist dressed as a grubby Arab man in a schoolroom reciting the kind of catcalls one might be irritated or even threatened by while walking through a street market. As the litany drones on, a blonde girl with a pig's nose appears superimposed in the foreground, confounding the viewer's notion of a would-be innocent target. In another scene, set against the backdrop of Times Square, Ben-Tor dons hideous buckteeth and a black wig to perform a corny version of arabesque dance, performing a kind of mock-hypnosis of the audience. As she twirls her hands the character sings in monotone about the dangers of lascivious men. Ben-Tor also plays a bored prostitute who mechanically delivers a list of epithets against Arabs, at times so uninterested she can't quite conjure her next insult.
Ben-Tor's many layers of bigotry and generalization are at times confusing, but by complicating the biases of her characters the artist forces tough questions: who is responsible for today's ongoing political disasters in the Middle East and beyond? Is there a way to challenge current tendencies toward both fanaticism and apathy? In the work's finest moments, individual viewers are not only involved or incensed but implicated as well.
This critical efficacy in Ben-Tor's work, however, is frequently squelched by plain didactics. In the second gallery, Women Talk About Adolf Hitler (2004) offers exactly what its title describes. There's something for everyone: a Brooklyn Jew listing Hitler's quotidian insecurities; a holistic sentimentalist plugging her book, Healing Hitler; a silent admirer who wears the Führer's tiny mustache and holds his gilded portrait. It's obvious that Ben-Tor seeks to generate introspective laughs around the most contentious figure in history. But caricatures aren't guaranteed to be funny, and funny is not guaranteed to be enlightening. (I take issue with art critics' frequent alignment of Ben-Tor with comic genius Sarah Silverman.)
In 2001, when Ben-Tor was still living in Jerusalem performing The Tami Ben-Tur Show, the artist's characters played exclusively on American stereotypes like the radical Christian homemaker, the Woody Allen fanatic, and the stage-mom's little girl (think Shirley Temple or Jon-Benet Ramsey). Ben-Tor has described her early exposure to the ways of the US as filtered through the plastic smiles and trite lessons of The Brady Bunch and Happy Days. While the artist's own characters have diversified greatly and her content has become more politically charged, often her format still reflects and relies upon the kind of moral simplicity that fueled those old sitcoms. Americans firmly reside in the "domain of idiocy" despite weekly instruction from Mike Brady, the Fonz, Jerry Springer, Jerry Seinfeld et al — clearly we'll need more than a parade of clichés (sarcastic or not) to force extended analysis.
Sitting on the New York Times panel, undisguised, Ben-Tor explained, "This situation is for me awkward because I don't believe in [feminism] at all. My art is about my personal interests." She continued, "Ideology hides the truth. Once you have ideology, people have interests." It's certainly provocative to reject feminism (especially in the company of Barbara Kruger). In the aftermath of the panel an incendiary blog-fest questioned a female artist's responsibility to her predecessors and the right of artists to be confusing or hypocritical. That debate is constructive, as is Ben-Tor's contention that ideology is an agent of obscurity and special interests. Inevitably, though, anti-ideology becomes an ideology itself. If the goal is to create a more hermetic consideration of her artwork, untainted by agendas, the artist must acknowledge that the contents of anti-ideology will offer nothing beyond negation.
A less political video about art itself cuts straight to the heart of the problem. Artist in Residence (2005) shows Ben-Tor outfitted with an angular salt-and-pepper bob and a ridiculous chartreuse rain poncho, embodying the figure of guest-auteur. With the voice of a German Julia Childs on Quaaludes, the character speaks slowly and circuitously about an in situ project-without-a-project: "We have it archived alphabetically in video …they didn't understand what we were doing …they were archived, documented and burnt …in some ways, for me …it's more interesting." A deadpan riff on the New York art world's fierce but often blind reverence for conceptualists (and sometimes just for Germans at large), the work points to an overarching contemporary laziness and pseudo-intellectualism. It's great to show that, in today's market-driven landscape, exegesis can be jeopardized by the fear of exposing a lack of meaning and/or knowledge. But it'd be even better if Ben-Tor proved her important points about myopia and vulnerability by actually risking a little more revelation of her own.