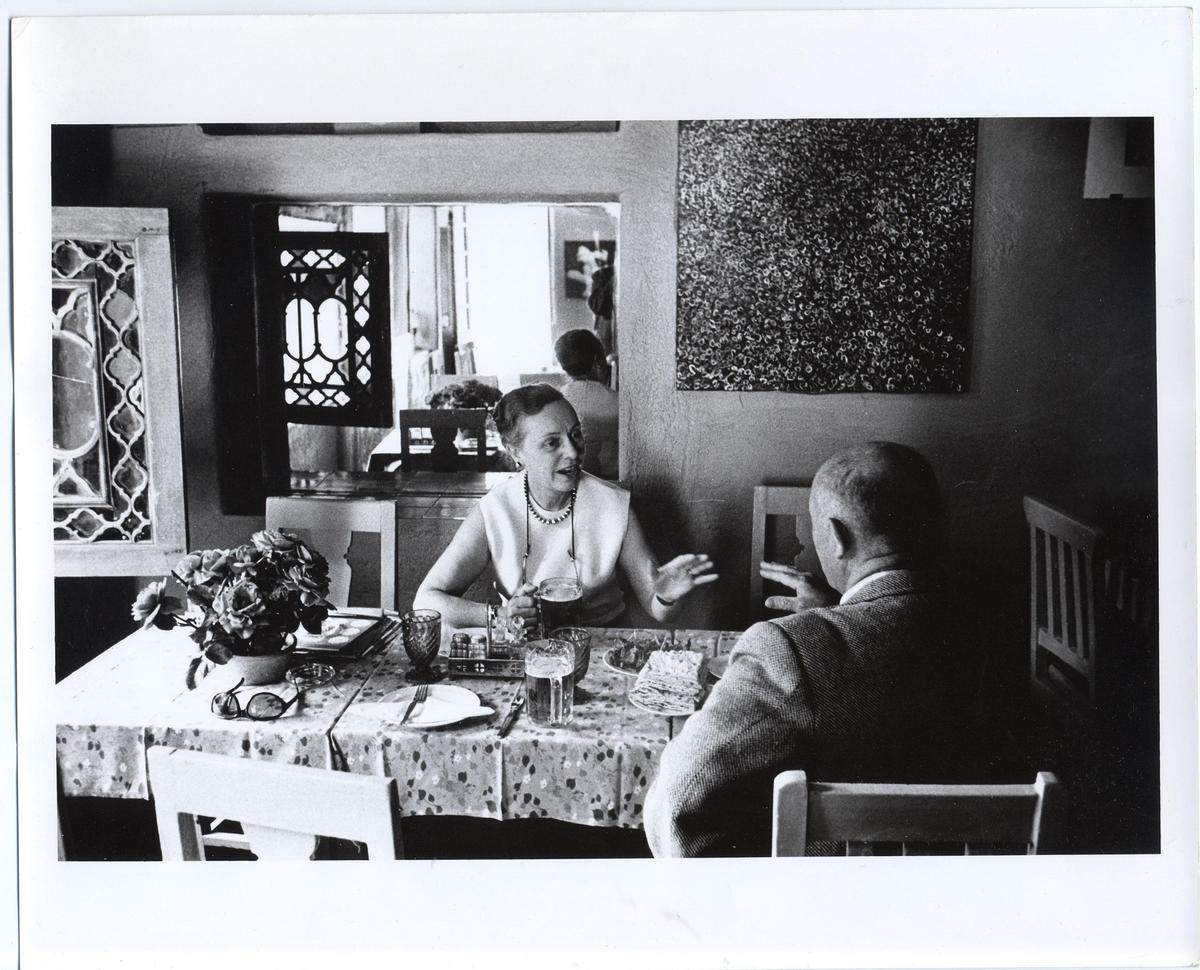 Nestled in a small street north of Amirkabir University in central Tehran, Rasht 29 Art Club was once a legendary watering hole for artists. It was launched at a time when there were precious few places for artists to congregate. Although an Armenian-Iranian artist by the name of Marcos Grigorian had run the groundbreaking Gallery Esthetique from 1954 to 1960, and the Tehran Biennale had been launched in 1958, the modern art scene in Iran didn't really take off until the late sixties. Most initiatives lasted for a few months or a couple of years, at most. And whatever they were like, gallery spaces were not gathering places, but rather, more like glorified living rooms — formal and regimented. What the Tehran scene lacked was a place to talk about art and life till the wee hours of the morning. Besides, respectable young girls didn't go to cafes, and bars were a male bastion, as was the local kebab stand. Across from the British Embassy, Café Ferdosi was the domain of yellow-toothed leftist intellectuals pondering Marx and Shariati. At Key Club and Cheminée, the smartest discotheques in town, one could watch bar fights or dance to cabaret pop — but these were hardly places for artists to gather.
Kamran Diba, Parviz Tanavoli, and Roxana Saba, friends and artists, sought a place of their own, and in 1966, they opened Rasht 29. Inside the club was a record player with with everything from Zeppelin records to "Me and Bobby McGee," tables and chairs spread about, and a U-shaped bar. Art of the time hung on the walls, and at the peak of the club's success, Rasht 29 hosted the first auction of modern art in Iran. In many ways, the space, avant-garde in tenor, would be an incubator for the Iranian modernists, not to mention a dress rehearsal for the activities of the Shiraz Arts Festival, launched in 1967 by then-Empress Farah Diba. Bidoun talked to Kamran Diba and Parviz Tanavoli about the history of the club, its activities, and its afterlife. Tanavoli is one of the most important sculptors of his generation, while Diba is a noted architect and artist who, among other things, designed the Tehran Museum of Contemporary Art in the heart of Laleh Park (then Park-e Farah) and the Niavaran Cultural Center in northern Tehran. Diba was also the founding director of the museum.
Bidoun: How did it all begin?
Kamran Diba: I had recently returned from the US and opened an architect's office at Number 29 Rasht Street in central Tehran. It was north of the Polytechnic (Amirkabir) University and close to Alborz College. The space was in a three-story, Bauhaus-style building. I had been renting the second floor for my own architectural office. At that time, a group of our friends would spend much of our time in Parviz's studio. The core group was Parviz and I and Roxana Saba (daughter of the Iranian musician Abolhasan Saba) and Hossein Zenderoudi. Parviz knew a lot of people then; he taught at the university and was close to many artists. One day, we were talking about the fact that we didn't have a place to hang out, and I wondered aloud about the first floor of my office building. Why not take our group and turn it into a club for artists?
Parviz Tanavoli: I had returned from the US before Kamran had and taught at Tehran University back then. It's true, most of the time friends gathered in my studio in the Zarabkhaneh district in north Tehran. In the afternoons, after work, artists would come to my studio, and we would just sit around and talk. It was especially Diba, Zenderoudi, Parviz Varjavand, and some others at the time. There were many cafes around, but there was nowhere specifically for artists. We wanted a place, just as other guilds had them, like the construction workers, painters, plaster-workers, or drivers. They all had a coffeehouse where members of the guild would gather to find work or just see their colleagues. If you wanted a painter, you would go to the coffeehouse in a particular district and tell the waiter that you were looking for a good painter, and he would introduce you to a few. So we wanted to create a gathering place for sculptors, designers, architects, and musicians.
Bidoun: What was the place like? Did you decorate it yourselves?
KD: I had a friend named Arthur who had found a door somewhere downtown and had installed one in his own office and thought I'd like one as well. So together we installed a beautiful old arched door at the entrance of the Bauhaus building, put some colored glass in it, fixed up a bar, equipped the kitchen, and from there the club came to life. We opened for lunch and served dinner and had a menu of Iranian and foreign food, plus a well-stocked bar. We hired a domestic cook. He knew how to make Iranian dishes only, and I made the menu with the help of Hilary, my wife. Sometimes one of our friends, the sculptor Karl Schlamminger, went to the kitchen and made a dish. In my student days, I worked in restaurants, so I knew how to run the place better than my partners.
PT: I remember going to more traditional coffeehouses in the Shah-abdol-azim district to buy wooden chairs. Kamran and I went to Qazvin and bought traditional doors and windows. The place was a combination of a European-style cafe with some Iranian details.
Bidoun: And who came? Did artists start to come in right away? Could anybody walk into Rasht 29?
KD: You see, the generation of poets that frequented places like Café Ferdosi were older than us and were different. They wouldn't sit at the table with their wives. They had very strong opinions about things. We wanted Rasht to be a more relaxed place for artists and art-lovers, so we made it a bit more private. We had someone who kept out the scoundrels and who would monitor the reprobates who would end up breaking beer bottles over women. We wanted to keep it affordable for the art crowd — but keep it to that art crowd.
As artists got to know the place, they would bring in their work, and we would put it up on the walls. Soon there were works by most of the well-known artists of the time, and collectors and others with deep pockets were able to see the works. Some notable members were Zenderoudi, Sadegh Tabrizi, Faramarz Pilaram, Sohrab Sepehri, Massoud Arabshahi, Yadollah Royai, Nader Naderpour, Reza Baraheni, Esmail Shahroudi, Ahmadreza Ahmadi, Bijan Elahi, Ebrahim Golestan, Hageer Daruish, Kamran Shirdel, Sadegh Chooback, and a host of architects. Karl Schlamminger and his wife Nasreen were permanent fixtures in the highbrow cultural life of Tehran and frequent visitors to Rasht 29. Everybody came.
I remember one day Zenderoudi kicked open my office door. He was extremely agitated. The Tehran police had arrested him and taken him to the station, and they had shaved a landing strip right down the middle of his bushy, fuzzy, and much-prized Afro. What made it even worse was that it was the eve of the opening of his exhibition. I called Tanavoli, and we laughed so hard that I fell off the chair and managed to disconnect the telephone. In the end, we went to the barber next door and just shaved off all his hair. Then I took him to a wig shop, where we spent several frustrating hours trying on a wide variety of possible hairstyles. Finally he made it to his opening, but with a slightly different hairstyle. Later I mentioned the episode on the phone to the queen, and she was extremely upset by what had happened. In less than forty-eight hours the chief of police had been removed from his office. I very much doubt that the Zenderoudi incident was the only significant factor in his dismissal, but it may very well have been the straw that broke the camel's back. Tanavoli and I often teased Zenderoudi that he must be a very powerful man to be able to dismiss the chief of police.
Soon enough, the reputation of the club had spread beyond the immediate circle of the old faithful, and since the nightlife in Tehran did not offer much swing, Rasht 29 soon became a popular destination for "discerning" tourists and flower children on the trail to India or Katmandu. Once they had been "spiritually enlightened," many would return on their way back to Europe.
PT: When some of the artists gave us work to put on the wall, we would give them credit so they could eat and drink there for free until their credit ran out. It was a successful system! We even issued membership cards for the art crowd, so not anyone could walk in.
I always went to Rasht 29 straight after work, and even arranged my meetings there with my collectors and commissioners. Diba had his office upstairs, and he would often come down. We would spend time there with our wives, invite our friends, and throw our parties there.
Bidoun: Were there any special events?
KD: We brought fiddlers from the streets, knickknack salesmen, and Shahr-e Farang carriers — a kind of portable cinema showing moving images. Various entertainers would come to showcase their talents. But basically the idea was to amuse ourselves and our audience.
Once someone recommended a musician who we later learned played at, you know, infamous places [laughs], though we didn't know that. So he came over one day and started playing and singing these very explicit songs that had everyone turning red. We had to ask him to leave.
But besides these minor incidents, Rasht 29 soon became a lounge for a section of the creative community, a meeting place to exchange and discuss ideas. Sometimes these encounters ended up in collaboration. For example, one day when I was working on my 1968 exhibition at Seyhoun Gallery, Pilaram walked into Rasht. Tanavoli told me that he was a first-class calligrapher. It was then that I approached him about writing on the Ab-baz zebardast panels, a series of paintings in the form of panels and boxes that together with a sound piece were elements of a larger installation.
PT: At the time, the hippies were very active on their way from Europe to Katmandu. They would stay a few days in Tehran, mostly at the Amir Kabir Hotel and other cheap hotels around that area. We would go to those among them who had an instrument, usually guitars, and ask them to come and play at the club at night. So each night something was happening there, some kind of entertainment that was unique compared to what you would find in other restaurants and clubs.
We also organized other programs, like poetry readings, and we would invite famous poets of the time to come and read their latest poetry. If there was anything going on in Tehran, we usually connected it to the club. For example, at the time of the annual Shiraz Festival, many important artists would come and spend a few days in the city. We would invite them to come to the club, keep a table for them, and open a bottle of champagne. Many of the prominent artists of the time — whose names I have mostly forgotten — would also come. I remember the conductor Zubin Mehta, for example. He was there nearly every night with a pretty journalist girl; it was probably 1967. The actress Elke Sommer, who was in Tehran for a film shoot, came one night with some friends. Many of the artists, before going to the Shiraz Festival, paid a visit to Rasht 29. And whenever [the American collector and patron] Abbey Weed Grey came to Iran, we would host a party for her and invite artists and critics of the time.
Bidoun: Did you also sell work at the club?
KD: You see, Rasht 29 wasn't a gallery, but it became a place artists showed their work to those who may have been interested. Some became interested in collecting after coming to Rasht 29. I remember Sadegh Tabrizi was looking for a place to sell his works back then, so we put them on the pavement in front of the club, and he actually managed to sell most of the works. We also held the first art auction in Iran.
PT: No, I would say we were more like a nonprofit space. We all had other jobs. I taught at the university and had my work, Kamran was a successful architect. We were happy just to break even and not have to spend our own money. And we would spend whatever we made on the club. We encouraged artists to bring their cheaper works and sketches every Thursday, and we would have a street sale on the pavement in front of the club for those who wanted to buy less expensive works. This was very successful, and the artists would bring works and the passersby would buy them without a gallery commission or the standard flamboyant frames. We would do other things to support contemporary art, too. Each time an artist had an exhibition, we would invite him and reserve a table for him and his friends to come after the opening. They would be our guests. Each time an orchestra was playing or coming from abroad, we would keep tables for them to come after the performance and be our guests.
Bidoun: And how did the auction come about? What artists were included?
KD: You should remember that at the time there was not an actual art market in Tehran, meaning there just weren't enough venues for the artists to sell their works. An artist would have a show at Seyhoun Gallery or somewhere, but after that he didn't really have a place to put his work. So most artists were broke most of the time and didn't really know what to do. We told them to come to Rasht 29, where we would organize an auction. We gathered works by most of the well-known artists of the time and invited some people like the prime minister and the queen and with them many other officials. We weren't an auction house; we just did it to generate income for the artists. But events like this created a new interest in contemporary art.
PT: Yes. We held the very first contemporary art auction in Iran, and we invited many professionals, major contractors, officials, rich people, and even the queen, who also bought works. We had works by almost everybody with a name by now: Pilaram, Tabrizi, Zenderoudi, Arabshahi, my own works, many artists. I don't remember all of the names, but there are some. Any time Queen Farah raised her hand for a piece, some of the collectors challenged her and bought those pieces at higher prices. At the time, I thought they were rude; however, I learned later that all those pieces were presented to her as gifts.
As Diba became involved with larger projects, he had to change offices and moved to a bigger space. Tanavoli was swept up with work and traveling exhibitions. For its founders, Rasht 29 became an extra lemon — to use an Iranian expression — to carry on top of everything else. The club closed its doors after hosting the Tehran art crowd for just under three years. And while in the early 1970s many more galleries and salons opened — places like Borghese, Zand, Saman, Mess, and Saba, to name a few — none of them quite resembled Rasht 29.