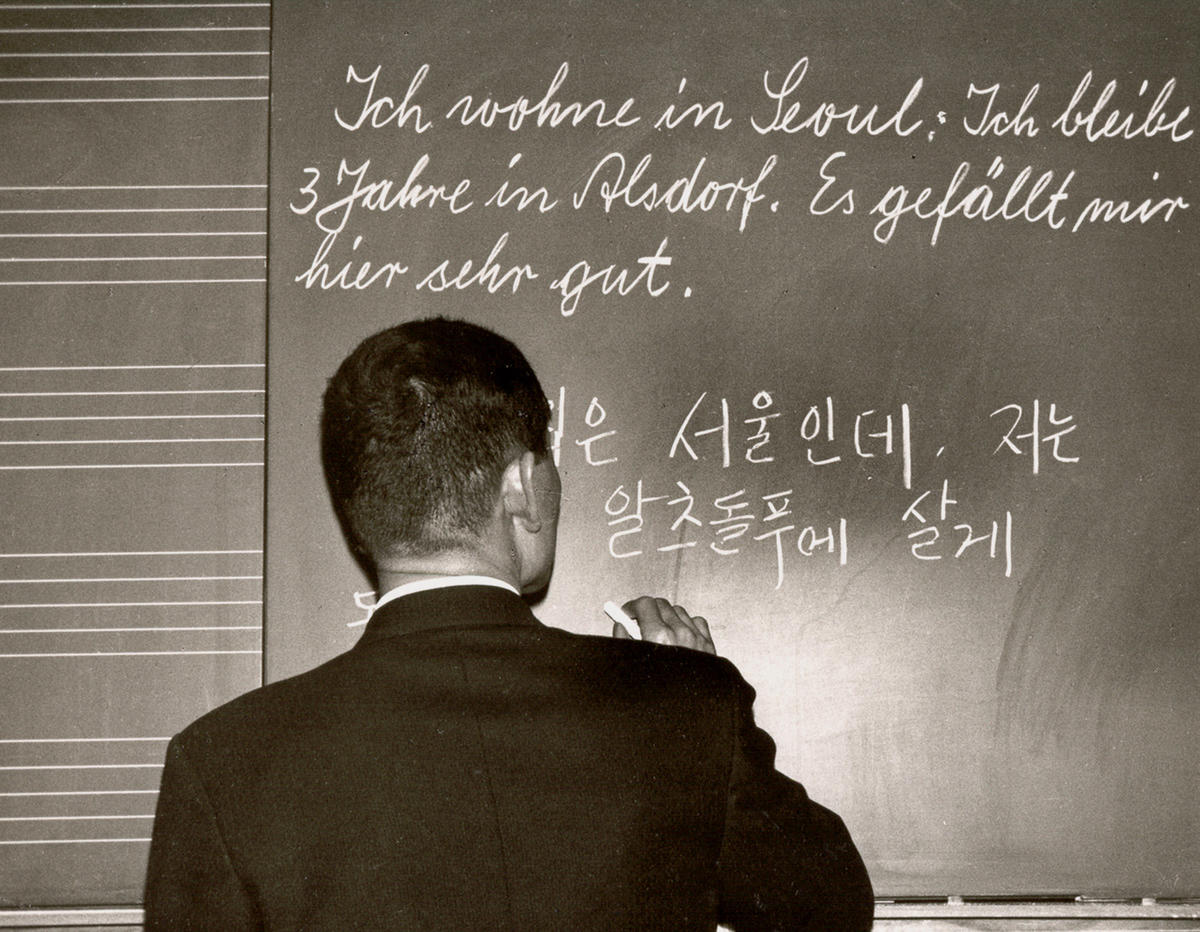 Cologne
Projekt Migration
Various venues
October 1, 2005–January 15, 2006
Three years in the making, 'Projekt Migration' was a large-scale exhibition held in various traditional and nontraditional sites around the city of Cologne, with the Kölnischer Kunstverein serving as the primary host venue. Organized by a team including Kathrin Rhomberg, director of the Kölnischer Kunstverein, and Zurich-based curator and filmmaker Marion von Osten, 'Projekt Migration' investigated the history of postwar migration to western Europe in relation to current debates that place immigrants at the center of political contestation. Part socio-historical anthology and part contemporary art exhibition, the project was one element of an — initiative by the Kulturstiftung des Bundes (Federal Cultural Foundation) that also included screenings, a symposium, performances, workshops, discussions, music, and a catalogue bigger than any produced for Documenta.
'Projekt Migration's' central concern was the state of immigration patterns and associated debates in Germany today; despite its wide resonance, it remained tied to its local context. The show was theoretically dense in nature, featuring historical photographs of the circumstances of immigration alongside the work of around eighty contemporary artists and collaborative groups. Artists ranged from those who have become well known recently for their film and video work, such as Anri Sala and Ann-Sofi Sidén,to emerging video artists such as Julika Rudelius and David Blandy. Not unexpectedly, the number of artists from the Middle East or of Middle Eastern descent was high; the selection included Gülsün Karamustafa and Harun Farocki, presumably to reflect the immigrant population that exists in Europe's German-speaking region. There was even a Ford Transit on view, highlighting the role of vans in ferrying labor immigrants in and out of Europe, and recalling the part that the Ford company played in employing as apprentices the first Turkish group to arrive in Cologne.
'Projekt Migration' was easy enough to navigate; the city center venues included a hotel and office buildings. One of the most notable works in the exhibition, and perhaps the least characteristic, was the off-site commissioning of Tazro Niscino's spectacular installation Es will mir nicht aus dem Sinn (2005) at one of Cologne's most renowned monuments, the large statue of Kaiser Wilhelm II on horseback. A staircase up scaffolding led viewers up to a furnished domestic interior built on and around the top of the sculpture, with the large head of the Kaiser appearing like an object placed on the floor near a sofa. The work referred to the waves of immigration that occurred during Wilhelm II's reign, including the influx of Polish migrants following Germany's industrialization, and the nation's early twentieth century colonial activities.
The strategies of display were varied greatly throughout the exhibition, offering some insight in to the meticulousness of the curatorial process. Frankfurt-based duo Anny and Sibel Öztürk presented their installation Rear Window (Story No. 6) (2004), an impressive reconstruction, from memory, of the Istanbul living room of theirTurkish great aunt. Though other contemporary artists have reconstructed rooms, their attention to detail here was affecting, and included 1950s furniture, a soundtrack of traffic outside accompanied by simulated car headlights, and wistful domestic odors of incense and must. The Zurich-based Labor k3000 media collective exhibited an archive of sorts, providing information on and analysis of transnational migration activities and locating them within contemporary discourse. Presenting maps, files, cabinets of documents, videos, and CDs in tandem with other forms of documentation, this research room required the viewer's patience and time but its simple layout and participatory style made it highly accessible. One of the surprises of the show was Candida Höfer's Türken in Deutschland (Turks in Germany, 1976), a slide projection of eighty portraits of Turkish migrant groups and families in various locations around Cologne. It was made in an era before the current popularity of practices guided by ethnography, and was far removed from the Düsseldorf School of technically precise, constructed photography, with which Höfer is now affiliated.
The 'Projekt Migration' curators hand led their subject with intelligence and directness, resisting the temptations of ethnophilia. The exhibition's synthesis of socio-scientific research, documentary projects and artworks was mostly successful, if occasionally dry. Still, 'Projekt Migration' offered a much-needed injection of faith into the potential of contemporary art to find strategies for engaging with current socio-historical problems associated with the various waves of migration into Europe.