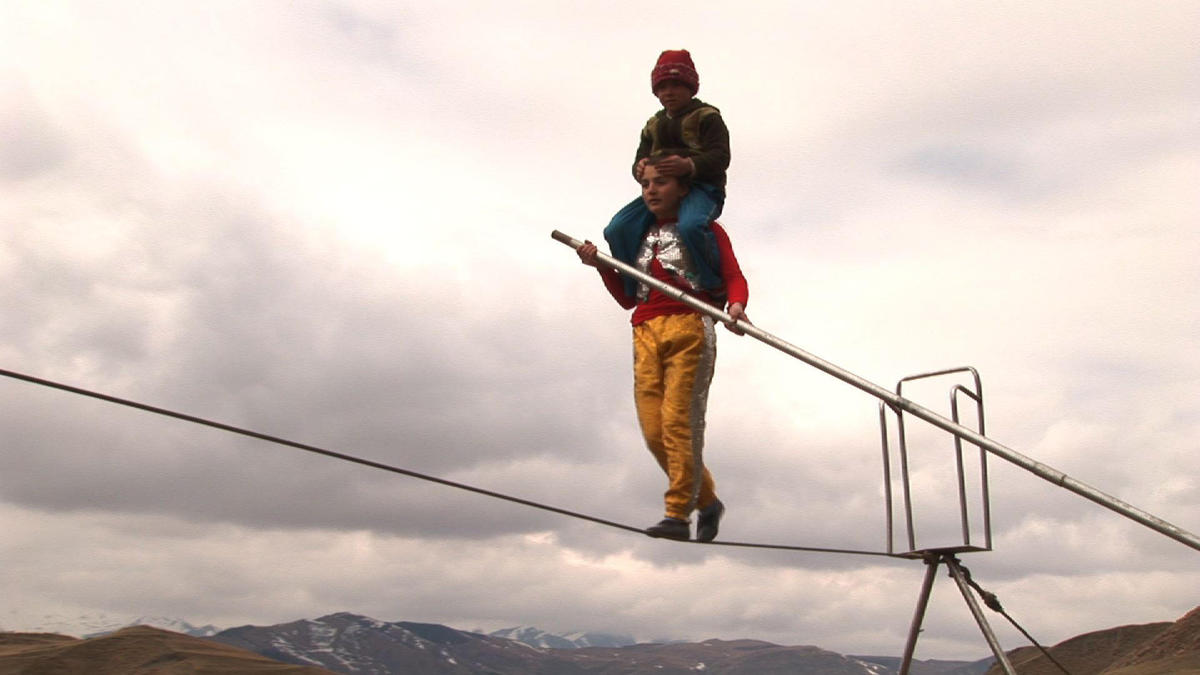 Local ethnographers have speculated that it was the mountainous landscape — Dagestan literally means "land of mountains" — that produced people with extraordinary powers of balance. It was not uncommon to find residents of this land scrambling up narrow paths or crossing swollen rivers on makeshift bridges fashioned from the trunks of trees. When they were introduced to tightrope performances — most probably through migration to neighboring regions for work — Dagestanis adapted the practice and made it their own, concocting a high-wire version of local folk dances. (Those very dances were a major influence on the choreography of the Ballets Russes.) In the nineteenth century, an entire village, Tsovkra-1, was known as "the tightrope walkers' village."
During the Soviet era, tightrope walking, like every other trade, came under the aegis of the state. The best dancers joined the state circus and got to travel the world. Amid the chaos that followed the collapse of the USSR in 1991, Dagestan was one of the hardest-hit regions. What ensued was a decline in the quality and quantity of Dagestani tightrope walking practices. Still, in some parts of Dagestan, there has been something of a revival of the art. There have even been efforts to establish a proper school.
Since he left the Kiev state circus, Ali-Ashkab Gasanov manages the Pehlevan troupe in Makhachkala, the strange architectural dystopia that is the Dagestani capital. The troupe's training takes place in the gymnasium of a local high school. (At one point, the school janitor was so inspired that he decided to take it up himself.) The troupe is made up of three boys and one girl, and they're sometimes to be found performing at weddings and other festivities.
Tightrope walking is part of our culture. Dagestan's tightrope walkers have been known to cross the wire while standing on the very tips of their toes — sometimes balancing a jug of water, a plate, a glass of water, another plate, a bottle with a raw egg on top of it, and two daggers attached to the legs, blindfolded. In the past, when two villages were in a blood feud, tightrope walkers would invite both villages to come together, and they would perform for them. The dancers would wear a bear mask and a lambskin coat, and if they managed to cross the wire with the jug and the water and the egg, it meant that the peace would last forever. Women who couldn't have children used to walk underneath a wire because they believed it would cure their infertility. We also perform our national dances on the rope, like the dagger dance.
---
As a tightrope walker, you need to be creative, to have a strong will, and to be fearless. We have no safety nets. We used to be on the rope for two hours, now it's only something like fifteen minutes — mostly because training is not as rigid anymore. One of the tricks I personally have invented is known as "the two boys–one girl bridge," which involves two boys carrying a ladder on their shoulders and a girl standing on it. You see, people on a rope have to be absolutely synchronized. I have trained three hundred pupils since 1983.
Because we have no professional circus in Dagestan, there aren't any professionals anymore. We would need an investment of at least 15 million rubles ($500,000USD) to set up a professional school. Since the early twentieth century, Dagestan has provided wrestlers, strongmen, and tightrope walkers to the state circus. We perform in Stavropol every summer. I'm not happy with the level of the troupe today, but we can only practice once a week.
From July to November of 2009, my group was lucky enough to get orders to participate in twelve festivals dedicated to the eightieth anniversary of twelve districts that had been demarcated under the Soviets. Among them were Charodinskiy, Gumbetovskiy, Gunibskiy, Utsukul'skiy, and Kazbekovskiy. All together we made about 600,000 rub ($20,000)! And then, from time to time — approximately once a week — we're invited to perform at marriage parties of wealthy people in Makhachkala. The maximum they pay is 12,000 rub ($400).
You know, our team is much better equipped than others because we're located in Makhachkala, where it's much easier to get information about what's happening in different parts of the republic. Plus, the school where we train doesn't charge us any rent. Still, I am worried about the future of my four-person team. In 2010, there are no more district jubilees planned. Each of us has a family to take care of. And I'm not optimistic about gaining support from the Ministry of Culture. It's the lack of money that's preventing us from leaving Dagestan and pursuing projects abroad. Maybe one day all the tightrope walkers could get together and form an association. That is my hope.