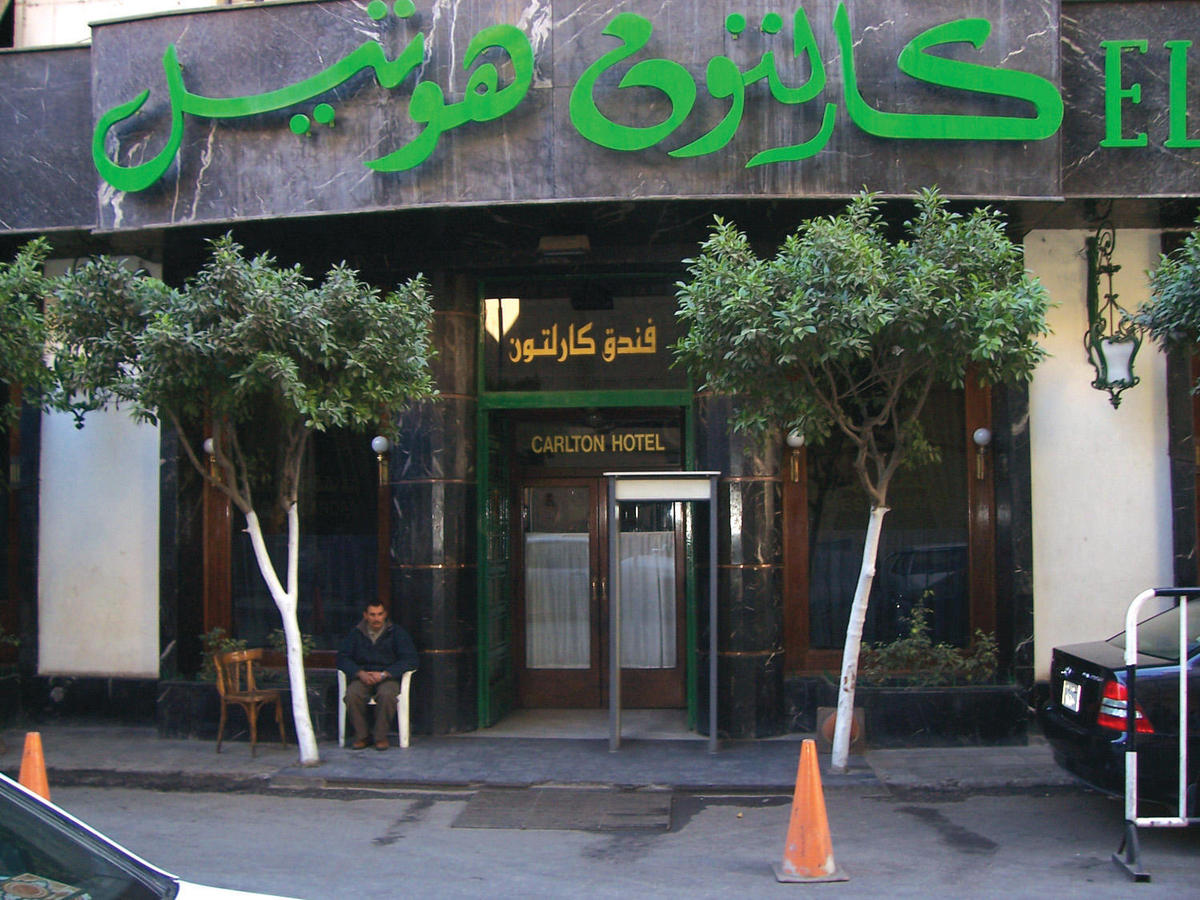 Tucked away in an alley between 26th of July Street and the busy Tawfakeyya market lane is the Hotel Carlton, a prime old-timey destination should one have the time or inclination to traipse about Cairo's downtown quarter. Built in 1935 and facing the Cinema Rivoli, the Carlton, like other buildings of Egypt's belle époque, is an ode to turn of the 20th century European chic. 26th of July Street — named after the opening day of the revolution and known as Avenue Fouad when Egypt was still ruled by a boy-king — was once the most cosmopolitan part of town. Greek, Italian, French and Armenian could be heard on the street as much as Egypt's native Arabic. Cinema Rivoli played both Hollywood staples and classics of the Egyptian screen. Dashing Armenian portrait photographer Van Leo, who immortalized the likes of Omar Sharif, Farid El Atrache and Dalida, lived just around the corner. Adjacent L'Americaine was one of the most popular restaurants in town, while the Groppi café was where couples met in the evenings to flirt and dance.
Today, this corner of town has about three times as many people making their way through its streets at any given moment. Covered in a layer or two of dust, the quarter's marble staircases have been worn down by use, fez-clad doormen with old world manners are all but a distant memory. A hefty dose of neon and a surfeit of synthetic leather shoe shops are an eyesore. Here there are also an abundance of furnished flats for the lustful lot who seek a midday quickie, along with a number of seedy alcohol shops. The Tawfakeyya market, just behind the hotel, is stocked with mini stalls of fresh produce, fish and meats. And amid all of this, there's the Carlton, somehow frozen in time though its surroundings are impossibly changed.
The Carlton's interiors are best characterized as a meeting of the Art Deco and the Orientalist. Rooms are large and have impeccably preserved furniture of the era. Downstairs in the wood-laden lobby, a very mini bar serves Stella beer and Egyptian wine. A respectable menu serves "negresco" (a fancy word for spaghetti) as well as myriad other variations on the theme of spaghetti, such as "the bolognaise." There are some local favorites, too. If you're lucky, the bartender may chat you up, or the Nigerian evangelist who has just arrived from Abidjan to spread his gospel to the willing. An exceptionally small Japanese man is also sitting in the bar on this particular day, recently arrived in Egypt as part of his personal mission to free the pigeons of the world from all manner of captivity.
If the mini bar is too claustrophobic for your taste, a roof bar, closed for the better part of a decade as far as we can tell (the staff was not generous with information, but we will not hold it against them), will be open by the spring of 2006 and doubtless should be a treat for guests or anyone really who wants to perch above it all for a view of the city below. The Cinema Rivoli is still playing films, and on one recent evening, a film poster depicted a star who looked oddly like debonair, Bogart-esque Egyptian heartthrob Rushdie Abaza — long dead. For a fleeting moment, it was 1955, and for all we knew, Abaza could have been sitting in the hotel bar, sipping a martini.
My appropriated nostalgia, nonetheless, swiftly came to an end. Our Japanese friend from the bar below had followed us up, clad with his binoculars and pigeon-gear. He was running about wildly, and I knew then that there was no film star. The era of Rushdie Abaza had passed, and the Carlton was now playing host to a new set of visitors.
21 26th of July Street
Downtown Cairo, Eygpt
Tel +20 2 575 5181