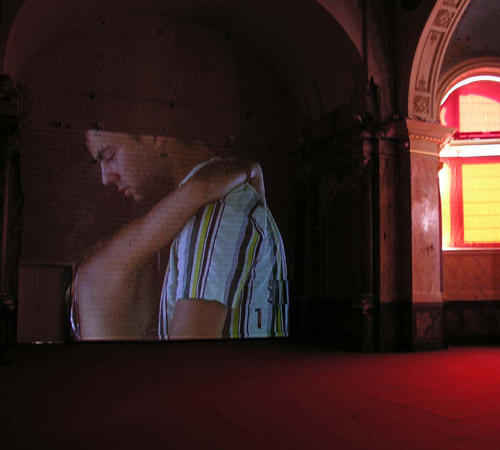 John Lennon could be, well, a bit of a bitch. On his post-Beatles 1971 solo track "How Do You Sleep?" he addresses Paul McCartney with the words "the sound you make is Muzak to my ears" — a reference to his former bandmate's soft spot for tunes that flutter perilously close to the saccharine.
Five years later, McCartney penned his reply in the form of "Silly Love Songs," the upbeat, unapologetic lyrics of which ask, "Some people want to fill the world with silly love songs / And what's wrong with that?" Despite the manifold horrors of the track (the disco influence! the video in which Paul 'n' Linda slurp at each other aboard a private jet!), it's an important question, and one that lies at the heart of Cypriot artist Christodoulos Panayiotou's ongoing work Slow Dance Marathon (2005– ).
First performed in Thessaloniki in 2005, Slow Dance Marathon does exactly what it says on the tin. The piece commences with a couple of volunteers slow dancing to well-known love songs — George Michael's "Careless Whisper" (1984), Lionel Richie and Diana Ross's "Endless Love" (1981), Toni Braxton's "Unbreak My Heart" (1996) — their unfamiliar bodies pressed together like guests at a wedding reception or teenagers during the "erection section" at the end of a school dance. After thirty minutes, one of them departs, and the remaining volunteer gets a new partner. This process is repeated over and over, creating a chain of intimacy that lasted twenty-four hours in Thessaloniki and forty-eight in its second performance, in Tel Aviv in 2006 (the artist plans for each iteration of Slow Dance to last a day longer than the last).
The volunteers are given minimal instructions, leaving them to interpret the notion of slow dancing as they wish, or rather, to negotiate it with their partners. Music plays its part in conditioning the action. Pressed up against an attractive stranger, it's easy to imagine that the dream sold by, say, "Endless Love" ("Two hearts that beat as one / Our lives have just begun") might, just might, instantaneously come true.
But if Panayiotou's piece is partly about how we cling to the emptiness, even oppressiveness, of cookie-cutter romance, it also has an element of cruel social theater. Each couple, after all, is made up of one person who will shortly be cuddling up to another partner and one person who must leave the stage. For one of them, this is not the last dance, not the last chance to squeeze, sigh, or steal a kiss, let alone fall in love. The dancers inhabit separate planes of possibility, even separate temporalities. However close their hips, however full the world is with silly love songs, they are simply out of time.
Currently, Panayiotou is working on a series of works that huddle under the umbrella title Let It Shine. During a residency at Platform Garanti, Istanbul, the artist noticed that regional TV weather reports would, when covering Cyprus, only show the conditions in the Turkish-administered North.
This prompted a memory of similar reports screened by the Cyprus Broadcasting Corporation, in which sun would shine and rain would fall seemingly only on the Greek Cypriot-administered South. Taking this politicization of meteorological phenomena as his starting point (I'm reminded of Simon & Garfunkel's line "I get all the news I need from the weather report," from their 1970 track "The Only Living Boy in New York"), he repaired to the CBC archives, where he gathered together footage of extreme weather conditions on the island from 1974 to the present. His intention is to show this in Istanbul, creating an anthology of thunderstorms and snowfalls, rainbows and early-blossoming flowers, that will demonstrate that while humans might busy themselves with terrestrial boundaries, weather systems simply happen, utterly indifferent to our affairs. Thinking about this work, one might imagine Turkish and Greek Cyprus as the geographic equivalent of the couples in Slow Dance Marathon — physically proximate, but not quite occupying the same mental space.
Weather features in another work in the Let It Shine series, titled To Be Willing to March into Hell for a Heavenly Cause: Utopian Songs (2008). Here, the artist staged a live concert of seven songs taken from Cold War–era Hollywood musicals, on a boat sailing from the Greek port of Piraeus. Sung by the Danish musician Kristian Kristensen to the accompaniment of an acoustic guitar, each of these numbers — from "You'll Never Walk Alone" from Carousel (1956) to "Tomorrow" from Annie (1982) — employ weather as a metaphor for a better tomorrow. We might think of the piece as in the tradition of John Ruskin's writing on the pathetic fallacy in Modern Painters Volume III (1856). There, the Victorian critic pointed out that our habit of projecting human qualities onto the natural world ("a raging storm," "a hopeful sun," etcetera) bears false witness to reality — our feelings are not reflected in a raindrop, and a snowflake tells us nothing about our future.
Bleak as this may seem, it also has an optimistic aspect. One of the songs performed by Kristensen, "The Impossible Dream" from Man of La Mancha_ (1972), tells of a quest "to reach the unreachable star." This is all very well, but there are other, more pressing quests to pursue closer to home, and if we abandon the utopian fantasies of Panayiotou's playlist — with their whispers of manifest destiny, of the triumph of the American way — we might just be able to focus on doing some real and lasting good. Deep down, we're all aware of this. As Bob Dylan said in "Subterranean Homesick Blues" (1965), "You don't need a weatherman to know which way the wind blows."