Ramallah
ArtSchool Palestine
October 2005–
Over the past couple of years, a number of British art scene movers and shakers have traveled to Palestine, some at the behest of the British Council, others on independent trips to meet artists first hand. Critic Sacha Craddock and art dealer/patron Charles Asprey were both struck by the critical vacuum within which artists work and — given the difficulties Palestinians can have in making the smallest journey — the need for regular, meaningful exchange with each other and the outside world. Together with Visiting Arts and the Qattan Foundation, they came up with the idea of an online community and exhibition space, serviced by offices in London and Ramallah. Essentially, the website aims to mimic — virtually — the community vibe and informal critical dialogue typical of an art school's student unions, exhibitions, and tutorials. Discussion areas and editorials will facilitate critical dialogue; archives will provide reference and reading material; and calendars and maps will announce cultural events and exhibitions — locally and to curators and artists in London and beyond. London administrator Samar Martha said that ArtSchool Palestine will "embrace and host all artistic endeavors taking place" and carries with it "a naive but nonetheless classical sense of hope"; presumably this desire extends to the notoriously difficult nature of creating meaningful community discussion online, as well as contributing to the enfranchisement of Palestinian artists. Bidoun wishes the project all the best for its soft launch in October.
---
**
Ramallah
The Hassan Hourani Young Artist Award 2004
AM Qattan Foundation**
This year's Qattan Foundation award is dedicated to the memory of the artist who passed away in a tragic drowning accident in August 2003, and who was the recipient of a prize at the award's first edition in 2000. Ten shortlisted Palestinian artists from the world over will be presenting their work in a number of venues in Ramallah. In recent years, Palestinian artists from all fields have been exhorted to move away from dealing with subjects that relate to their "realities"; despite the political circumstances, these young artists have neither abdicated nor given up on developing their art in imaginative and technically innovative ways. The ten finalists are: Muhammad Abu Sil (Gaza), Shadi Habiballah (Jerusalem), Alexandra Handal (Costa Rica), Shurouq Harb (Ramallah), Muhammad Juha (Gaza), Muhammad Musallam (Gaza), Steve Sabella (Jerusalem), Suheil Salem (Gaza), Muhannad Al-Yaacoubi (Gaza), Shadi Zaqzouq (Gaza). The exhibition is curated by the artist Khalil Rabah.
---
Dubai
Windows
Dubai Media City
November 2004
A group show held in and around the grounds of Dubai Media City, Windows features new work by established Dubai photographer and installation artist Mohammed Kazem, plus nine other up-and-coming artists. In a city fixated by marketable global cool, this is a rare opportunity to take in new work by Emirati artists, many of whom display a healthy concern for environmental and social issues. The exhibition title refers to a hotly anticipated new installation by Kazem that incorporates video, photographs, and drawings in a study of the artist's relationship with his city's urban landscape. Over time, Kazem documented Dubai's changing skyline through one window in his house, his clear vista gradually becoming crammed with layers of building development. Kazem is joined at Dubai Media City by Ibtisam Abdul Aziz, Khalil Abdul Wahed, Laila Juma, Huda Saeed, Moza Bu Shelabah, Huda Hassan, Amal Saeed Jamaan, Naser Abdulla, and Ahmad Sharif.
---
Tehran
Gardens of Iran: Ancient Wisdom, New Visions
Tehran Museum of Contemporary Art
Fall 2004
Iran's particular relationship with its gardens, described dreamily by the curators as "the story of the love of life, a celebration of everything which is alive in nature, however fragile and ephemeral, but eternal and sublime, out of this world," comes under scrutiny in this grand, diverse survey exhibition. The work of contemporary architects, filmmakers, sculptors, painters, and photographers — including Abbas Kiarostami, Parviz Tanavoli, Dariush Mehrjui, Farshid Mesghali, Farideh Lashai, and Bita Fayyazi — is accompanied by an historic study of the Persian garden, through architectural, photographic, and textual documents. Curated by Faryar Javaherian, with a circle of advisors including Parisian Nasrin Faghih, Rome-based Mahvash Alemi (co-editor of Environmental Design), and Tehran based designer Mohammad Reza Javadi, Gardens of Iran promises to dwell on the real and mythic nature of the garden, in the midst of Tehran's gray, concrete jungle.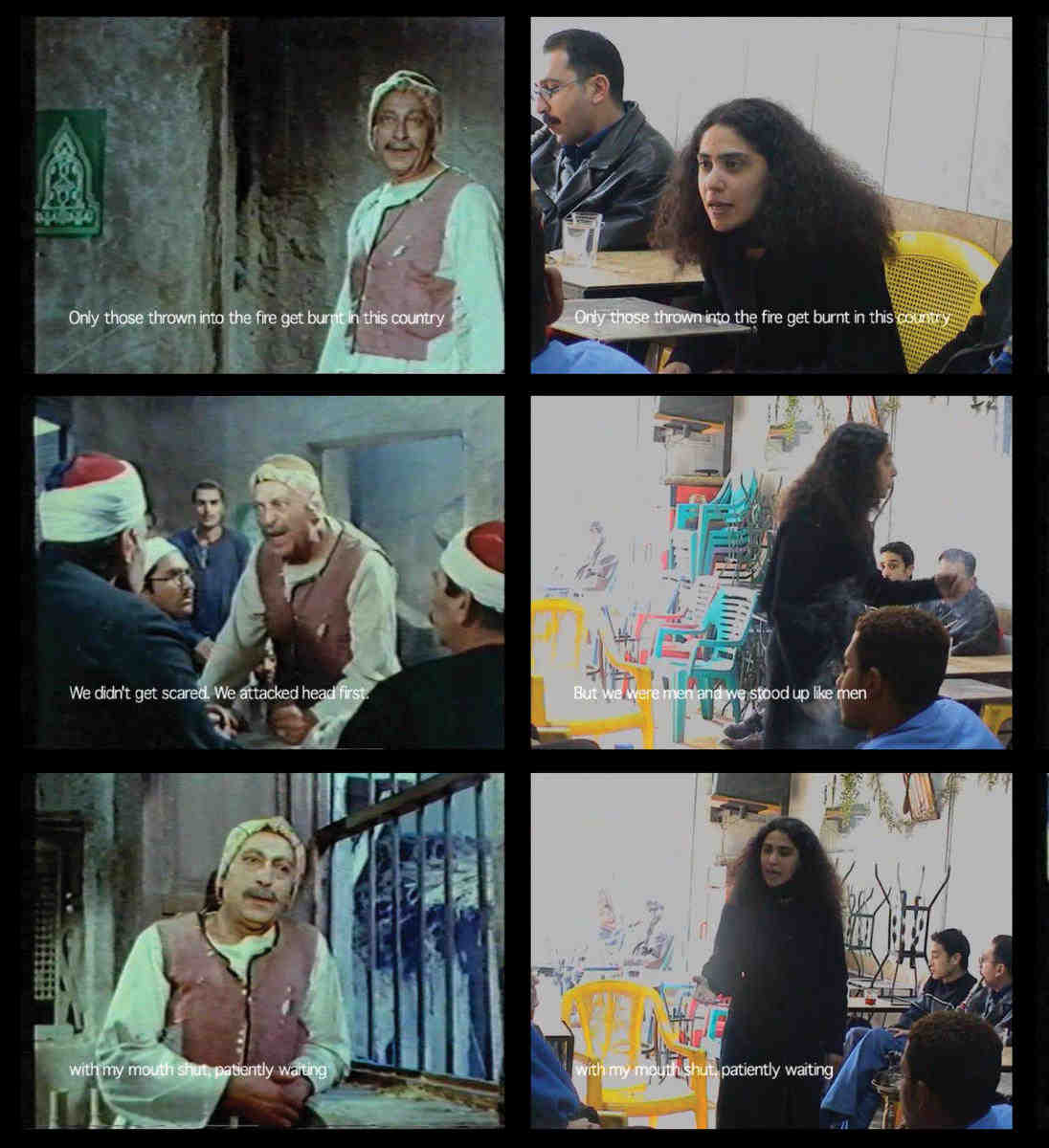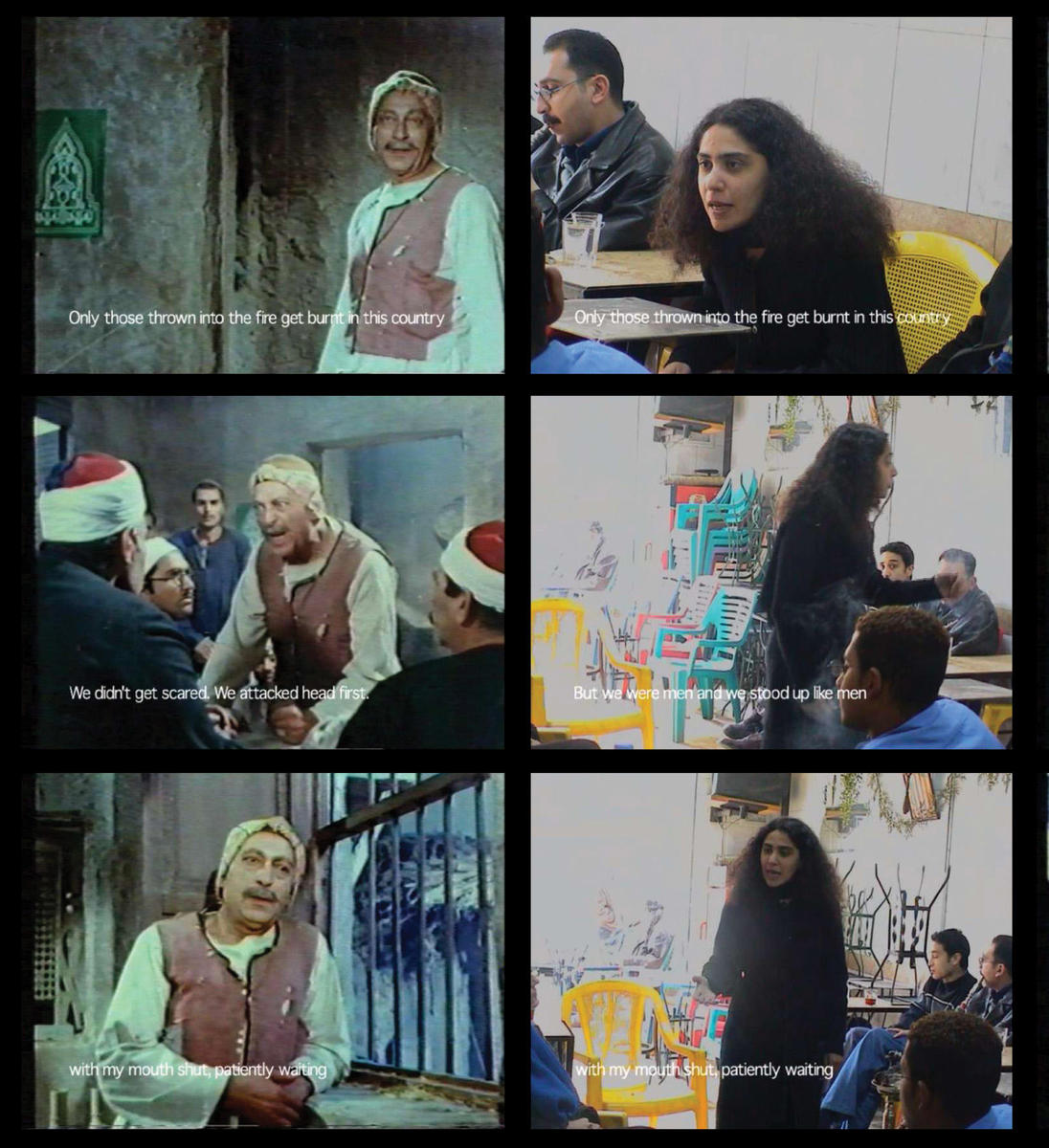 Cairo
Moataz Nasr: The Echo
Townhouse Gallery
October 11–November 3, 2004
Reworking a video he debuted at last year's mammoth DisORIENTation show at Berlin's House of World Cultures, Egyptian Moataz Nasr will exhibit The Echo in the Townhouse Gallery's factory space this October.
A rumination on the stagnant nature of politics, the exhibition presents two narratives that conflate space and time — raising questions as to notions of progress and the myth of modernity at large. A scene from Youssef Chahine's canonical film El Ard (The Earth, from Abdel Rahman El Sharkawi's novel of the same title), in which the protagonist decries the passivity of his fellow Egyptians during the British occupation, is echoed by a contemporary scene in which a young woman in a coffee shop delivers a damning oration, more or less re-emphasizing that very frustration. 'Move people!' The two scenes face off, in Shirin Neshat fashion. The moral of the story is that nothing changes. And talk is cheap.
At the very least, Nasr's images are compelling. Perhaps most importantly, this particular screening allows the artist to explore these loaded notions at home, as it were, on Egyptian soil.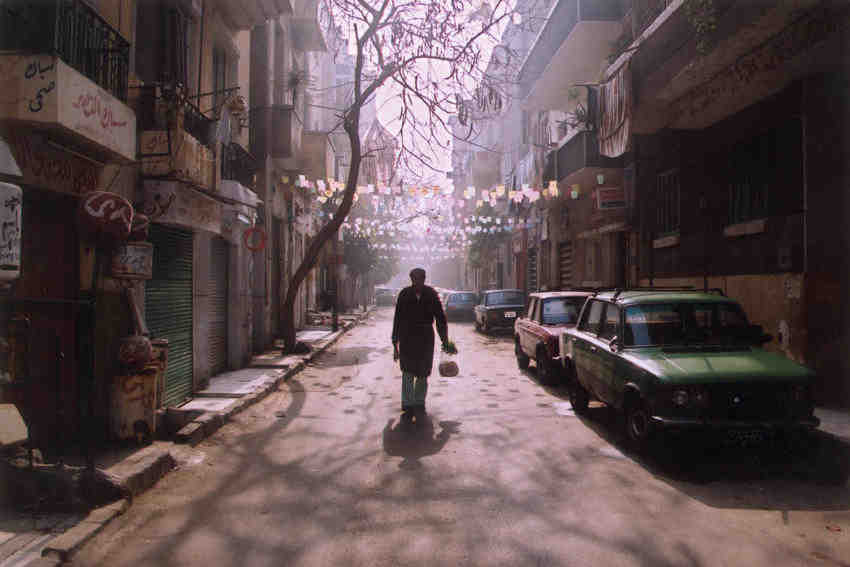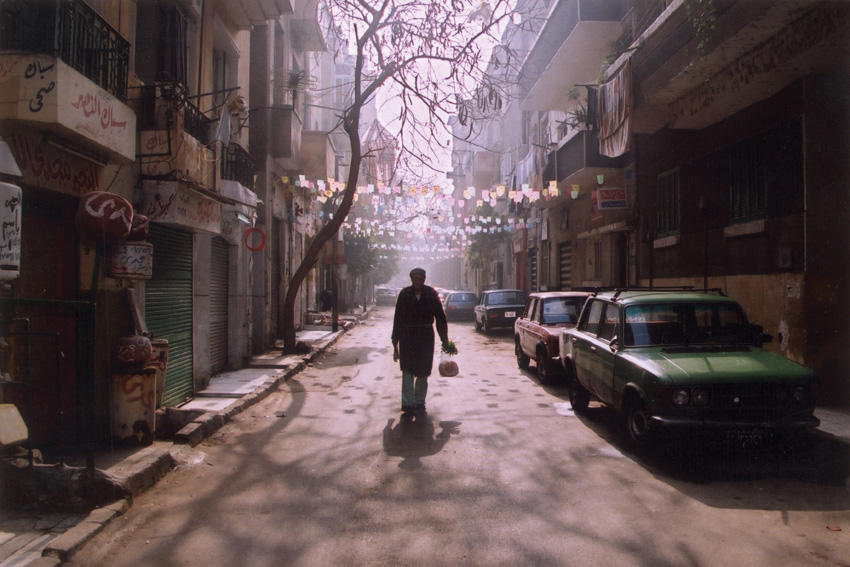 Leeuwarden
Nazar 11th Noorderlicht Photofestival Photographs from the Arab World
September 5–October 24, 2004
Is there such a thing as Arab photography? Probably not. Nevertheless, the Netherlands-based Noorderlicht Festival presses on with an ambitious mandate. Aiming to explore the complexities of photography in the region in a manner that defies popular images of the twenty-two countries within, the exhibition will showcase works by over fifty photographers, twenty-five of whom are of Arab origin.
Nazar means "seeing" in Arabic. If Noorderlicht organizers succeed in their mission, they may put contemporary rhetoric surrounding Orientalism to bed — highlighting ways of seeing rather than prevailing monolithic representations encountered c/o Culture Brokers, the media, and others.
Nevertheless, a number of concerns must be voiced. Though the organizers did their shopping with the help of local curators, they carried out precious little research within the region itself — on the ground, as it were. Secondly, the selection is of the mixed bag variety, sometimes leaving one wondering what ties these photographers together beyond a convenient umbrella called geography.
The exhibition website announces that "this is the first time in the Western world that such extensive attention is given to photography from the Arab region." That said, it is well worth seeing if Nazar makes the most of such an historic opportunity, or alternatively, manages to confirm that a gesture toward inclusion can in fact be as bad as exclusion.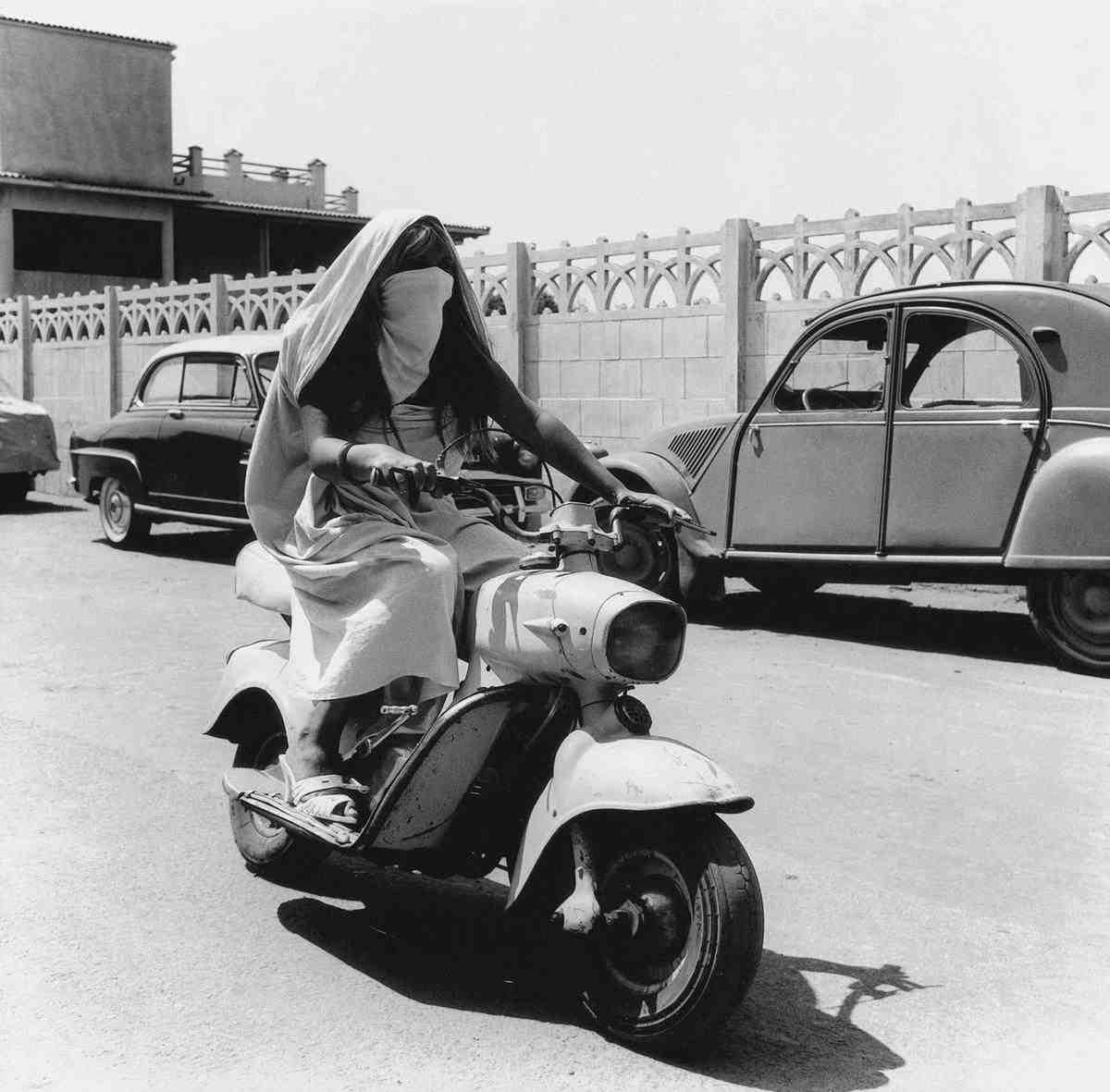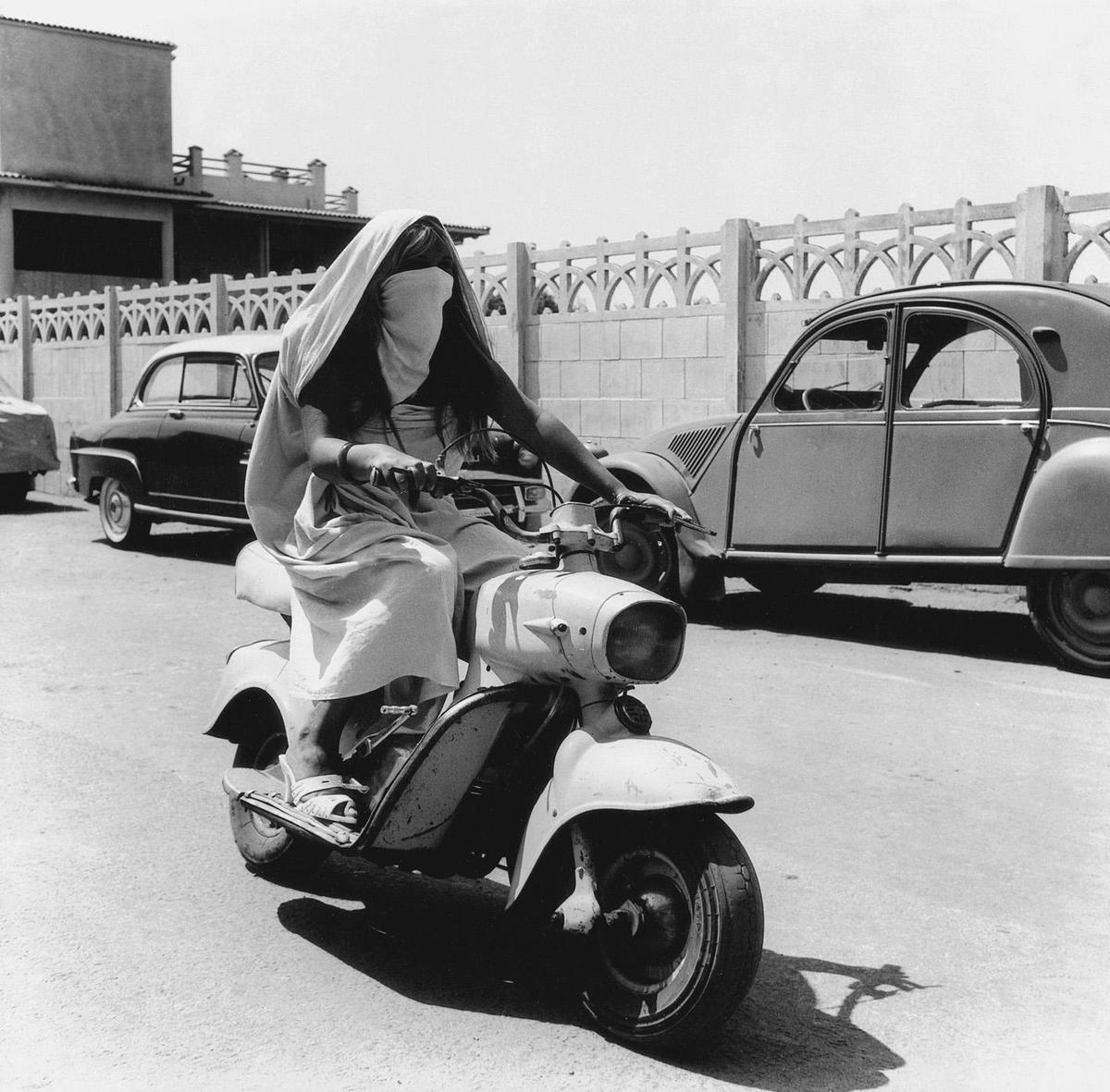 London
Hashem El Madani and Pierre Bourdieu: Mediterranean
The Photographers' Gallery
October 14–November 28, 2004
This autumn London's premier photography venue devotes four months to the "abiding cultural relevance" of the "contested area" of the Mediterranean. The season began with Mediterranean: Between Reality and Utopia (continuing until October 3), a group show that includes historical and contemporary work, and introduces London to fascinating work by Lebanese Youssef Safieddine, Serbian Vesna Pavlovic and Israeli Efrat Shvliy alongside established names such as Julie Ganzin and Xavier Ribas. The eclectic nature of the show served to illustrate the limitations of the singular exhibition title, exposing instead the manifold links between multiple Mediterraneans.
The gallery now moves on to focus on two archives: sociologist Pierre Bourdieu's 1950s images of Algeria on the brink of independence and Hashem El Madani's documentation of Saida, southern Lebanon, over the past fifty years. Season curator Lisa Le Feuvre, with the Fondation Arabe pour l'Image's Akram Zaatari, has narrowed down Madani's vast collection of over 75,000 images to around eighty seminal photographs. From his first atelier in his parents' living room, through his mobile studio, to the opening of his current workspace in the Chehrazade building in 1948, Madani has documented the changing fortunes of his hometown in portraits of its residents. This is the photographer's first solo exhibition outside of Lebanon and the long-awaited debut of the FAI in the UK; the presentation of Bourdieu's fascinating field research is also a British first. Together, these two "Mediterraneans" should form one of the most significant London exhibitions of the year.
---
Paris
Hassan Khan
Galerie Crousel
September 19-October 30, 2004
Cairo-based audio visual artist Hassan Khan (whose work was profiled in Bidoun issue one) has his first solo show this fall at Paris's Galerie Crousel. Showcasing a number of past works in the two-level space, Khan will also debut Hidden Location, a four-channel video piece featuring a number of fictionalized narratives — scenes from a non-film — with no apparent connection between them, i.e. a businessman wakes up in his posh Nile-side apartment and reads nine quotations from the book of quotations, foreign tourists inexplicably stand on a Cairo street against a blue-screen background — as if surrounded by black halos, a company's employees undergo corporate training, ships flow through the Suez Canal and Egyptian actors play foreigners on Egyptian TV, accents and all. Once again, Khan plays with audiences and notions of narratives at large, asking them to resist the temptation to make connections between the sequences, to categorize, to discern, i.e., young Arab male simultaneously decries the legacy of imperialism (Suez reference) and makes judgments with regard to morality and commerce (the book of quotations, the posh surrounds). Instead, he asks us to engage with every moment, because it will only last that long.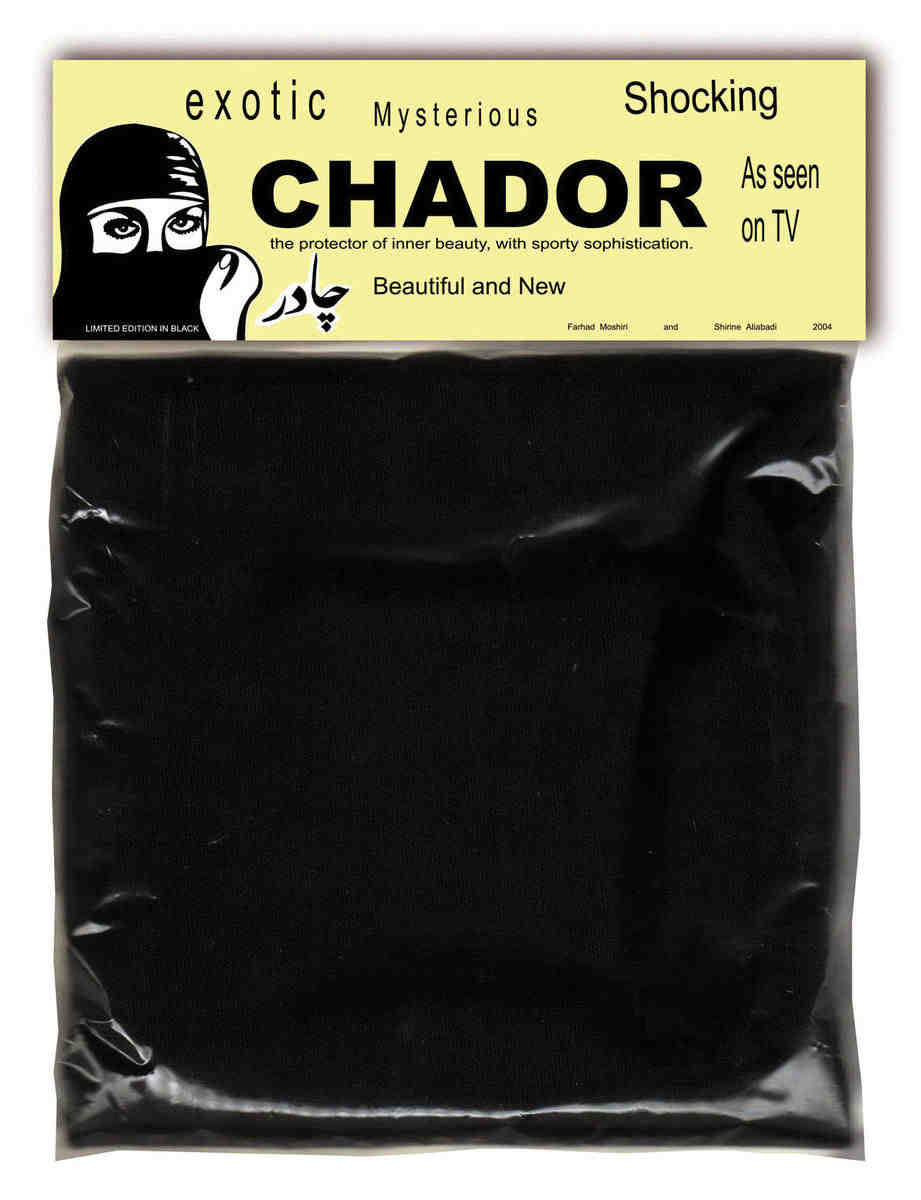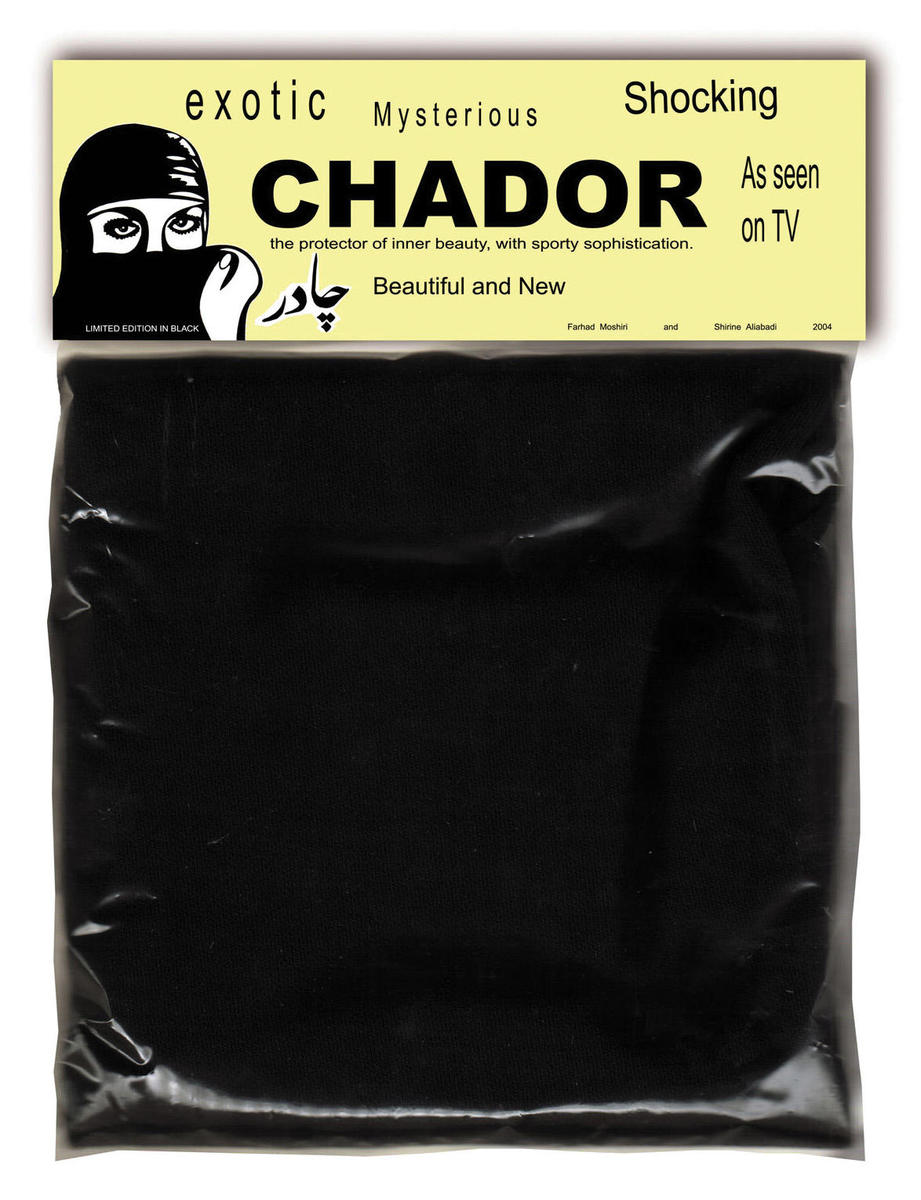 Geneva
Ethnic Marketing: Art, Globalization, and Intercultural Supply and Demand
Centre d'Art Contemporain
October 20–December 5, 2004
Martine Anderfuhren and Tirdad Zolghadr's ambitious project exhibition sets out to challenge and dismantle such meta-concepts as "ethnic marketing" and "art market xenophilia" through the work of a select group of smart, observant contemporary artists. Commissioning various artists to pose as fictive practitioners of undisclosed ethnic origin, they are aiming, says Zolghadr, to "explore the fine line between critically playing on a horizon of expectation, and reproducing a caricature." Typically setting themselves a challenging and highly experimental brief, the "ethnic marketers" are aiming for an investigative season; their plans include a late-night screenings of film and video works, grouped around the themes of Tourism, Marketing, Xenophilia, and Figures of Globalization; an evening of "fifteen-minute interventions" featuring Gülsün Karamustafa, Natascha Sadr-Haghighian and advertising film director Chris Niemeyer (October 21); and a multi-media presentations on "migration marketing". The project team's own work includes the knowing documentation of consulting firms' workshops involving role-playing exercises with titles such as Doing Business with the Arab World. Meanwhile, expect the main exhibition to include such gems as Shirin Aliabadi and Farhad Moshiri's ongoing study of veiling iconography, Freedom is Boring Censorship is Fun and COM & COM's mock Mocmoc statue, an exploration of Swiss identity through a "Tamagotchi aesthetic."
---
Frankfurt
The Arab World at the Frankfurt Book Fair
Frankfurter Messegelände
October 6-10, 2004
Frankfurt will be a center for Arab literature for five days in October, when the juggernaut that is the annual Book Fair hits town. The long-established tradition of honouring a guest region began in 1976 with Latin America, followed by countries from Africa, Europe and Asia. This year´s visitor is the Arab World as represented by the Arab League, which is aiming to present a diverse picture of its twenty-two member states. The "dream team" is led by Alesco, the Educational, Cultural and Scientific Organisation of the League; its directors have put together a multifaceted program that includes poetry and narrative readings by the likes of Adonis, Mahmoud Darwish, Sahar Khalifa and Taher Ben Jelloun; a film program at the Frankfurter Film Museum titled "Half a Century of Arab Film, 1954–2004," between October 2004 and March 2005; several exhibitions around a literary theme, plus various debates, symposia and discussions at the Arab Pavillion. Whether this kaleidoscope succeeds or falls into the trap of being a folkloristic circus will depend in part on the scope for freedom of expression and the courage of the 200 invited guests and authors.
---
New York
Cinema East
Cantor Film Center, New York University
September 11–December 4, 2004
Arteeast, Inc. is a 501 © (3) nonprofit organization established in 2003 to exhibit the works of artists and filmmakers from the middle east and its diaspora. Arteeast offers a unique multicultural approach to covering a wide spectrum of middle eastern artists and viewpoints rather than focusing solely on artists and projects from one nation, ethnicity or region.
Cinema East fall program
Saturday, September 11, 6 pm
About Baghdad by InCounter productions (Iraq/U.S.A, 2004, 89 min., beta sp).
In English and Arabic w/ English subtitles
No news… by Bushra Azzouz (U.S.A., 2002, 13 min., dvcam).
Post-screening panel discussion with InCounter productions team Sinan Antoon, Suzy Salamy, Bassam Haddad, Adam Shapiro, and Maya Mikdashi
Saturday, September 18, 6 pm
The Lizard by Kamal Tabrizi (Iran, 2004, 110 min., 35 mm). In Farsi w/ English subtitles
Post-screening panel discussion with Mazyar Lotfalian (Yale University) and Negar Azimi (Harvard University)
Friday, September 24, 6 pm
You are My Love by Youssef Chahine (Egypt, 1957, 120 min., 35 mm)
In Arabic w/ English subtitles
Saturday, October 2, 6 pm
Mashallah by Eytan Harris (Israel, 2004, 62 min., digibeta)
In Hebrew and Arabic w/ English subtitles
Hopefully for the Best by Raed Helou (Palestine, 2004, 42 min., dv cam)
In Arabic w/ English subtitles Introductory remarks by Ryan Lahurd, president, Near East foundation
Post-screening panel discussion with filmmaker Raed Helou and Hamid Dabashi (Columbia University)
Saturday, October 16, 6 pm
'K' by Shoja Azari (U.S.A./Morocco, 2002, 85 min., 35 mm) Post-screening panel discussion with filmmaker Shoja Azari, executive producer Shirin Neshat, and actors Oz Phillips and Mohammed Ghaffari
Saturday, October 30, 6 pm
The Best Times by Hala Khalil (Egypt, 2004, 113 min., 35 mm)
In Arabic w/ English subtitles Post-screening panel discussion with filmmaker Hala Khalil and Mona Eltahawy (Arabic Women's Enews)
Saturday, November 6, 6 pm
An evening with Lebanese film director and photographer Fouad Elkoury
Jours Tranquilles en Palestine. Directed by Sylvain Roumette and written by Fouad Elkoury (France, 1998, 13 min., beta sp).
Letters to Francine by Fouad Elkoury (France, 2002, 43 min, beta sp)
Moving Out by Fouad Elkoury (France, 2004, 26 min, beta sp)
Post-screening panel discussion with Fouad Elkoury and Walid Raad (Cooper Union)
Saturday, November 20, 6 pm
Deep Breath by Parviz Shahbazi (Iran, 2003, 82 min, 35 mm)
Post-screening panel discussion with Shouleh Vatanabadi (NYU) and Godfrey Cheshire (film critic, NYC)
Saturday, December 4, 6 pm
The Magic Box by Ridha Behi (Tunisia, 2002, 88 min., 35 mm)
In French and Arabic w/ English subtitles
How Beautiful Is the Sea by Sabine el Chamaa (Lebanon, 2003, 10 min., beta sp)
In Arabic w/ English subtitles
Introductory remarks by H.E. Mr. Hatem Atallah, ambassador of Tunisia to the United States
Post-screening panel discussion with filmmakers Ridha Behi and Sabine el Chamaa and Joshua Schreier (Vassar College)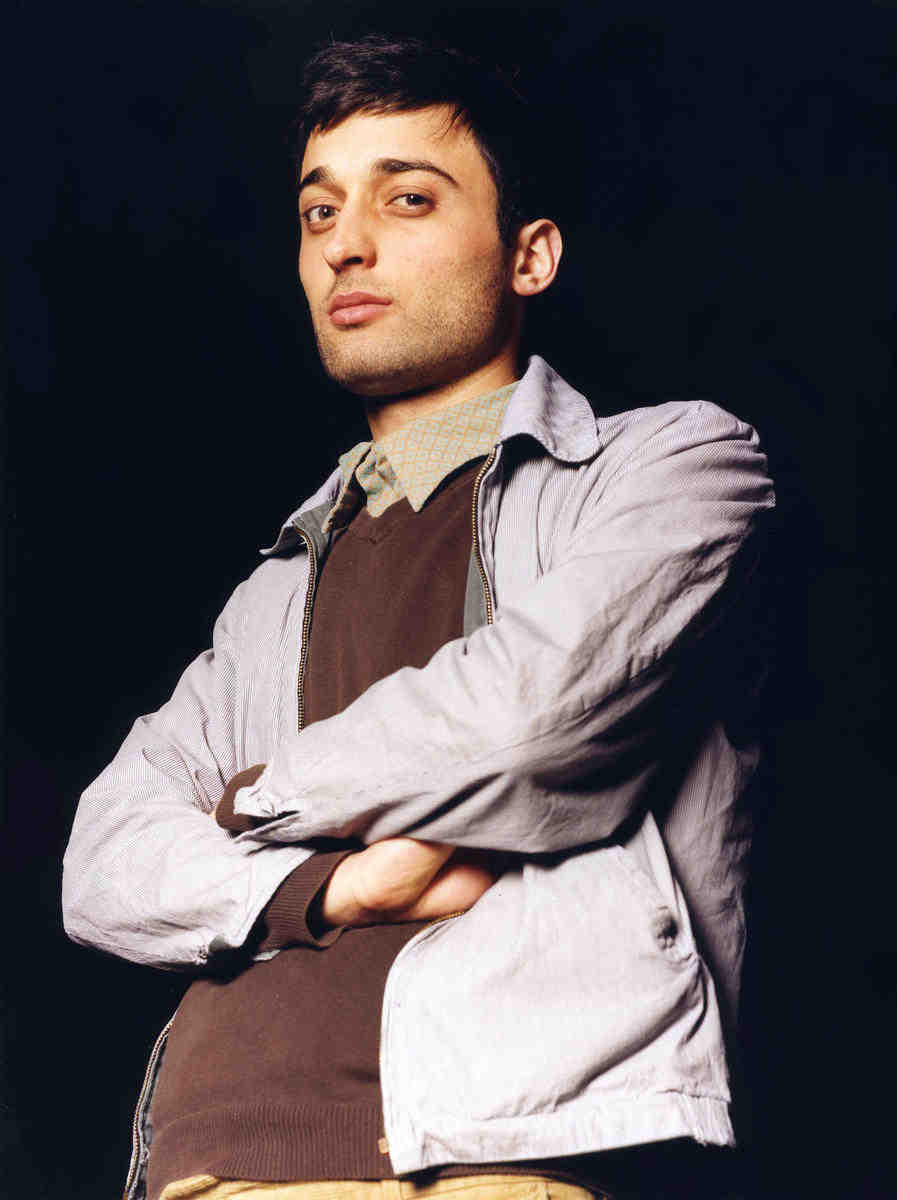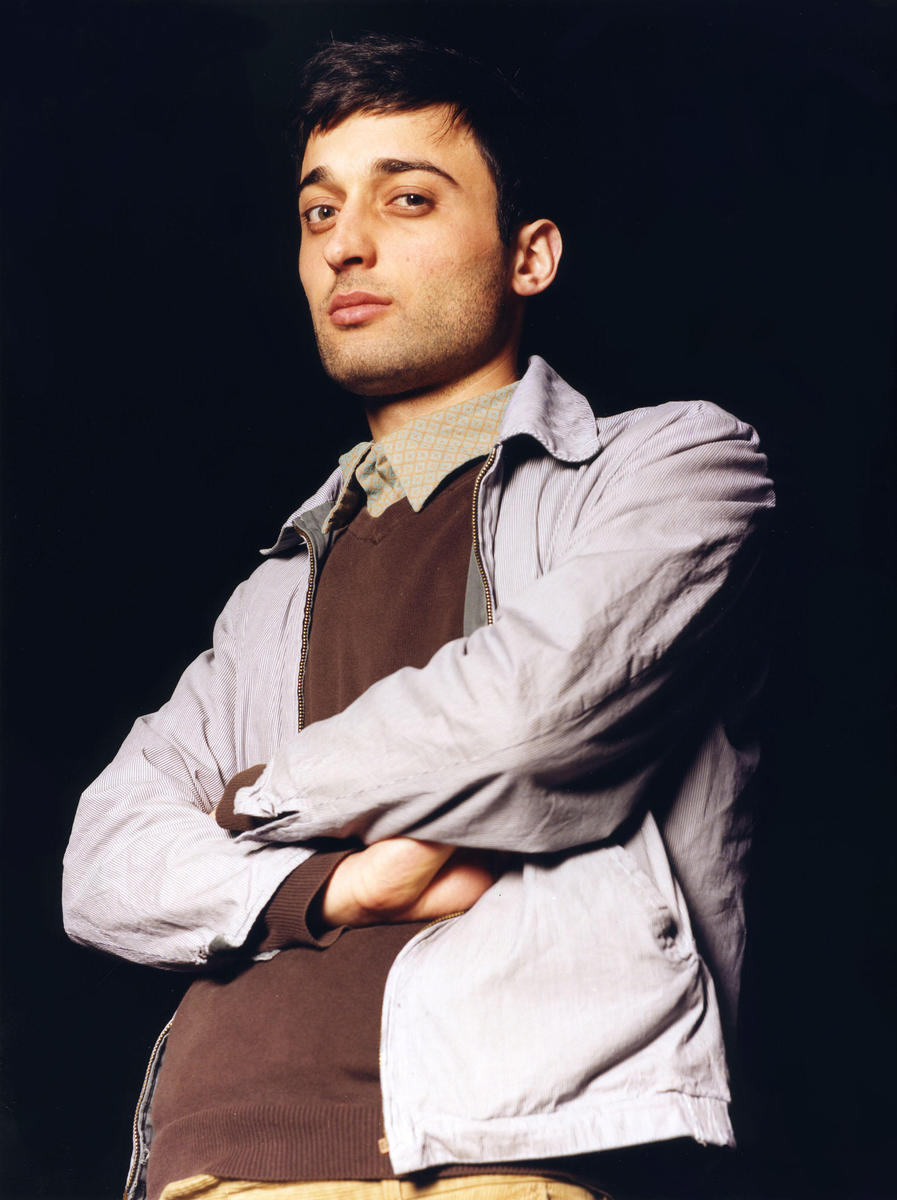 New York
Shirana Shahbazi
Salon 94
November 7–December 22, 2004
The Wrong Gallery
November 6–early December, 2004
Shirana Shahbazi plays with images, capitalizing on the codes embedded within particular media (photography, painting, craft) to expose the slippery nature of pictorial representation (what is authentic? what is ethnic? what is valuable?). Her debut Salon 94 show will showcase a number of images — taken from her own photographs — stitched onto hand-knotted carpets (including the image on the cover of Bidoun Issue One). As iconic decorative objects, the carpets function as a trace of the vernacular — in this particular case, Iranian. These are artefacts from the collective bazaar, stamps of authenticity from the East.
Not so. Instead, blonde bombshells, painfully intricate still lifes of fruit, landscapes and portraits — seemingly destined for either the gloss of advertising or alternatively the baroque, privileged frames of Western art — are transplanted onto the unassuming surface of the carpet. Lines demarcating the boundary between East and West, the painting and the photograph, real and contrived are effaced, exposed as frauds. You have to be paying attention here, as Shahbazi never fails to render us confused, exposing the very representational tropes we are all guilty of falling for and finally, perpetuating.
One day before the Salon 94 opening, Shahbazi will be showing a selection of works at Maurizio Cattelan, Massimiliano Gioni, and Ali Subotnick's no-profit, no-budget initiative, The Wrong Gallery — a whopping 2.5 square feet of exhibition room in Chelsea. Reconfiguring works in order to accommodate the (non)space, Shahbazi asks whether bigger is in fact better.