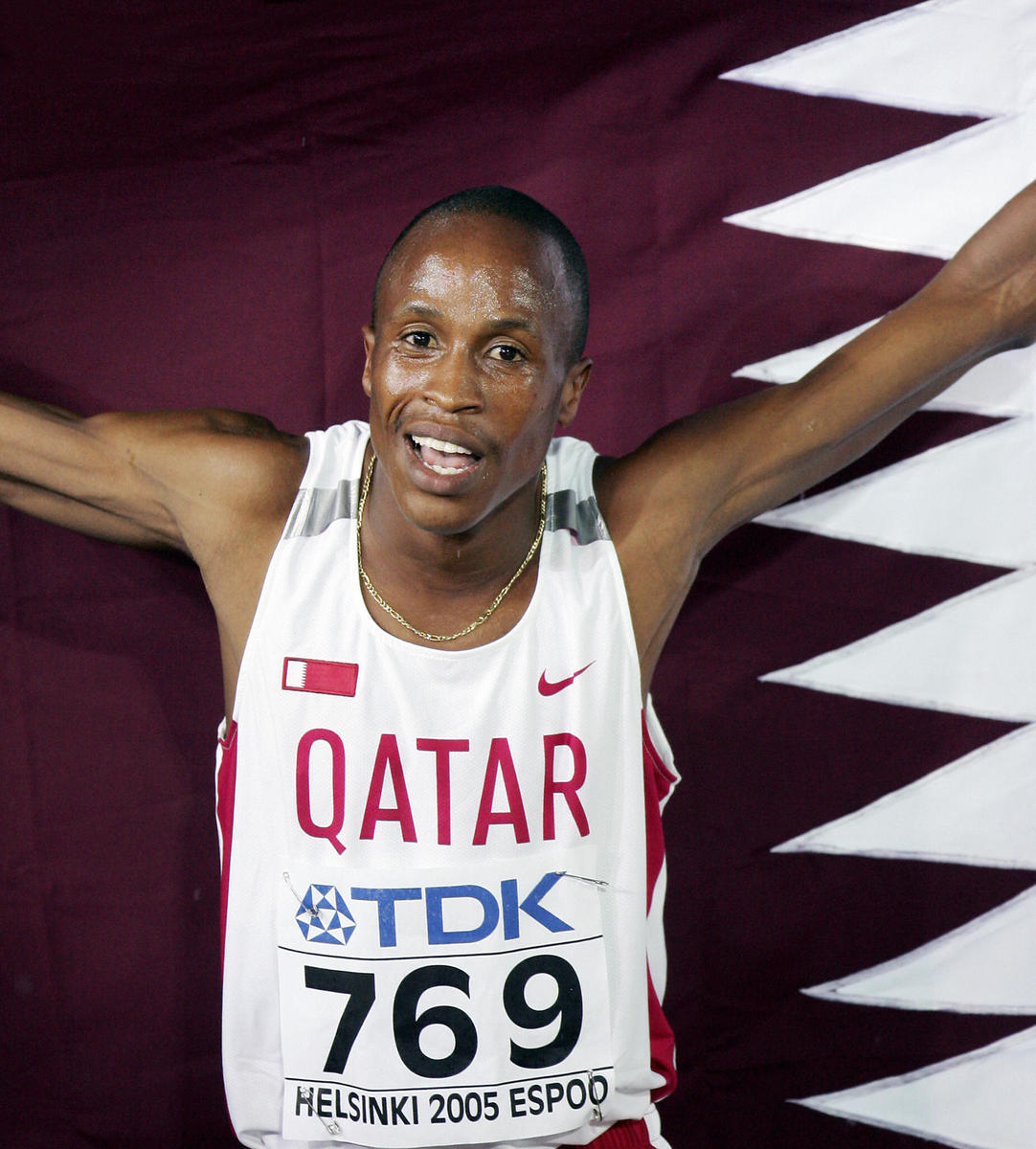 One day in the winter of 2002, Dorothee Paulmann received a telephone call at her home office in Trier, Germany. Paulmann had recently abandoned a career as a triathlete to become a sports agent, specializing in East African runners; the previous year one of her clients, a thirty-three-year old Kenyan runner named Edith Masai, had won the bronze medal at the World Cross Country Championship. The caller was Leonard Mucheru, a 24-year-old long-distance runner from Kenya, seeking her services. She agreed, and Mucheru began to travel between his home in the Kenyan highlands and Trier, Germany's oldest city. "He was impressed by the nice training facilities," Paulmann recalls, "especially the forest and the stadium." Mucheru improved steadily, and soon he was being recruited by friends of Paulmann, Moroccan trainers on the international circuit who were putting together a track team for Bahrain. There was one condition: Mucheru would have to renounce his Kenyan citizenship and become Bahraini. As Paulmann tells it, Mucheru agreed without hesitation and flew to Bahrain with the Moroccans. He filled out the necessary paperwork, changed his name to Mushir Salem Jawher, and settled into his new arrangement. Henceforth he would receive a salary of $1,000 a month, payable until death — his checks signed, oddly, by the Bahrain Defense Force — with substantial bonuses for winning races. Mucheru returned to Trier to train with Paulmann for the 2004 Asian Indoor Athletics Championship in Tehran, where he won the 3000-meter race.
Bahrain's recruitment efforts imitated those of Qatar, which had been importing athletes for years — mostly that special breed of Kenyans from the Rift Valley highlands. Qatar had cultivated a network of scouts and agents to bring promising Kenyans to the emirate for negotiations, and contacts among Kenyan sports officials able to waive a rule requiring a three-year "cooling off" period before an ex-Kenyan athlete could represent an adopted country in competitions. The delicacy of these dealings was such that, in exchange for Kenyan assistance, Qatar agreed to construct a professional stadium with a running track in the Rift Valley, where most athletes practice on improvised dirt trails. But as time passed and the stadium remained merely notional, Kenya accused Qatar of chicanery. Qatar blamed Kenyan corruption and bureaucratic infighting for the delay. In 2003, relations nose-dived when Kenyan Olympic Committee president and former track star Kipchoge Keino barred a newly Qatari runner, 20-year-old Saif Saaeed Shaheen, from competing in the Athens games the next year.
Until that August, Shaheen had been Stephen Cherono. He was not well-known in Kenya, where there is such a surfeit of world-class runners that few qualify for the national team. Hardly anyone took notice when Cherono switched his citizenship and name in exchange for a lifetime monthly salary of $1,000 and the standard complement of elite trainers and cutting-edge facilities. But then he started winning races. In a surprise victory at the World Championships in Athletics, held in Paris that spring, Shaheen broke the world record for the 3,000-meter steeplechase. After crossing the finish line he fell to his knees and began to cross himself, but an official rushed to stop him; he then took a Qatari flag, wrapped it around his shoulders, and ran a victory lap; when he stepped up to the podium he forgot his new name and had to check the scoreboard. His brother, a runner on the Kenyan team, finished fifth in the same race, and refused to congratulate him.
This jarring scene was replayed on television in Kenya and elsewhere, and Shaheen, who had received a multimillion-dollar bonus for his victory, was condemned in his homeland's newspapers. "That some Kenyan sportsmen are willing to be regarded in the same light as champion horse breeds and agree to sell their birth rights to the power of the dinar speaks ill of us Kenyans," opined the Daily Nation. Kenya's minister of sports attempted to pass a law prohibiting the country's athletes from changing citizenship at all.
The president of Kenya's athletics federation equated the practice to "trading slaves," while others compared the exploitation of African athletes to colonialism. For his part, Shaheen returned to Doha, where the sheikhs bestowed upon him a mansion and a squad of servants, as well as a title: "The Falcon of Qatar." And despite the general opprobrium back home, dozens of athletes, mostly runners and mostly Kenyan, have been Qatarized since Shaheen's public shaming.
Most athletes who become Qatari citizens do not actually reside in the country and, despite their Arabized names, are not acculturated. This includes Saif Saeed Assaad, formerly Angel Popov, a Bulgarian weightlifter (one of eight ex-Bulgarians on team Qatar) who won the emirate a bronze medal in the 2000 Olympics. (Zhu Chen, a Chinese chess grandmaster who represents Qatar in the World Chess Federation, is a rare exception — she married a local chess grandmaster. "The only thing I could not understand when I first came here," she has said, "is their slow rhythm of life.") Runners generally live and train in their home country, flying to Doha every few months to renew their visas, and many expect to find a way to regain their citizenship once their careers end. Renato Canova, an Italian coach who heads Qatar's recruitment program, has said, "I've told my athletes that if they marry a Kenyan girl, they will become Kenyan again."
Of course, Qatar is not unique in recruiting players from beyond its borders. Tunisia has acquired a Brazilian soccer player; Georgia has two Brazilian volleyball players; Azerbaijan's women's hockey team features a clutch of South Koreans; and African asylum-seekers are suffusing Nordic track rosters. Second-tier American basketball players serve on teams across the globe. (The greatest acquisitive coup in sports history occurred in 1938, when Nazi Germany annexed Austria — and its athletes — leading to the creation of what was, until war intervened, the world's greatest soccer team.)
The situation of the Kenyan runners is more acute in part because Kenya does not allow for dual citizenship. In any case, it may be that Qatar's "foreign legion," as it is often called, rankles because of the easy allegories: the majority of the emirate's population is foreign guest workers, few of whom will ever be offered citizenship.
In most countries, sports are still perceived by fans and government officials (if not by athletes) as something like the auto industry in America: an ideal realm that should be kept 63 apart from the economic shifts wrought by globalization. The Olympics are the last redoubt of the nation-state — or, at least, they profit immensely from being marketed as such. The opening ceremony, which is the highest-rated television broadcast of the games, hinges on a vow by amateur athletes to compete "for the glory of sport and the honor of [their] teams." That promise is packaged by the International Olympic Committee and sold for around $4 billion; a negligible amount makes its way to the athletes.
Much like modern war, modern sport is undertaken by a marginalized group for the benefit of a powerful elite. But even war, which was the initial model and impetus for the Olympics, is no longer fought exclusively among nations, or for a cause assigned to, rather than chosen by, the combatants. Perhaps we should blame this situation on the diminishing purity of sport: for most of human history, the hallmark of international athletic competition has not been patriotism but the sublimation of violence. The Olympics was originally accompanied by a cessation of all hostilities between nations, and the hope that it might temper those hostilities. According to Nigel Spivey, author of The Ancient Olympics: A History, the Greek games revolved around a differentiation between Good Strife and Bad Strife: "Good Strife, born of a coupling between Zeus and the Night, encouraged mortals to make the most of their brief time on earth; Bad Strife set up lusts for battle and bloodshed. Good Strife nurtured desires for wealth and fame; Bad Strife was a destroyer of lives and property. Good Strife urged creative industry, stirring the energies of emulation." In other words, all games were war games.
And yet the battlefield is never far from the track. In January 2007, Mushir Salem Jawher entered the Tiberias Marathon, which traces the Sea of Galilee. He finished in two hours and thirteen minutes, winning the race and becoming the first Arab athlete to compete in Israel. He was "very proud," he told the press afterward, calling Israel "a free country," and stating that "people should live together in harmony." Bahrain responded by announcing its intention to strip Jawher of his citizenship. He became a man without a country, spending two months in Nairobi trying to convince the government to take him back. "He called me after the race and explained what kind of trouble he was in," Dorothee Paulmann remembers. "It was a shock. He should have known. But maybe he just didn't think about it." Bahrain eventually bowed to international pressure and agreed not to revoke Jawher's citizenship, but his name had been ruined. Later that year Kenya agreed to take him back. And in 2008 he successfully defended his title, winning the Tiberias Marathon, this time as Leonard Mucheru.