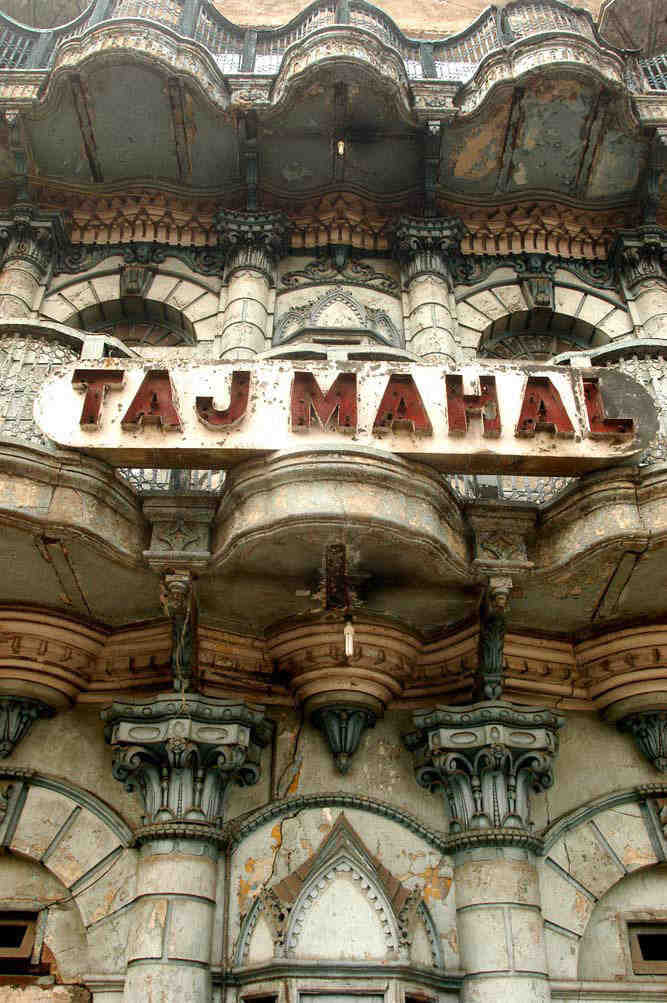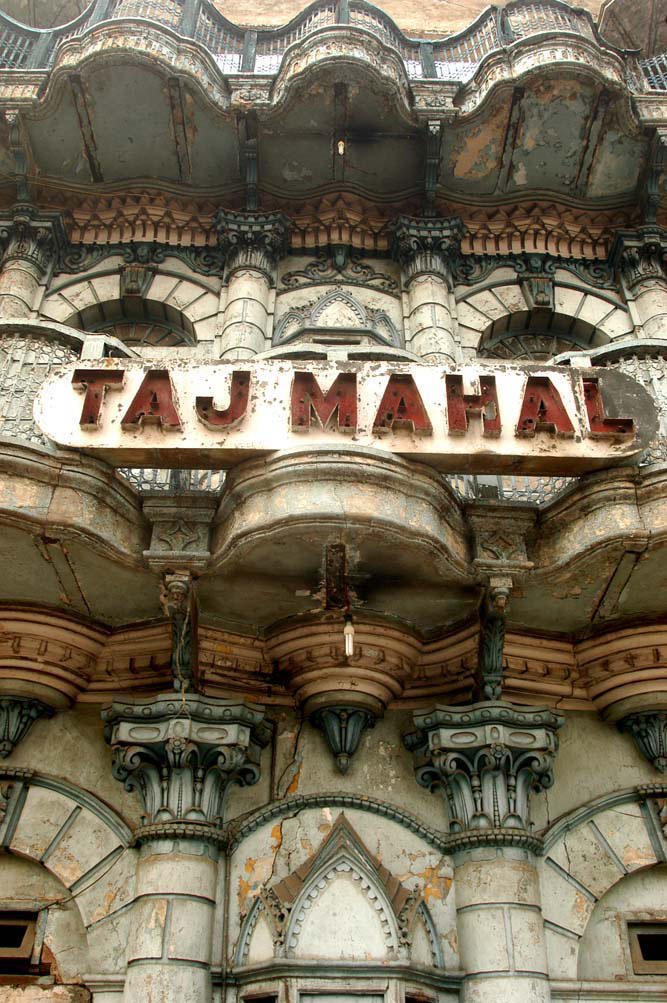 There's a Taj Mahal Hotel in nearly every town in India. According to my phone book, there are two in Delhi. One of them I know well, a towering slab of luxury on Mansingh Road in New Delhi. But the other has an unfamiliar address: 747 Church Mission Road, that must be somewhere near the Old Delhi Railway Station I dial the number and, warbling with excitement, ask if this is indeed the Taj Mahal Hotel. I'm answered by a long sigh. "You want five-star?" The man's voice is thick with years (twenty-five, it turns out) of patience, resignation, and disappointment.
Of course I did not want. I wanted this dame. Well, grand dame anyway. I had seen a photograph in a magazine once, all flouncing balconies and frilly stucco.
It's only when I turn onto Church Mission Road that I realize I'm walking the Old City's hotel strip, the road connecting the Fatehpuri Masjid, at the top of the seventeenth-century Mughal high street, with the Victorian railway station. I pass the Imperial Hotel, the Astoria, the Vaishnav Hindu Hotel, and St Stephen's Church, with its prominent signboard ("This is a typically designed church in the gothic style in 1867"). I pass scattered sex clinics; a "specialist in diseases of women and children"; "dealers in all kinds of copper and aluminum scraps"; a tractor parts dealer. Tiny alleys snake off beyond still more signs. Walking in Old Delhi I sometimes feel like a small child lost in a rustling labyrinth of tall pleated skirts.
And suddenly, nearly at the end of the road, there it is. The voluptuous façade billowing like late-Victorian bloomers, still flashing the postcolonial street below. The Taj Mahal.
Climbing the steep flight of stairs to the first floor lobby, I step into a classic atrium, with a nautical railing on the second floor gallery and a clerestory above. The walls are paneled with charming art nouveau majolica glazes, the doors topped with transom windows.
It's all crumbling, of course. The floor, which is clad in geometric Minton tiles, has cracked down the middle like the spine of an old book and is folding alarmingly in two. The entire space seems mildly out of alignment with the staircase and the street; it's like walking into an elaborate dollhouse made of buckling cardboard. There's a wonderful first-floor terrace, looking out on the vibrant chaos of the street, but no one seems to use it. The hotel's catering license expired a couple of years ago.
Parvinder from reception offers me tea, and I settle down in the lobby to savor the atmosphere. Maybe I've just read one too many Jim Thompson novels, but I'm intoxicated by the gritty tableau, which transforms every passing figure into a character. Parvinder himself is an enigmatic presence. Tall and muscular, taciturn and a little shabby, he has an unthreatening but unmistakable physical confidence, which is slightly at odds with his perch, a candy-striped Formica reception booth. But he runs a tight hotel. There's a sign that says "non-alcoholic zone" hanging at reception. Another forbids cigarettes. "It's my only complaint," says Shyam Prajapati, a cloth merchant from Jodhpur who's staying here for the second time. "Back home, even the Taj Hari Mahal allows you to smoke. And drink. Oh, and TVs in the rooms would be a good idea."
Parvinder observes my interview but remains insouciant, unflappable. Guests like this place because of the high ceilings and good ventilation, he says. All the other hotels here have refurbished their rooms and made them smaller. The hotel is something like a hundred years old, he says, but no, he doesn't have any stories. I am subtle but persistent. Mostly persistent. "A famous guest, perhaps? Or an infamous one? A murder? Surely? No? Not one murder in a hundred years?" Parvinder looks at me with gentle concern. I'm beginning to feel like a character myself.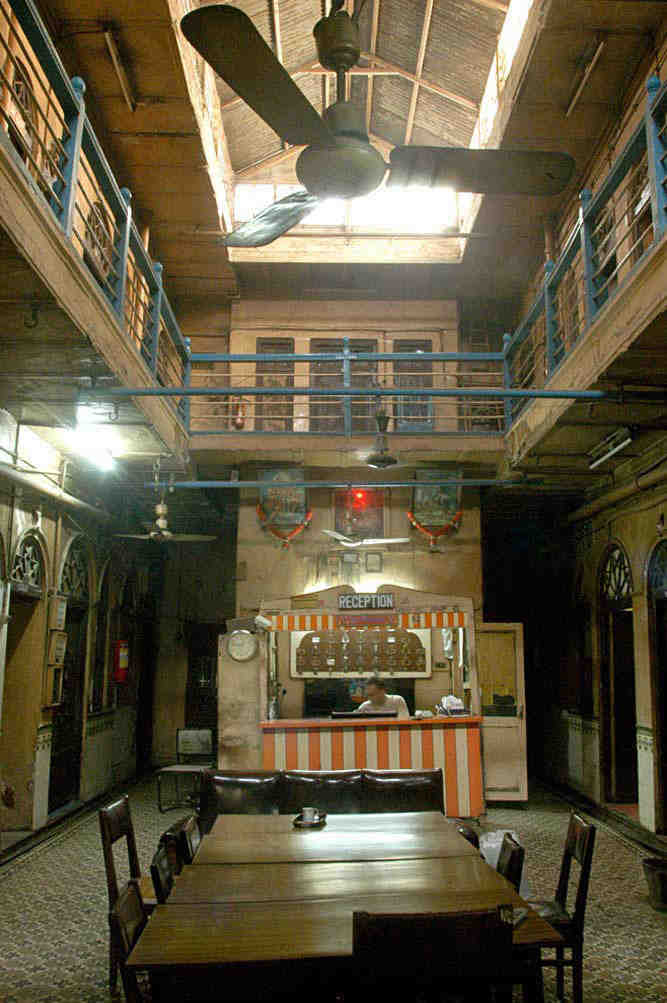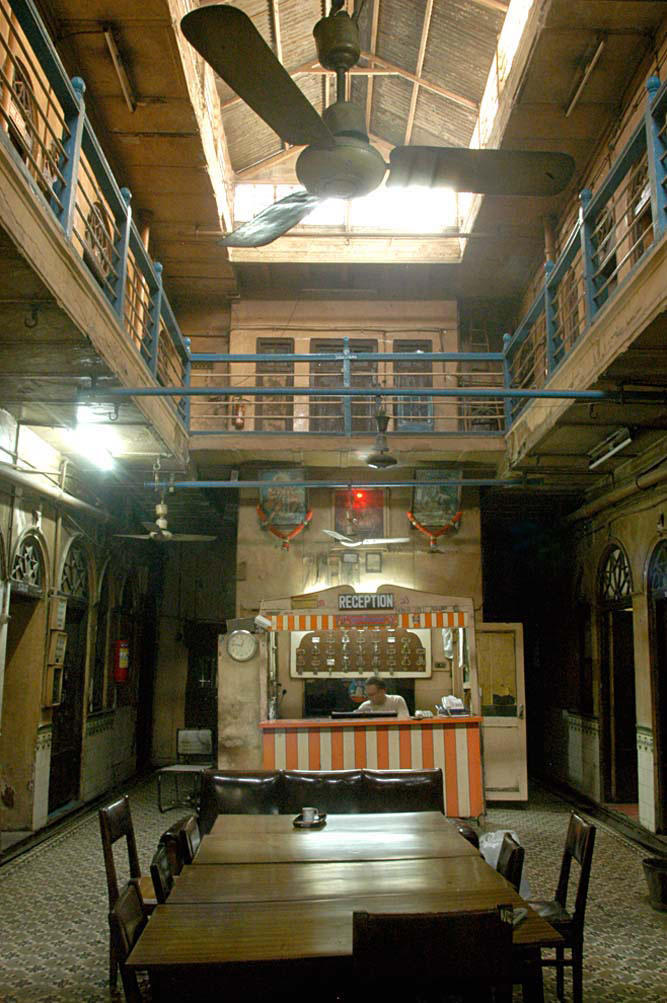 Before I go, he tosses me a scrap. "Three months ago they shot a film here, called Dev D, starring Abhay Deol and some new actress, Mahi Gill." Dev D turns out to be the latest remake of one of modern India's foundational fantasies, Devdas: a 1917 Bengali novel by Sarat Chandra Chattopadhyay, then a movie in 1929, and then another in 1935, and in 1936, 1937, 1953, 1955, 1979, and 2002 (twice). It's about a tragic love triangle. Devdas, the eponymous hero, doesn't have the backbone to marry his childhood sweetheart, Paro, so he drinks himself to a deranged blubbering death under the sorrowful gaze of Chandramukhi, the whore who really loves him — though he manages to drag himself back to Paro's doorstep when it comes time to sleep the big sleep. I really don't know how to explain the story's enduring appeal. Jules et Jim on pathos crack?
Dev D is still in production, but I read later on the director's blog that this will be a "twenty-first century Devdas," where the sweetheart is no virgin, the whore is a college girl, and the hero's buddy Chunnilal roams around brandishing a vibrator. And Devdas himself? Well, according to Parvinder, "he doesn't go nuts, he just keeps picking up girls and bringing them back here."
"Oh? Which room?" I ask.
He gives me that look again. "Number 16."
Taj Mahal Hotel.
Tel: 23964055, 23964697.
Rooms: Rs 120-250