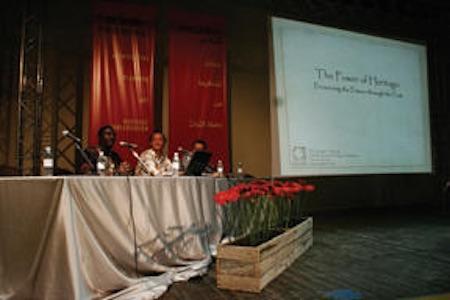 West Bank
Riwaq Bienniale
Various venues
October 17-24, 2007
Most large visiting groups who pass through Palestine come with their UN logos prominently displayed. But this past October, a mixed group of artists, architects, planners, and curators from around the world came to the West Bank for a series of self-styled "gatherings" — exhibitions and discussions under the umbrella of the second Riwaq Biennale.
Artist and biennale director Khalil Rabah has pointed out that theirs was potentially the first biennale to take place in a country under occupation. Rather than bring the standard biennale format to Ramallah, he and organizers sought to embark on a two-year exploration, a radical platform to develop ideas that was more process-oriented than exhibition-oriented in nature. But how, artistically or critically, could this be achieved? How could the biennale stand apart from the myriad initiatives introduced to Palestine by international money and "goodwill"? After all, this land is no stranger to projects that are one-off in nature, that lack any real continuity.
Riwaq, the organization, was founded in 1991 by a group of Palestinian architects and conservationists, who thought of restoration as the most powerful of political tools and were intent on developing a survey of historical buildings in Palestine. Since that start, the organization has grown substantially and is now active in almost every village in the West Bank. Preservation, in this context, can indeed be a form of resistance.
One of the central elements of the biennale "gatherings" was a series of coach tours to outlying villages and to Hebron, Jenin, Bethlehem, and Jerusalem, narrated by Riwaq representatives and other architects and planners. It seemed that every inch of land, every building, whether standing or rubble, every olive grove, village, road, and checkpoint, was a potential point of discussion, debate, and reflection. Tiny, obscure details — such as the fact that the Dead Sea sparrow is endangered, that tunnels under Jerusalem hide the Arab part of the city, that the wall facing Israeli roads is decoratively textured (compared to the bleak imposition on the other side) — circulated within the body of the coach.
The artists — among them London-based duo Kodwo Eshun and Anjalika Sagar (otherwise known as The Otolith Group), Sanja Ivekovic from Zagreb and Jose Davila from Mexico — were brought together to speak about their work, make work, or, in some cases, to arrange to come back and make work.
The biennale's partner organizations facilitated an impressive schedule of satellite events, including an exhibition of On Kawara's Pure Consciousness date paintings installed in a kindergarten looking over Bethlehem, organized by ArtSchool Palestine and the Ikon Gallery, and an installation of Palestinian video art curated by ArtSchool Palestine's Samar Martha. The latter included Mona Hatoum's Measures of Distance, shown for the first time in Palestine, and the seminal Chic Point by Sharif Waked. The eight-day gathering, designed to kick-start a two-year series of workshops, exhibitions and projects in Palestine in 2007 and 2008, culminated in a symposium at Birzeit University, with trips, parties, and receptions in between.
The last section of the Biennale Symposium at Birzeit University, following sessions on planning, architecture and geopolitics, and heritage and conservation, consisting of a number of artists introducing their work, may have been the weakest point of the week. A few exceptions: artists Lida Abdul and Olaf Nicolai, for example, spoke eloquently about their own work. But still, many of the artists seemed unable to gauge the audience — consisting of delegates, architecture and planning scholars, and art students from the inaugural courses at the new International Art Academy of Palestine — and some even appeared to assume an occasionally apathetic approach to the event.
In the end, it's easy to fall into the trap of imagining that this is a country like any other. The Palestinian experience is unremittingly fluid; exceptional experiences, both organizational and conceptual, are inevitable, and for that reason, the gatherings themselves were an exhibition of sorts. They were also an achievement. As biennales proliferate and their homogenous nature is increasingly questioned by critics, Riwaq may stand a chance to revolutionize the form — or at least lend some nuance to it.
www.riwaqbiennale.org