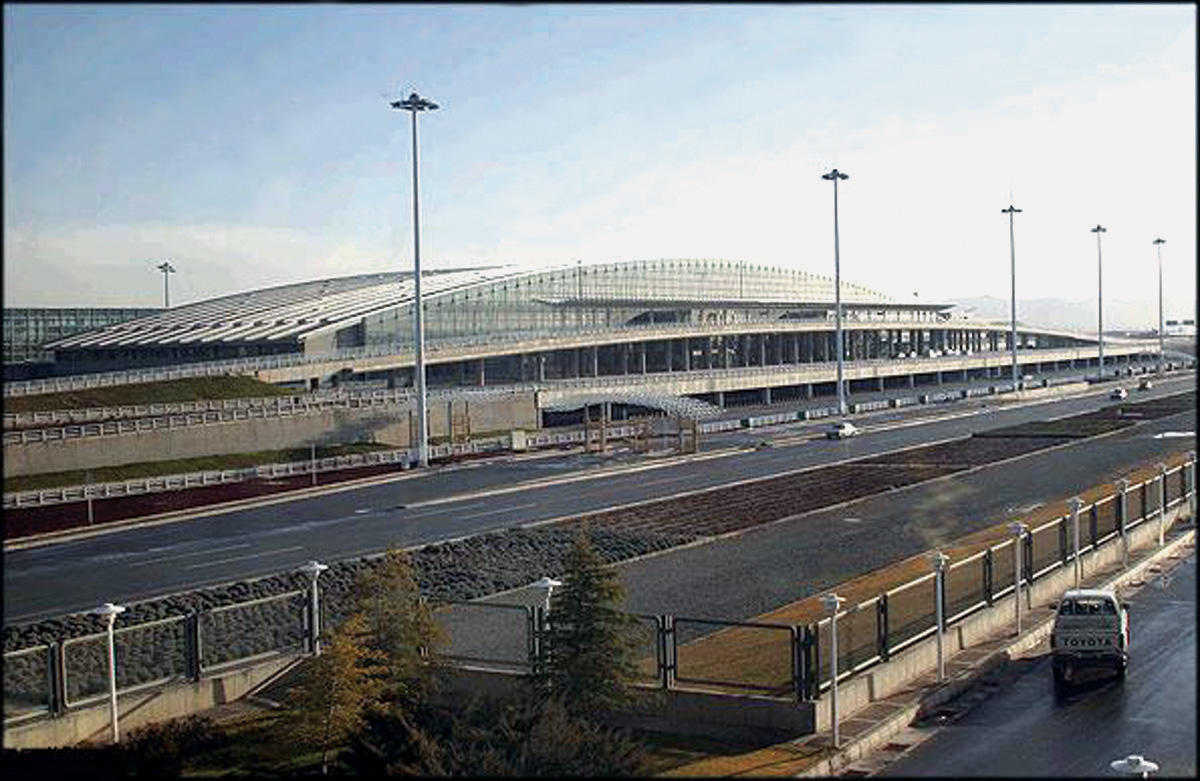 Emirates EK 977 flight from Dubai lands on time at 8:35 pm. Immigration is swift and rather uneventful. The building basically looks like every slightly overcrowded airport in the world, although the signs are in Farsi adds a little adventourism for those like me who are completely ignorant of the language. "Of course there is no blood fountain." I am a little disappointed. I'd expected more history. Predominant color: chocolate.
Standing at the baggage claim, there is only one piece of luggage on the whole carousel at a time. I feel like I am trapped in a performance by Santiago Sierra. Nobody else seems to notice. Fortunately, many women in Iran smoke. Stepping out of Mehrabad, I bum a cigarette. Immediately a number of husky-voiced women organize a prepaid taxi ride for me to the overrated Esteghlal Hotel in the swanky northern part of Tehran.
Next morning, I wisely downgrade myself several stars to the "legendary" (as Lonely Planet calls it) Hotel Naderi (see page 96) in southern Tehran for the remainder of my stay.
When I leave Tehran in early May, my Iran Air flight IR 655 departs from the newly opened Imam Khomeini International Airport. Construction of the airport started before the revolution. IKIA was supposed to open on February 1, 2004, marking the twenty-fifth anniversary of the return of Imam Khomeini from his exile in Paris.
He arrived at Mehrabad in a chartered Air France plane. In my memory of that 1979 event, a bearded man in an oversized coat walked down the stairs of some plane and greeted people in a Pope-like manner. He reminded me of Santa Claus. I was told that he tortured people who drank Coca Cola. (I was also told that if you put meat into Coca-Cola for a day, it would disintegrate. I became a vegetarian.)
Anyway: The opening of Imam Khomeini International is postponed to May 8, 2004. Then the Turkish-Austrian construction company TAV is asked to withdraw all staff and equipment from the airport. The government will not allow foreigners to run it. There are allegations that TAV has links to Israel. Rumors, misplaced economic protectionism and national pride boil into a sticky gunk of cause and effect. TAV clears the airport, but the Iranian Armed Forces seize the airport on May 8 anyway. By then TAV has invested over $14 million in the project. Foreign investors agree that Iran is an unreliable business partner.
After a number of rescheduled openings, the "soft" opening in May 2005 goes widely unnoticed. My flight is one of the first ever to leave. Nobody in Tehran can tell me where the airport is located or how long it takes to get there. Iranians have buried the Imam Khomeini Airport far south in the depths of their subconscious.
When I ask the receptionist at Hotel Naderi, David, where the new airport is, he offers me a piece of baguette with his mother's apricot jam. "It is better." He then calls a cab. It is now four hours before my departure. The cab driver strides into the lobby. David translates. "He doesn't know where the airport is." Let's look at a map. "He doesn't have one." Extended gestures, unhappy faces. "If the traffic is bad, it will take three hours." I do not want to miss my plane. "Don't worry, he's a good driver," I am assured.
There are no traffic jams, and the driver knows very well where he is going. I hope it is Imam Khomeini Airport. The Peykan taxi speeds down the Southern Qom Highway, out of the city and toward a barren landscape. My fingers are sticky with apricot jam.
Twenty minutes later, we arrive. There is no one around except for a couple of bored military people. My driver plunks my suitcase down, and off he goes. I am the only passenger in this vast aerodrome. First impression: 80 percent Kuala Lumpur Airport, 10 percent TESCO supermarket Bangkok, 5 percent computer simulation of IKIA, 4 percent former Munich Airport Riem and 1 percent Dubai Airport. Predominant color: lettuce. Again, everything feels like a set. Contrary to the organic realism of Mehrabad Airport, I feel like I'm trapped in a huge Andreas Gursky photograph.
An hour later, the only check-in counter opens for Iran Air flight IR 655. As I pass through immigration, the security personnel proudly work the brand new X-ray machines. I am thirsty. The cafes will open "soon," the staff reassures me, possibly even this year. Now, the soda pumps are disconnected, wires hang from the ceiling, and the empty shelves of the vast duty-free megastore are gaping, waiting to be filled with Toblerones and Ray Bans. Huge blank billboards force you to come up with your own slogan. Smiling, I close my eyes and try to think of one.