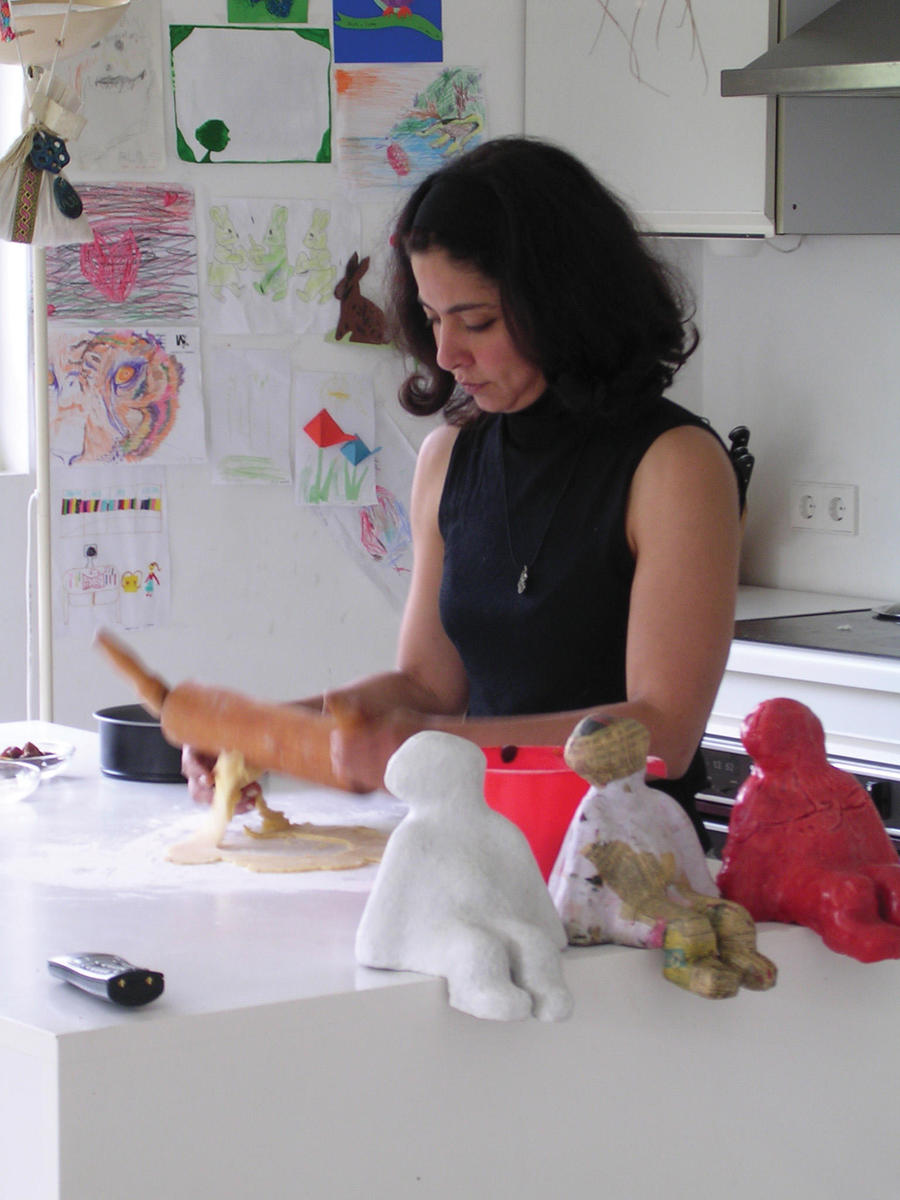 Maha Alusi is an architect and an artist when it comes to food. Her mission is to always find new ways to celebrate art and the senses. "Art should be consumed in all means, and food is the best way to honor all senses." Maha is interested in transformation, in describing movements. "Well, I see food creations as the most consequent form of presenting the circle of life: the growing, the emerging and the falling into pieces — birth and death at once. Art should not be seen as something static. I proved this way of capturing the environment and the senses also in my work as an architect — e.g. the construction for the German pavilion at the EXPO 2000. I searched for forms that allow the 'elements' (materials) to move, to change. It is much more interesting to discover new ways of seeing a building or a construction than simply trying to serve the comfort or common way of design. Lately, I am very much into the idea of layers, the development and the deconstruction of layers. That's why I have chosen to transform the traditional Iraqi dish makluba into a modern version," she says, laughing.
Today, the architect and designer Alusi lives in Berlin, Germany, in one of the city's famous flat-roof bungalows built in the 1950s for US embassy employees and left vacant after the fall of the Berlin Wall in 1989. Located in the far west of the city, these cool Bauhaus bungalows were lost to history — forgotten in the green, ready to be discovered. Alusi and her husband did just that three years ago, and restored the structure into a spacious, open place to live.
Her newest project is a construction out of wax — a sort of candle that takes its form while melting. "The full experience with this candle only takes place if you destroy it by burning it down — deconstruction and creation in one moment," she says. The procedure is unique and Alusi is applying for a patent. Till then, you can try her makluba creation and her dream of a cake recipe! Sahtein!
Welcome Drink
Ingredients
1 liter mineral water
1 spoon syrup of orange blossoms
Stir gently and serve cold. A fresh welcome drink for the summer.
---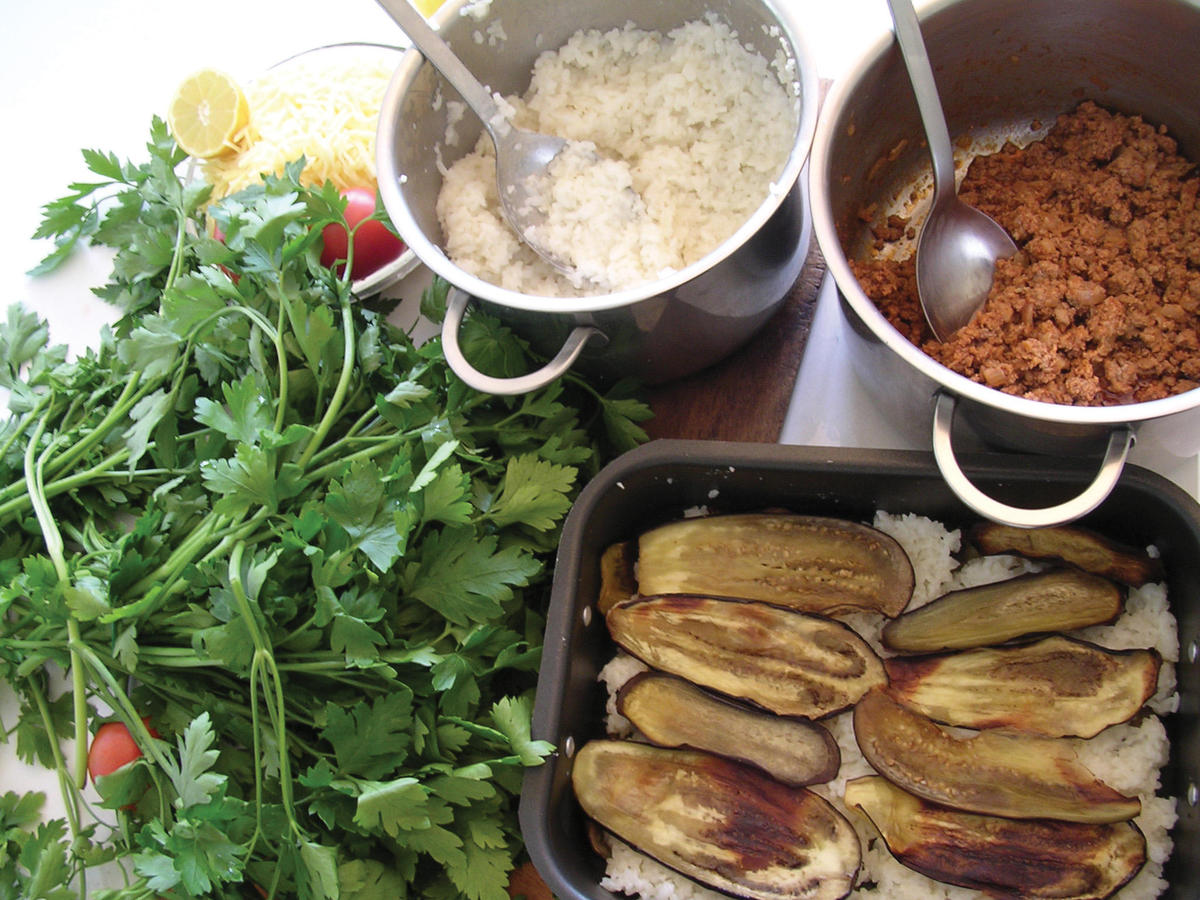 Modern Makluba
Ingredients
2 eggplants (sliced a quarter of an inch thick, lengthwise)
1 bunch parsley (flat-leaf, chopped)
240 ml (1 cup) basmati rice
30 ml (2 tbsp) olive oil (for the eggplants)
30 ml (2 tbsp) olive oil (for the rice)
240 ml (1 cup) Mozzarella cheese (grated)
2 fresh tomatoes
15 ml (1 tbsp) tomato purée
2 kilos (4.5 lbs) minced meat (lamb)
1 onion
Salt
Pepper
Chop the onion and sauté in a pan until they are translucent. Add tomato puree, take and then add the minced meat. Stir gently on low heat.
Wash the rice, and then boil with enough water to cover it. Don't cook for too long, as it will be baking later.
Lay the eggplants on a sheet of tin foil and brush them with oil. Bake at 180°C (350°F) until they become light brown. (This is a good and easy way to avoiding to frying eggplant — which often leads to an unromantic smell in your flat.)
Prepare an angular baking dish (6 cm deep) with a bit of oil.
Now the fun starts. Layer the rice first, then cover with a layer of eggplants, the meat and tomato mixture, and a layer of chopped parsley. Repeat. Top with lots of cheese and bake in the oven for 30 minutes at 180°C (350°F). At the end broil for 2 minutes to brown the cheese and make everyone love you.
Cut into quarters. Serve with sauce and fresh tomato on top.
---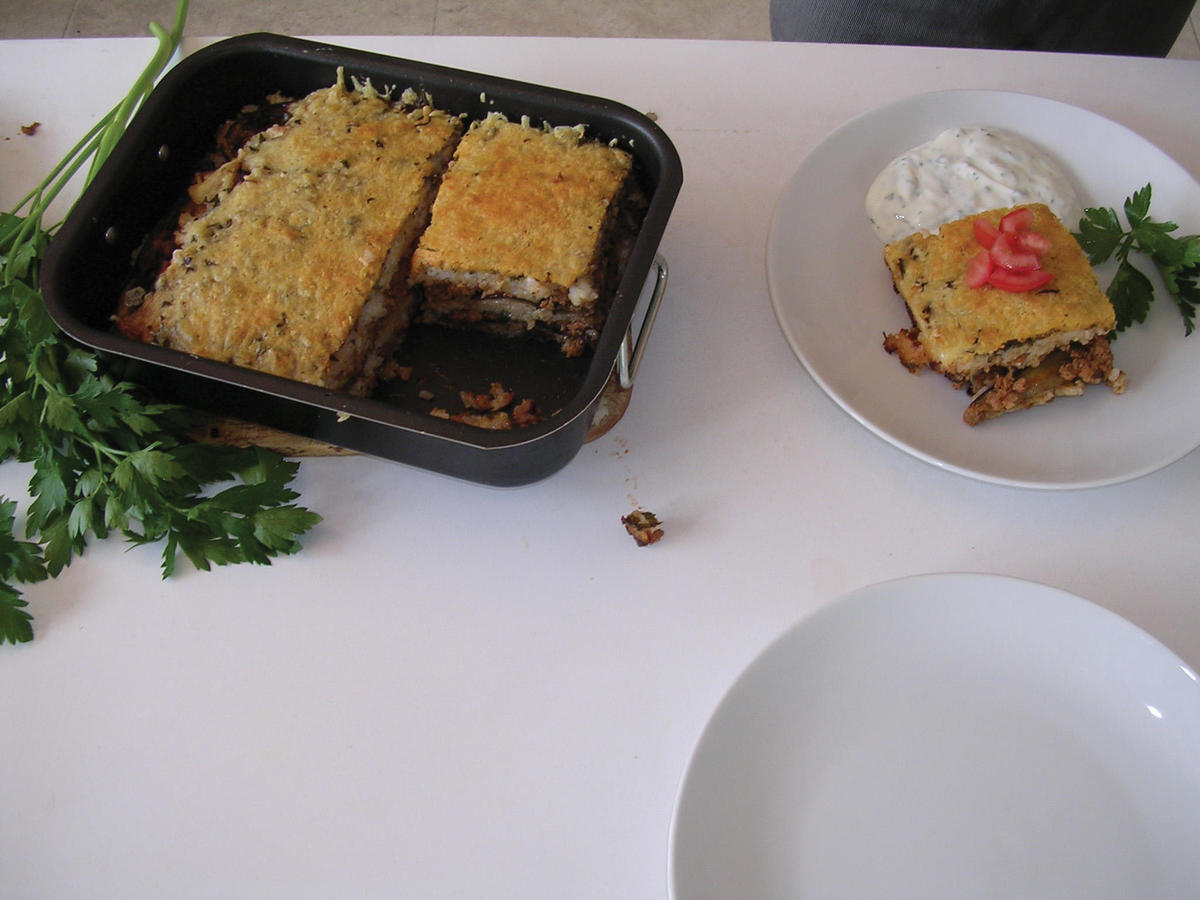 Makluba Sauce
Ingredients 600 g (21 oz) plain yoghurt
40 g (3 tbsp) parsley (finely chopped)
40 g (3 tbsp) fresh lemon juice
3 cloves garlic (crushed)
Salt to taste
Strain the yogurt. You can do this by putting a paper towel or Kleenex in a sieve and pouring the yogurt in to it. Leave for about an hour. Add the remaining ingredients to the yoghurt and serve.
---
Bustan Cake
Bustan is the Arabic word for garden. Our cake came decorated with edible chocolate leaves.
Ingredients 125 g (9 tbsp butter)
80 g (1/3 cup) sugar
2 eggs
15 g (1 tbsp) baking powder
200 g (1 cup) flour
50 g (2 oz) candied orange slices
100 g (4 oz) dates
100 g (4 oz) dark chocolate
For the crust 150 g (¾ cup) flour
50 g (¼ cup) sugar
100 g (7 tbsp) butter
1 egg
15 g (1 tbsp) cocoa powder
Make the crust first. Mix flour, sugar, butter and eggs in an electric mixer until it is soft. Divide the mixture in half. Leave one as it is and add the cocoa to the other.
Dough Soak the dates in warm water for about 15 minutes.
Mix the butter and sugar until foamy. Add the eggs, flour and baking soda. Cut the dates, chocolate and orange slices into small pieces and add to the dough. Grease the baking dish with butter and then sprinkle with flour.
Roll out both crusts. Spread the plain one to cover the bottom and the sides of the baking form. Pour the dough in.
Bake at 180°C (350°F) for one hour.
Use the chocolate crust to design flowers, leaves, or garden animals. Its up to you, after all, it's your cake. Bake the decorations next to the cake and then arrange on top before serving.