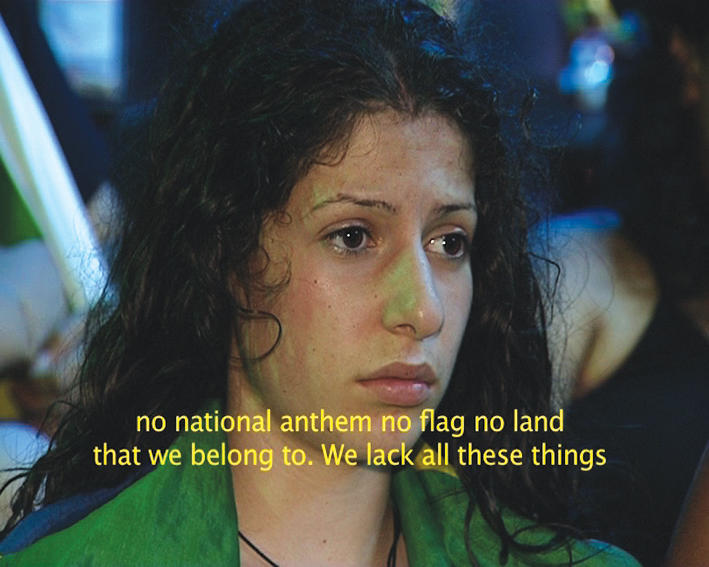 Leipzig
Liminal Spaces/Grenzraüme
Galerie für Zeitgenössische Kunst
October 28, 2006–January 21, 2007
Jumana Emil Abboud imagines a scenario in which a person wakes up one day to find that a wall has been built between his house and the lemon tree in his garden. The person innocently attributes his loss to a planning mistake, but is finally overwhelmed by a craving for a glass of fresh lemonade.
In Smuggling Lemons, Abboud, an artist based in Jerusalem, retrieves the lemon tree – or, at least, its fruit. Transporting lemons from Jerusalem to Ramallah, she symbolically relocates the lost tree on the right side of the barrier, exploring and challenging arbitrary borders on the way. After delivering the final load of lemons to Ramallah, Abboud celebrates by making and selling juice, thus eliminating the evidence of her smuggling and denying the existence of the tree altogether. Smuggling Lemons explores a space in which presumed sets of values are constantly shifting. Abboud's actions seem to reference an almost hysterical consciousness formed under military occupation and ethnic segregation.
Presented on video, Smuggling Lemons is a highlight of Liminal Spaces, a collaborative project organized by Ramallah's Palestinian Association for Contemporary Arts (PACA), Holon's Israeli Center for Digital Art, and the Universität der Kunst in Berlin. Launched in March 2006 with a conference near the Qalandiya checkpoint between Ramallah and Jerusalem, the project continued with a series of local residencies for 23 Palestinian, Israeli, and European artists, architects, and academics, charged with exploring the physical and social fabric of the Palestinian Territories. Their work is now presented in an exhibition in Leipzig, Germany.
German artists Sabine Horlitz and Oliver Clemens adhere to the mandate, exhibiting How much did you pay for this plot of land?, a large graph analyzing fluctuations in land value in Ramallah and East Jerusalem. The artists trace the impact of territorial and demographic policies — such as the building of the Separation Barrier, the partitioning of the West Bank, and various restrictive residency policies — on land value, documenting examples of strikingly expensive land adjacent to entirely devalued, and even uninhabitable, plots.
Yochai Avrahami focuses on the physical geography of the landscape surrounding the Qalandiya checkpoint in a five-channel video installation, Rocks Ahead. Traversing a deserted landscape flecked with abandoned objects, organic remains and construction material, he depicts a no man's land at once idyllic and horrifying. Avrahami's aerial footage allows him to bypass existing infrastructure and in doing so, rewrite the territorial configuration of the area, offering the viewer a momentary opportunity to move freely across borders. His camerawork evokes uncertainty, intrigue, and espionage; Rocks Ahead raises pertinent issues around notions of persecution, destruction, exploration, and abandon.
Simon Wachsmuth also attempts to unsettle the "urban order" imposed by the Occupation. The German-Austrian artist printed 2000 posters and distributed them throughout Ramallah. His campaign began in Al-Manarah Square in the city center and spread to the Qalandiya checkpoint on the road to Jerusalem. The deliberately ambiguous posters depicted transitional spaces such as construction sites, rubbish dumps, and stone quarries, counterbalancing the one-dimensional nature of the propaganda banners prevalent in the West Bank. Wachsmuth's Construction Status attempts to explore the nature of public space and form some kind of resistance to the monopolies of local political agendas.
Wachsmuth seems to aspire to reclaim public space as a site for political and social intervention. Like several other artists included in the show, his work succeeds in problematizing the occupation's ongoing restrictions and violations. However, the exhibited works, though often dynamic, pale in comparison with the compelling accompanying documentation describing the artists' investigations during their stay in Ramallah. The curators and artists assert that this exhibition was in no way designed to be conclusive. Rather, it is one stage in a continuing project aimed at testing the possibilities of art as a form of political and social engagement.