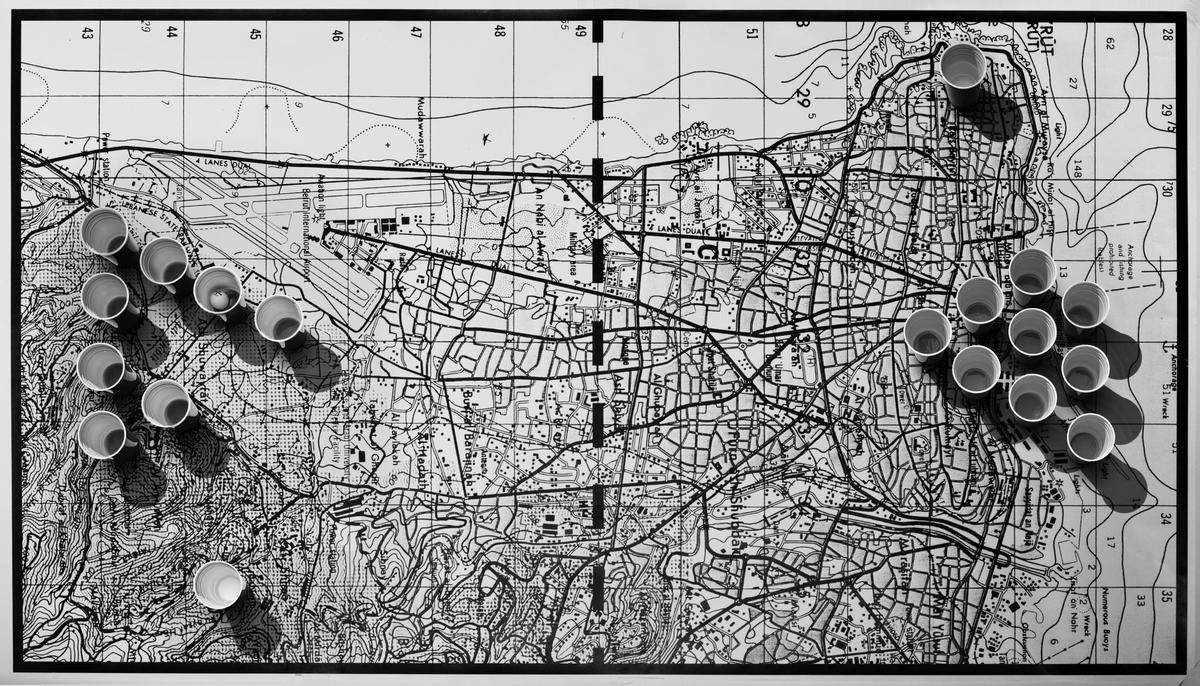 The capital of Lebanon is the second thing that comes to mind when the college student hears the word Beirut.1
TO PLAY THE GAME OF BEIRUT, YOU WILL NEED:
TWO (2) TO FOUR (4) PEOPLE
A LONG, RECTANGULAR TABLE, LIKE A PING-PONG TABLE
20 16-OUNCE PLASTIC CUPS
PLENTY OF BEER
TWO (2) TO FOUR (4) PING PONG BALLS HAND–EYE COORDINATION2
TWO (2) CUPS OF WATER
---
STEP 1: FILL CUPS WITH BEER
FILL 20 CUPS 1/3 FULL WITH BEER.
TIP: THIS GAME DOESN'T CALL FOR THE FINEST MICROBREW. THINK CHEAP AND LIGHT FOR A SMOOTH JOURNEY DOWN THE HATCH!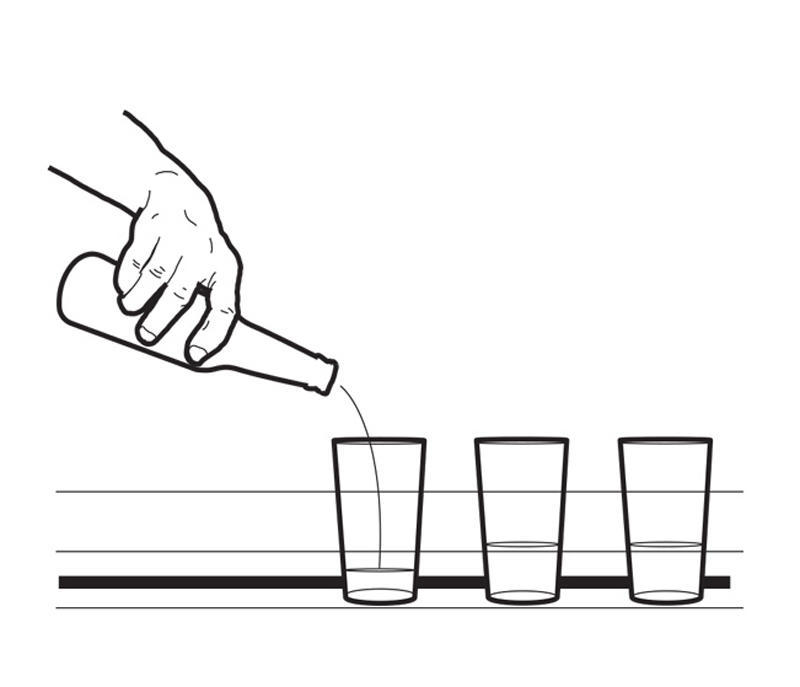 Thinking back, I believe that the game got its name based on an analogy between the ping-pong balls flying across the table and landing on the opponent's side and an idea that the US should bomb Beirut as a result of the casualties in the area […] The name of the game reflects respect for the Marines and US losses in the region.
— Duane Kosten '86 , President of Theta Delta Chi3, Lehigh University, 19854
Beirut, October 23, 1983
The first distant, soft tremor wakes me up. It is a bright morning and the sea outside my balcony is splashing in a friendly way against the promenade. Bomb explosions, shell-bursts, are heartbeats in Beirut now. I decide to sleep in. It is Sunday morning. A few seconds later, another gentle quake, a very slight, intimate change in the air pressure in the house. A second bomb. I lie in bed for another four minutes.5
Location:
33º 49' 45" N 35º 29' 41" E
USMC Barracks of 1st Battalion 8th Marine6, Beirut Airport
---
STEP 2: ARRANGE CUPS
ARRANGE THE PLASTIC CUPS IN TWO TRIANGLES OF 10 CUPS EACH ON OPPOSITE ENDS OF THE TABLE WITH TIPS POINTING TOWARD THE CENTER.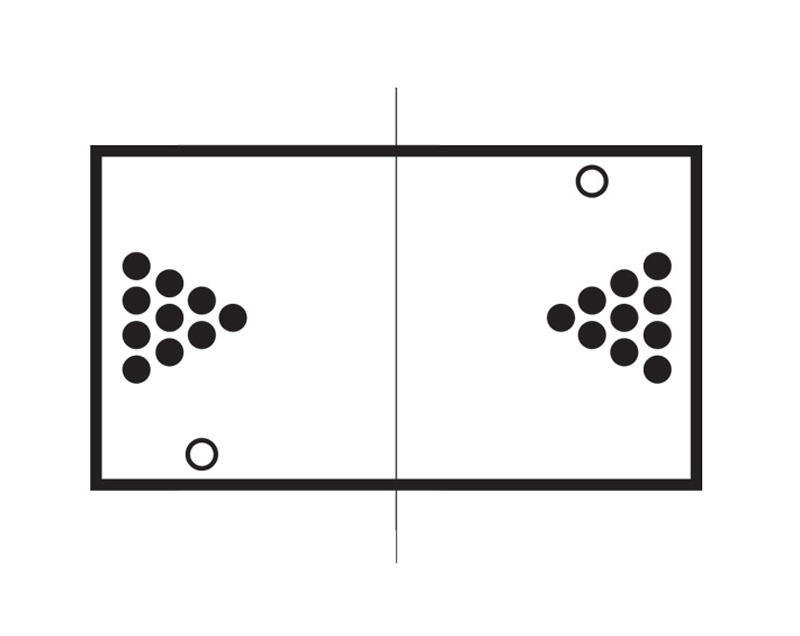 The father of the game was Brian "Stubby" Poultron, a brother at Theta Delta Chi. There is even a story that Stubby visited nearby Bucknell University 7 and spread the game there as well. However, according to an email written by Stubby, he had actually discovered Beirut in its incipient and crude version at Bucknell University in 1983. When Stubby came back, he showed it to the rest of his brothers, who took to the game immediately.8
[The phone rings.]
Landlord:7
Mr. Robert, Mr. Robert, it is me, get up, get up. They have bombed the Marines. Mr. Terry and Foley are leaving.
Date:
23 October 1983
6:20:00am
---
STEP 3: PICK TEAMS
PICK TEAMS OF TWO, ONE FOR EACH END OF THE TABLE.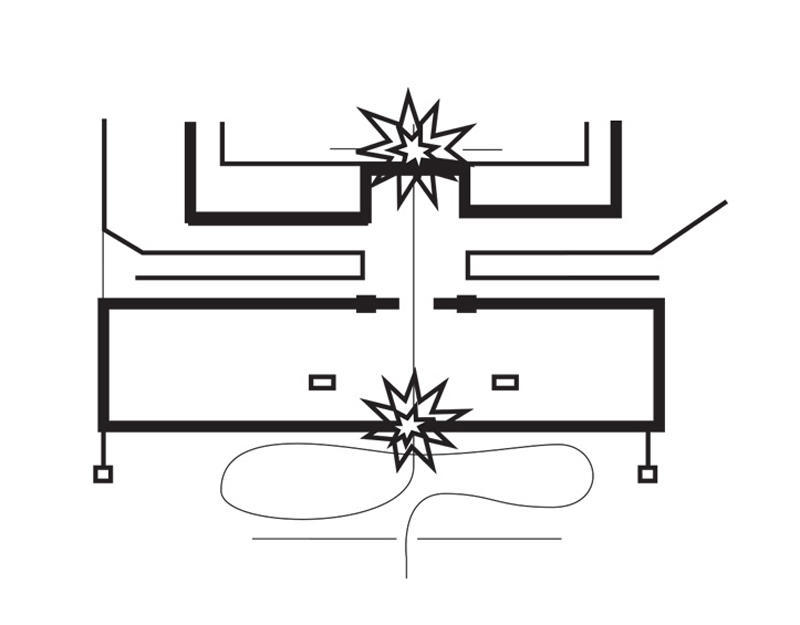 "The popularity of the game stemmed from its being a faster alternative to beer pong and taking almost 15-25 minutes for the consumption of over 10 beers. As one brother put it: "Since if you played, you got bombed"." 13
Attack type: Suicide truck bomb
Foley 8 [face is fixed on the road and he talks without looking at me] "They got the Marines and they got the French. Car bombs. That's all the radios are saying."
Fisk "How"
Foley "How the hell do I know? It may be a load of crap but I heard the explosions" The airport road is deserted but there is a cloud of white smoke steaming upwards from the far end where the Marines are based.
Fisk "We'll find Bob Jordan 10. You try to find him in the press room, I'll look for him in the BLT"
(…) Anderson stops the car. He is frowning.
STEP 4: Toss ball into cup
One person begins the game by trying to toss a ping-pong ball in one of other team's cups; it doesn't matter which one.
TIP: The toss is all in the wrist: hold the ball at about eye-level, lean in, and lob it up so it drops down into the cup.
---
"In addition to organizing Beirut tournaments, the brothers of Theta Delta Chi created a Beirut table with the map of Beirut in 1986. But the poor judgment and behavior the game encouraged, however, troubled Kotsen: "As a matter of fact, when I spoke to my successor as president of Theta Delta Chi, I told him that one of the things he could do for the benefit of the house would be to cut up the Beirut table with a chainsaw" Kotsen's successor did not cut up the table, but the original Beirut table did not survive into the 1990s." 13
Deaths:
220 Marines 18 Navy Personnel
3 Army Soldiers
1 Custodian
1 Suicide Bomber
Injured:
60
Anderson 9 "Where's the BLT?"
Fisk "At the other end of the fence Terry."
Anderson "It's gone"
Fisk "It's behind the smoke"
Anderson "It isn't. It's fucking disappeared"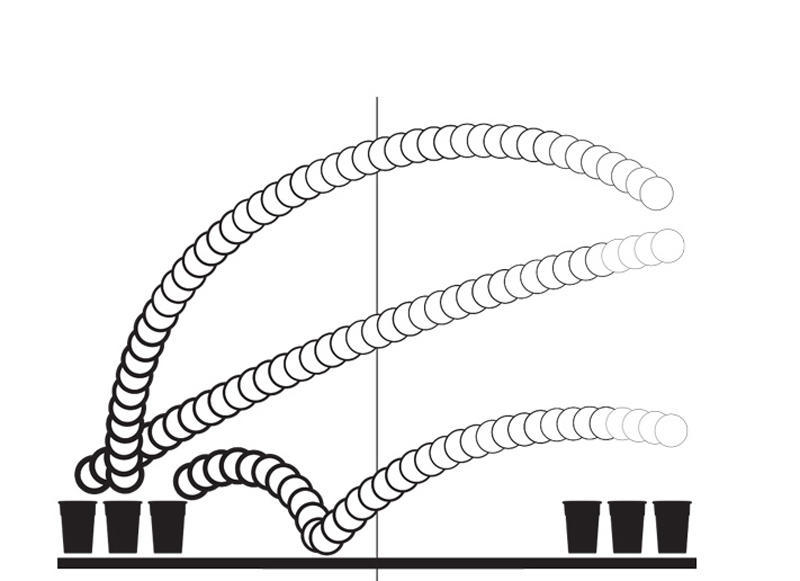 STEP 5: If the Ball makes it in…
If the ball makes it in, a member of the opposing team has to drink the cup of beer it landed in. If the ball misses, it's the other team's turn.
---
"The Other Beirut creation legend asserts that the game was first played at Lehigh, but it was not until 1986 that the brothers of Sigma Nu, not Theta Delta Chi, first conceived of the sport" 1
HOSTAGES
March 16 1984: William Buckley, C.I.A. station chief in Beirut, is kidnapped
May 8 1984: Rev. Benjamin Weir is kidnapped.
Dec. 3 1984: Peter Kilburn of the American University of Beirut is kidnapped.
Jan. 8 1985: Rev. Lawrence M. Jenco is kidnapped.
March 16 1985: Terry A. Anderson 9 of The Associated Press, is kidnapped in Beirut
May 28 1985: David P. Jacobsen of the American University Hospital in Beirut is kidnapped.
June 9 1985: Thomas M. Sutherland of the American University of Beirut is kidnapped.
Sept. 14 1985: Mr. Weir is released the same day
Oct. 4 1985: Islamic Holy War says it killed Mr. Buckley. His body is never found.
April 17 1986: Mr. Kilburn's body is found. His kidnappers say he was killed in retaliation for the American bombing of Libya two days before.
May 25 1986: Mr. McFarlane, Colonel North and other American officials fly to Teheran. They spend four days meeting with Iranian officials in trying to win the release of all the American hostages. They are unsuccessful… July 26 1986: Father Jenco is freed.
Sept. 9 1986: Frank Herbert Reed is kidnapped.
Sept. 12 1986: Another American, Joseph James Cicippio, is taken hostage.
Oct. 21 1986: Edward Austin Tracy is kidnapped.
Nov. 2 1986: Mr. Jacobsen is released.
Jan. 24 1987: Alann Steen, Jesse J. Turner and Robert Polhill, and Mithileshwar Singh, are kidnapped at Beirut University College.
When the Iran-Contra scandal broke, J-C 15 and I cursed our lack of initiative. I had been told the Americans were in Tehran the previous May. I had not understood the significance of this.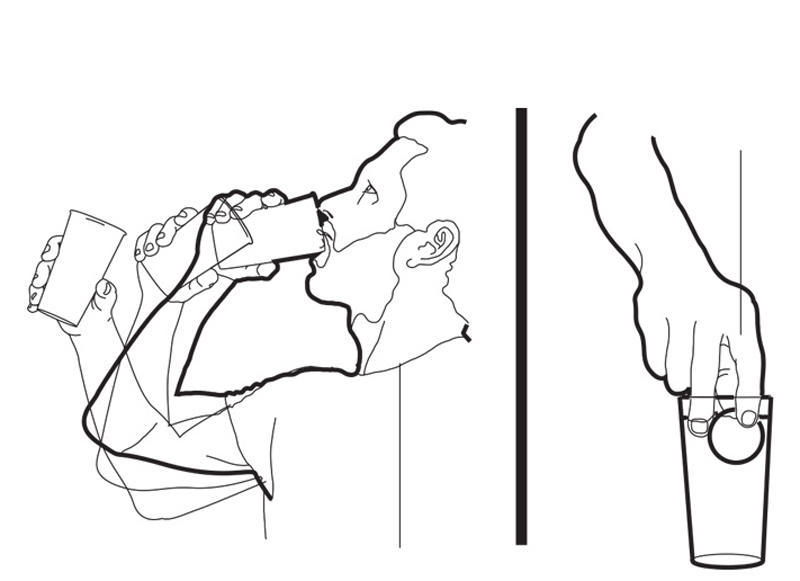 STEP 6: If ball lands in empty cup …
If you accidentally throw the ball into your opponents' already-empty cup, you have to drink one of your own beers.
TIP: Set aside a cup filled with water on each side of the table so the ball can be rinsed off if it lands on the floor.
---
"On playbeirut.com, a site devoted to cataloguing everything Beirut, two brothers of Sigma Nu at Lehigh claimed that their fraternity had created the game in 1986. Scott '87 of Sigma Nu writes: "your website correctly attributes the game's origin to Lehigh, but it was Sigma Nu fraternity class of '87 that originated it , and it was Sigma Nu class of '88 that made it famous" 13
ARMS TRANSACTION
Aug. 6 1985: Mr. McFarlane briefs Mr. Reagan on the Israeli proposal to sale American anti-tank missiles to Iran through Israel.There is dispute on whether the President approved this sale.
August: The President approves the shipment of arms by Israel to Iran, according to his initial statement to the Tower Commission. Later he says "I don't remember" when asked about approving the shipment.
Aug. 20 1985: Israel sends 96 TOW anti-tank missiles to Iran.
Sept. 14 1985: Israel sends 408 more TOW missiles to Iran.
Nov. 24-25 1985: The C.I.A. arranges for a shipment of 18 Hawk anti-aircraft missiles from Israel to Iran aboard a C.I.A. front company plane. Iran rejects the missiles within days after test firing one of them and finding that they do not meet Iran's requirements. Later, some of the American officials involved in arranging the flight said they thought the plane carried oil-drilling parts, not weapons.
Jan. 17 1986: President Reagan signs an order authorizing arms shipments to Iran in an effort to both improve relations with officials in Iran thought to be moderates and to bring about the release of the hostages.This order authorizes the C.I.A. to assist "third parties" as well as friendly foreign countries in shipping weapons.
Feb. 17 1986: The United States sends 500 TOW missiles to Israel, from American stocks, for shipment to Iran. No hostages are freed.
Feb. 27 1986: Another shipment of 500 TOW missiles are sent to Israel, once again for shipment to Iran. Again no hostages are freed.
May 23-24 1986: 508 TOW missiles and 240 spare parts for Hawk missiles are shipped to Israel.
May 25 1986: Mr. McFarlane, Colonel North and other American officials fly to Teheran, carrying with them spare parts for Iran's Hawk anti-aircraft missiles.
Aug. 4 1986: The United States sends Iran a shipment of spare parts for Hawk anti-aircraft missiles.
Oct. 28 1986: Another 500 TOW missiles are sent from Israel to Iran.
I had clung on in Beirut because I believed it to be the best Arab capital for a Middle East correspondent; but when I was given accurate information about the hostages, I had chosen to ignore it on the grounds that it was not credible.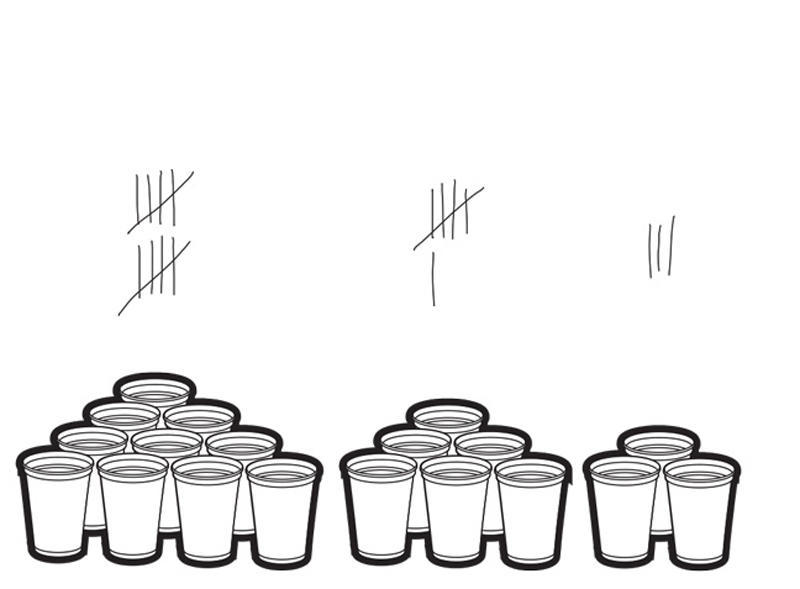 STEP 7: Reform triangles
Reform the triangle as you play: When there are only six cups of beer on a side, make a smaller triangle. Then do so again when there are only three cups.
---
"We were the first ones to play because we broke all of our ping-pong paddles and wanted to free-throw. Not satisfied with the one-cup-on-each-side setup we decided to cover each end of the table with beer-filled cups" Geoff Hill '87 of Sigma Nu
SCANDAL
Nov. 3 1986: A Lebanese magazine, Al Shiraa, discloses that the United States sent arms to Iran and that Mr. McFarlane visited Teheran.
Nov. 6, 1986: President Reagan appeared on national television and denied that weapon sales with Iran had occurred
Nov. 13, 1986: President Reagan returned to the airwaves to affirm that weapons were indeed transferred to Iran, but that the United States did not trade arms for hostages.
March 4,1987: In a nationally televised address to the nation, President Reagan took full responsibility for any actions that he was unaware of, admitting that "what began as a strategic opening to Iran deteriorated, in its implementation, into trading arms for hostages." 16
Neither J-C nor I had believed in Reagan's moral fervor. We had laughed at his crusade against 'terrorist blackmail'. But when he gave in to just such blackmail, we were amazed. Guns for hostages, missiles for prisoners.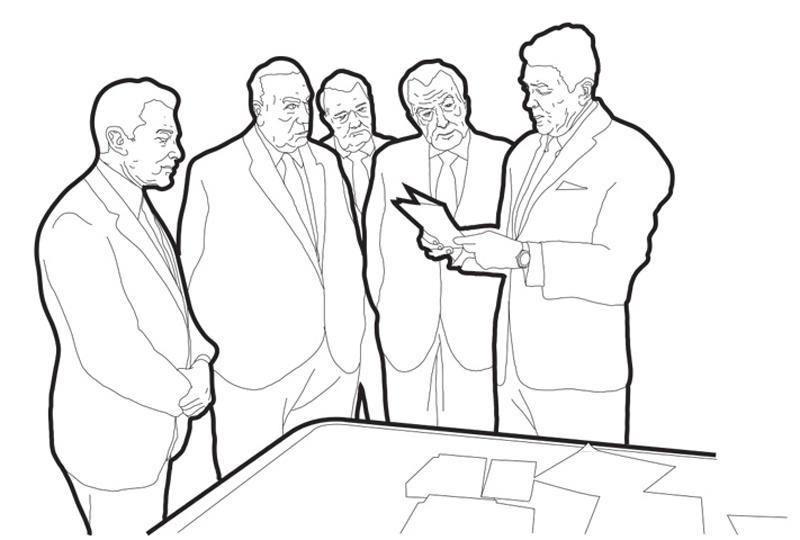 STEP 8: Winning
Keep going until one team wipes out all the cups on the other side. As the winner, they get to make the losers drink the remaining cups on their own side! 19
---
"Then why was the game called Beirut?" Scott states in his post "something military happened in Beirut, something that was all over the news. The Tower Commission report on the Iran-Contra affair had just been released and the American hostages were all held in Beirut. We wanted to bomb Beirut and free the hostages." 13
REPORT
Dec. 7 1985: A meeting is held at the White House with Mr. Reagan, Secretary of State George P. Shultz, Defense Secretary Caspar W. Weinberger, Mr. McFarlane and Admiral Poindexter at which the Iran initiative is discussed. Participants at the meeting have different recall of what took place. Some suggest that a consensus was reached to end arms shipments to Iran. Mr. McMahon has said no such consensus was reached.
Jan. 6-7 1987: The Senate and the House set up committees to investigate the Iran-contra affair.
Feb. 26 1987: The Tower Commission issues its report. Among its conclusions is that the President's top advisers were responsible for creating the chaos that led to the Iran-contra affair. It asserts that President Reagan was largely out of touch with the operations undertaken by his National Security Council staff.
Aug. 3 1987: The Iran-contra hearings end after more than 250 hours of testimony from 28 public witnesses.
Nov. 18 1987: The Congressional Iran-contra committees issue their report."
But we understood the significance of the revelations. Terry Anderson's 9 predicament, like that of the other American hostages, was now far worse." 18
---
1- Laura Berner, "On Language Princeton Style: The history of 'Beirut'", The Daily Princetonian, Friday Nov. 19th 2004.
2- Hand–eye coordination refers to the control of eye movement and the processing of visual input to guide bodily movement.
3- Theta Delta Chi is a social fraternity that was founded in 1847 at Union College. a Since 1847, Theta Delta Chi has believed that it is the duty of every member to improve himself intellectually, morally, and socially through friendship.
4- Lehigh University is a private, co-educational university, established in 1865 by Asa Packer, located in Bethlehem, Pennsylvania, U.S. Motto: Homo minister et interpres naturae (Man, the servant and interpreter of nature) 5- [marines badge]
6-Robert Fisk: The Independent Middle East Correspondent
7-The landlord: Lebanese owner of building in which the characters live.
8-William Foley: Associated Press photographer Beirut, later Time magazine photographer
9-Terry Anderson: Associated Press bureau Chief in Beirut 10-Bob Jordan is the Marines press officer. 11-Robert Fisk, Pity the Nation: Lenanon at War, third edition, oxford university Press, 2001 [pp.511-513 ] 12-Bucknell University is a private university, founded in 1846, located in Lewisburg, Pennsylvania, U.S.
13-Anoop Rathod, "Without a paddle: The true origings of Beirut and Beer pong"
14-Sigma Nu is an undergraduate college fraternity founded in 1869 at the Virginia Military institute. Creed:" To believe in the Life of Love, to walk in the Way of Honor, to serve in the Light of Truth. This is the Life, the Way and the Light of Sigma Nu. This is the Creed of our Fraternity"
15- J-C [Juan Carlos] Gumucio: Associated Press correspondent, Beirut, later CBS bureau chief, Beirut, and reporter for London Times and Diario 16.
16- Reagan, Ronald (March 4, 1987). Address to the Nation on the Iran Arms and Contra Aid Controversy. Ronald Reagan Presidential Foundation.
17- "IRAN-CONTRA REPORT; Arms, Hostages and Contras: How. A Secret Foreign Policy Unraveled" New York Times. November 19, 1987
18-Robert Fisk, Pity the Nation: Lenanon at War, third edition, oxford university Press, 2001 [pp.619 ]
19- www.howcast.com [how to play beirut?]
20- map reference
a- www.wikipedia.com
b-www.tdx.org
c-www.sigmanu.org
"Perhaps we will never know the true story of Beirut. We do know, though, that is was the brainchild of foreign-affairs-conscious fraternity brothers who felt the need to link current events with a sport of drunken debauchery." 1