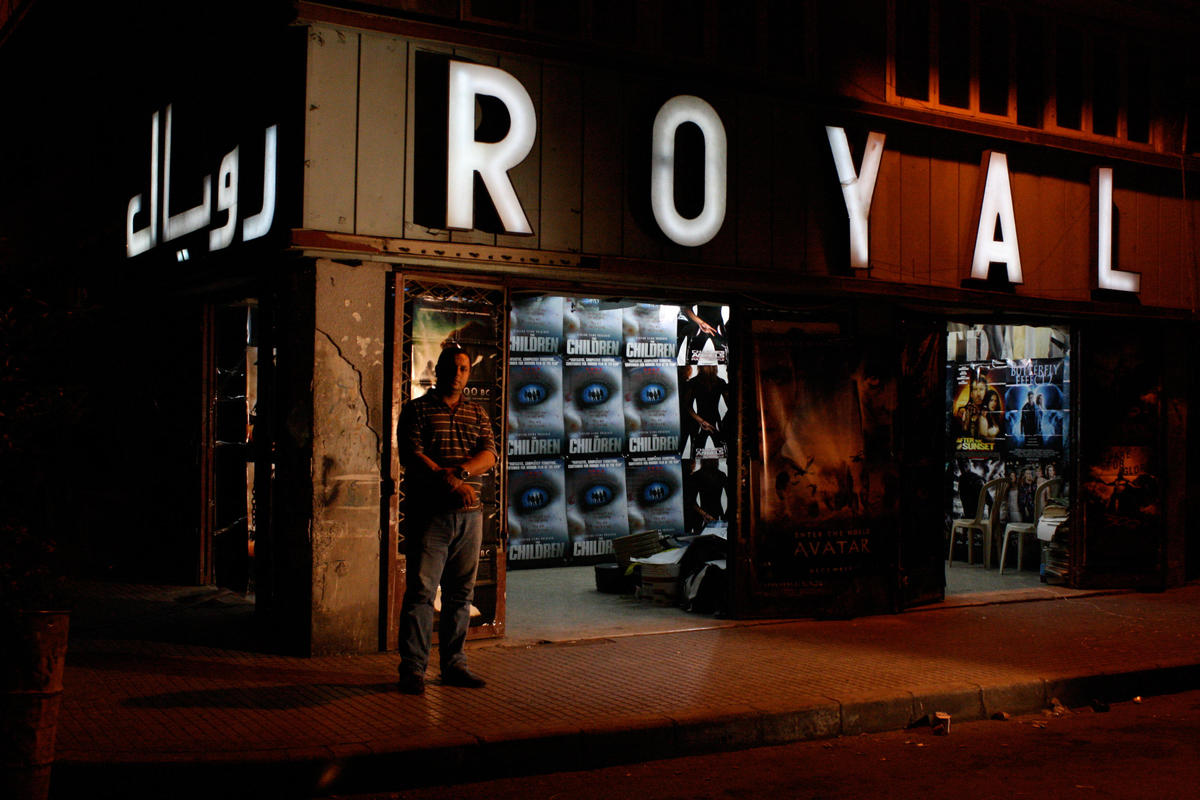 It's almost midnight. Cinema Royal turns on its neon signs. Just an hour ago, they were off because of power cuts in the area. The area is Bourj Hammoud — once a mostly Armenian enclave — between Marash and Naher streets.
I must have been ten or eleven when I started coming to Cinema Royal — that was when we moved here from the village. Our house was right next to the cinema, and by the age of twelve, I was working here. We screened mostly Indian films for the locals, who were mainly Armenians, along with some Arabs.
In the 1970s, the Hawarian brothers, Avo and Yervan, ran the cinema. They were painters and painted posters for films and advertisements. They loved Indian films, especially the films of Shammi Kapoor, Dharmendra, and Jeetendra. The posters they painted depicting the films' major scenes were magnificent. Those alone were enough to draw people in.
At one point, we started showing more Arabic films and martial arts films. We had a big poster for the great Egyptian actress Souad Hosni standing with her skirt blowing as if she was Marilyn Monroe. The film had the song "Khalli Balak Min Zouzou" in it, which was a big hit back then.
People were also crazy for Bruce Lee. When we played Big Boss, it caused mayhem. Everyone wanted to watch Bruce Lee. We might have played five hundred Bruce Lee films, although he actually only made seven or eight films. We promoted most martial arts films as Bruce Lee films. People came to watch the spirit of Bruce Lee, his shadow.
At that time, people were already starting to buy television sets for their homes. I remember there was an Egyptian series called Al Shak (Doubt), and young girls and older women were crazy about it. We'd received a film called Al Shak Ya Habibi (Doubt, My Darling), and I told the Hawarians that we must take advantage of the title, so we taped a thin black tape on the film reel over the Ya Habibi part of the title. Then we had Doubt, the movie!
VHS finally killed the film market. So we introduced the formula. We'd show an action film, followed by a martial arts film, then an erotic film, and finally a porno. From the mid-'80s to the mid-'90s, I also ran Cinema Plaza, where I would often feature three porno films along with an Indian film, a Lebanese film, and an American film. Sometimes I would play twelve films on one ticket!
I'd stand outside and shout for customers to come in: "Cinema has started! All types! All types, and from all over the world!" For porno films, we had a stock of maybe twenty films — I used to alternate them. I'd change the pictures on the posters, and I'd choose different stills for the panels. I also used to edit different films together. Imagine you have an erotic film, and the guy starts kissing the woman, then they are naked in bed, and then there are closeups of penetration. That way, twenty porn films can become forty, sometimes sixty!
In the '90s, the satellite changed things all over again. In order to cope, we had to rethink our programming. Long before Ice Cream Fi Glim (Ice Cream in Gleam, 1992) the Egyptian pop star Amr Diab had a film called something like Al Afarit (The Devils, 1990). The same year he had his big hit "Mat'khafeesh Ana Mish Nasikeh" (Don't Be Afraid, I Will Not Forget You). So on the posters we changed the name of the film to the title of the hit song, and we played the song during the opening credits. I had to press play on the tape recorder when turning on the projector.
After satellite came the Internet and DVDs. So rather than come to us, people sat at home and watched everything online. When work is scarce, you have to go to great lengths in order to survive. I remember when the film Limbi was first shown here in Beirut, I think it was 2002. I was coordinating between two cinemas in Hamra district, the Saroulla and the Montreal. We only had one copy of the film for both theaters, so one theater played the film half an hour after the first one — I had to run back and forth between the theaters carrying the film reel by reel until it was over.
I believe cinema is meant for the evenings, but we have to open from nine in the morning till midnight now, to cater to the workers who have no work and just want something to occupy their time. In 2004, I introduced the cinema festival, where you'd get twenty films for one ticket.
Cinema is love. It's not a science. I have worked all my life in the cinema and know how to entice the clients, a bit like the director of a film who entices the viewer. The "Pink Slip," which you've asked about, is a ticket that costs five dollars for two shows. It allows you a second entry on weekdays, Monday to Friday. These days I'm more or less content with my viewers. If I don't see women and children in the theater, I'm sad.
A couple of months ago the police shut down the Khiyam Cinema. Madonna was also shut down, along with Monaco, Florida, and the one on Barbir as well. Royal is still open, because we only play action films now. Other cinemas have almost become brothels — look at Cinema Knar, for example. It's a gay hangout, they meet there and, you know.
A lot has changed. Nowadays this neighborhood is home to Asian workers, Indians, Sri Lankans, Filipinos, and Pakistani nationals, though the cinema doesn't really screen any Asian films and is in poor condition. Films used to come by way of America, France, Greece, Italy, India, and elsewhere, but now we only get American — I mean, Hollywood — films. Our film projectors will soon be obsolete. Film distributors will replace film reels with high technology tapes, those that can resist piracy. So we'll have to buy the player or we'll just go out of business.
What else has changed about the cinema business? Well, now even major theaters are showing fewer erotic films, probably because they don't understand them. Erotic films are beautiful. I'm a fan. God willing, one day I'll have a hand in getting erotic films back into circulation.