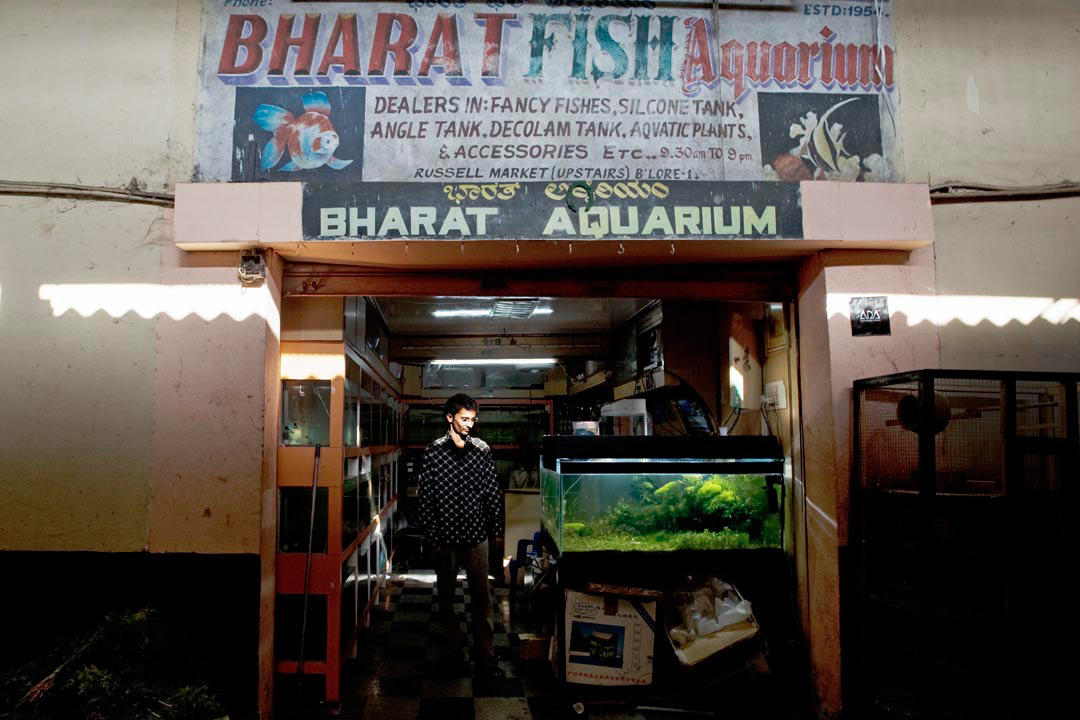 Abdul Raheem sits on an ancient swivel chair next to an aquarium.
His father died three months and three days ago. A tilted, perhaps ill, discus fish swims in a stark-lit tank. Raheem's shop is on the second floor of the eighty-three-year-old Russell Market building in Bangalore, isolated from the bustle of vendors and shoppers below.
I ask him about the recession. "Business is terrible," he says. "We are struggling, but managing. It is our love for the fish that makes me do this."
He tells me that business fell by exactly 88 percent after the rightwing BJP government came to power in April. "They make sure people cannot spend on fish or other things," he says. Then he begins to tell me about his grandfather, a onetime railway-ticket collector who in 1954 decided to follow his passion and start Bharat Fish Aquarium.
"My grandfather was a great man: wild birds would come and sit on his hand. Wild birds, I swear! No one can do that now." And the customers return. "We have customers coming back to us for thirty years! I get calls at 3am from my customers sometimes, for a house visit. Who will go except for us?"
According to Raheem, this aquarium was the first in Bangalore. "For many years, it was the only option. We had film stars, politicians, and even police commissioners," he says. "The assistant police commissioner, Mr. Ashok Kumar, is my best friend now. He buys fish from me only. Please feature him in your article. He will be very happy. He is a good man."
Raheem plunges his fingers into a tank and snaps them, beckoning several swordtails from the depths of the green water and toward the surface. "They only think of money, those other fish fellows," he says. He, on the other hand, stores pictures of his fish on his iPhone. He peels off the protective screen to show me portraits of discus fish. "Nokia is nothing compared to this," he says.
Raheem's three brothers run other aquariums in the city; he runs his grandfather's store because he was the favorite. "My grandfather liked me very much," he says. "I even got sent to Damascus to work at the water company in 2001. They love Indians there. They invited me to dinner every day. But I didn't go, because I wanted to prove myself. I cleaned tanks and maintained the pH. My water after I treat it is better than Bisleri mineral water! They challenged me to breed angelfish. They said it was impossible to breed them in cold temperatures, but I did! Later, they took others from Chennai to help them. But they could not do what I did."
I ask him why he came back.
"Home is home, no?" he responds. A customer walks in, and Raheem tells him that the discus fish cost seven thousand rupees. And that they are not for sale. There isn't another customer in sight. I ask Raheem why he continues with the business. "My grandfather started it, my father just died, so I have to continue," he says.
"Also," he pauses. "We are only paying five hundred rupees a month for this old government building — the old corporation rates — whereas you have to pay fifteen to twenty-five thousand rupees a month in a mall."
Does he want to open up shop in a mall? "I have had some offers," he says. But he is not like the fish sellers in the mall. "They will never be able to breed angels in low temperatures."
Besides, "who else feeds their discus fish goat heart?" he asks. "You have to clean it carefully so that they can digest it easily. Not even one small piece of fat should remain, otherwise the fish will fall sick. Tell me, which mall fellow will feed his discus fish goat heart?"