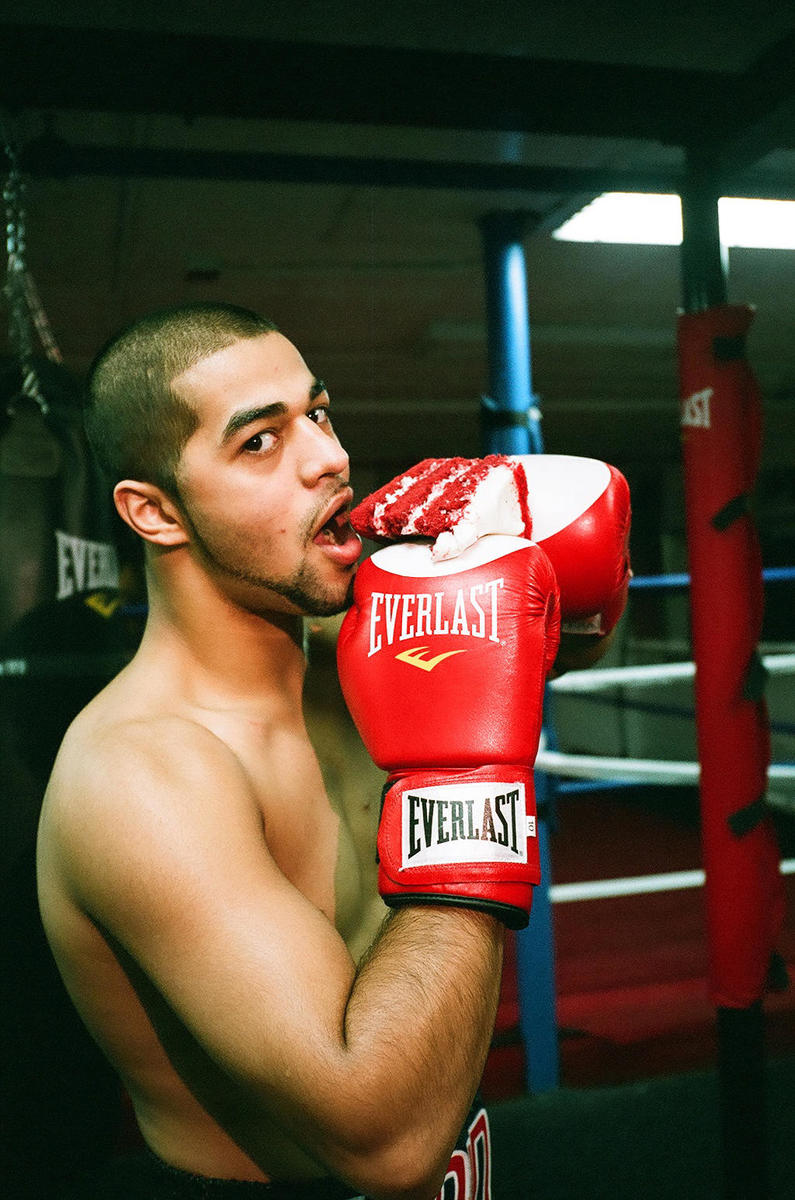 The road to perdition is paved with chocolate. "If I wasn't a boxer, I would probably be a fat boy," Sadam Ali tells me. When most non-fat celebrities say that sort of thing, you can almost taste the false modesty. Not Ali: "One of my cousins is like four hundred, five hundred pounds. He's big." I came to the Sadam Ali Boxing Gym in Bay Ridge, Brooklyn, a building whose outside looks like a pachinko parlor and inside like a trophy room, to ask the Yemeni-American boxer about food. Or, rather, about his mother's cooking.
Do you like saltah? Does she make you fatut?
"I love my mother's food, but it's always there. I prefer to go out." He sounds bored and resigned. Ali was the first-ever Arab American to represent the United States at the Olympics. He's scored two Golden Glove championships and holds an undefeated 11–0 (6 KO) record. This interview has got to be a little dull, if not totally demeaning.
I prod him for more details of his boxer's diet and all he says is "chicken and fish." It turns out that Red Bull and other energy drinks are legal before fights, but Sadam's father and manager, David Ali, doesn't look kindly on stimulants. Ali Sr. is down on snake oils, whether herbal, chemical, or other. He doesn't believe in specialist diets. Despite the fact that Ali the younger runs six miles a day, six days a week, on top of hours and hours of bag and footwork, he seems to possess none of the perverse, all-consuming interest in vitamins and supplements so common among his peers (and boxing aficionados). He grudgingly eats his protein bars and has his tales of epic post-workout shakes. "This big," he says, making a space between his hands with room for 2.5 Gutenberg Bibles. "It was worse than the workout."
On the walls of the gym, several flat-screen TVs are looping his ESPN2 fight against Julias Edmonds — the boxing equivalent of Fred Astaire dancing at a high school prom. It lasts two-and-a-half rounds — some seven minutes of Ali swerving around the ring, scoring precise hooks and uppercuts — before the referee pulls a pulped Edmonds aside and stops the fight. Ali lights up momentarily when we talk shop, his versatility both in fighting inside (that is, inches from the face of one's opponent) or out. Like another welterweight, Manny Pacquiao, Ali's trademark isn't some particular strategy or style; it's the fact that he doesn't really need one.
I'm still asking him about food. Where do they go for takeout? What about all these mom-and-pop Yemeni joints all over the neighborhood? His father starts talking about the fish spot across the street — the shrimp, the salad, the pita. Ali's eyes glaze. "Hold on, let me handle this," he finally interjects, throwing a finger toward the door of the gym. "There's a Chinese food place right there — "
"You know he always say that, 'cause he can't have that stuff."
"I love Chinese food. He's trying to ban me from Chinese food."
"No Chinese food!"
Sadam isn't finished. "You know, I have my own menu of Chinese food. You know sesame chicken, right? I love sesame chicken. But instead of the sesame sauce, I tell 'em to put on barbecue sauce. They have the best barbecue sauce by my house and so I get barbecue sesame chicken." It's safe to say the elder Ali has been looking on this shift in the conversation with total, if loving, disapproval. "See baba — he likes Chinese food, too!
"That's the best place." The facade is crumbling. From there, talk moves fluidly to double cheeseburgers, which he takes without dressing or condiment, and the cookies 'n' cream milkshakes he'll have after fights. Ali is a late riser — he gets to the gym around 3 or 4pm. I ask him about his favorite late-night TV shows (Jersey Shore, Bad Girls Club) and midnight snacks. "You're gonna kill me for this," he says, looking over at his father. "I can't say this." He laughs, bows his head. "But, uh, Oreos with some milk… Double Stuf."
"I'm going home tonight and if I see any of this, you ain't fightin' no more."
Slightly defeated, father Ali gets up and walks into a back room, presumably to fish out some boxing gear for one of the ten or so school-age kids training in the two-ring gym downstairs.
"I love cake," he says, quietly. "Red velvet cake." His eyes roll into the back of his head. "I love that the most."
Red Velvet Cake
Cake Ingredients
2 ½ cups sifted cake flour
½ teaspoon salt
2 tablespoons regular or Dutch-processed cocoa powder
½ cup unsalted butter at room temperature
1 ½ cups granulated white sugar
2 large eggs
1 teaspoon pure vanilla extract
½ teaspoon of ground cardamom
1 cup buttermilk
2 tablespoons liquid red food coloring
1 teaspoon white distilled vinegar
1 teaspoon baking soda
Frosting Ingredients
1 8-ounce cream cheese at room temperature
1 8-ounce tub of Mascarpone cheese at room temperature
1 teaspoon pure vanilla extract
1 cup sifted confectioners' sugar
1 ½ cups heavy whipping cream
¼ cup chopped pistachios
To make the Red Velvet Cake:
Preheat the oven to 350 degrees and place the rack in the center of the oven. Butter two 9-inch round cake pans, line the bottoms of the pans with parchment paper and set aside. In a mixing bowl sift the flour, salt, ground cardamom, and cocoa powder together and set aside.
In a larger bowl with a hand or electric mixer, beat the butter until soft, for one to two minutes. Then, add the sugar and beat until light and fluffy. Add the eggs one at a time, beating well after each addition. Lastly, add the vanilla extract and beat until combined.
In a bowl, whisk the buttermilk with the red food coloring. If using an electric mixer, keep it on low speed and alternately add the flour mixture and buttermilk to the butter mixture, in three additions, beginning and ending with the flour.
Combine the vinegar and baking soda in a small cup and let the mixture fizz. Then immediately fold it into the cake batter.
Divide the batter evenly between the two buttered pans and smooth the tops with a spatula. Place in the oven and bake for approximately 25–30 minutes, or until a toothpick inserted in the center of the cakes comes out clean.
Allow the cakes to cool for about ten minutes. Then place a wire rack on top of the cake pan and invert by lifting off the pan.
For the frosting:
With an electric or hand mixer, beat the cream cheese and mascarpone cheese in a bowl until smooth. Add the vanilla followed by the confectioners' sugar and beat again until smooth.
Slowly add the heavy cream and whip the frosting until thick enough to spread. If needed, add more cream or sugar until the consistency is just right.
Flip one of the cakes upside down and spread a generous layer of frosting on the top. Place the cake that is right side up on top of the frosted one. Then, frost the tops and sides of the entire cake. Garnish with chopped pistachios.
Serves 10–12 people.