Bahrain
The Ultimate Experience
Al Riwaq Gallery
March 10-31, 2009
Al Riwaq Gallery will be opening a new 650-square-meter space devoted to contemporary arts in Al Ali Mall, Bahrain, on March 8, 2009. Inspired by the particularities of its new location, the inaugural exhibition, entitled 'The Ultimate Experience,' will be a multidisciplinary group show of artists from the Arab world. Curated by William Wells of the Townhouse Gallery in Cairo, the show's focus will be how consumerism shapes identities. The exhibition will run together with a film program curated by Karim Tartoussieh (starting on March 9) and talks by sociologist Mona Abaza and architect Maan Alsalloum on mall culture (on March 29). Events will also include a commissioned fashion show by Mohamed Khafagi, artist-in-residence programs, and workshops.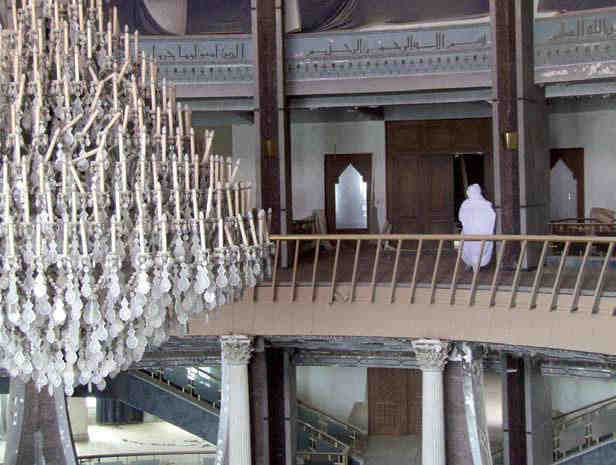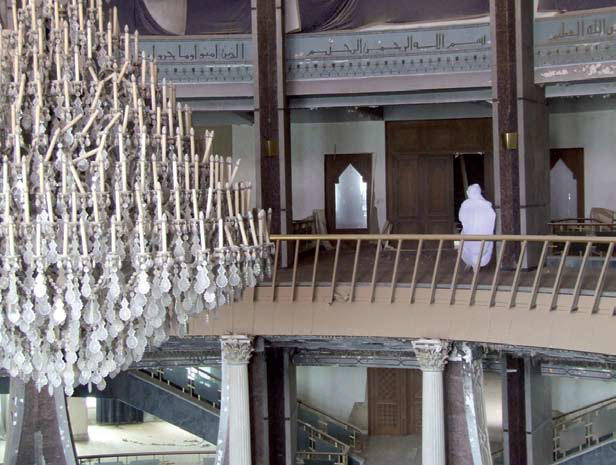 Kuwait
GothGulf Visual Vortex GGVV
The Sultan Gallery
March 31–April 2, 2009
A group show curated by Khalid Al Gharaballi and Fatima Al Qadiri, 'Goth Gulf Visual Vortex GGVV' will explore the late arrival of goth subculture to Kuwait in the early 2000s. Having passed through the filters of third-world cyber aesthetics, MTV pop-goth videos, and trashy Kuwaiti fashion trends, the subculture ultimately came out "wrong," a distinctively cheesy local manifestation. Arabic pop music and poetry's predilection toward sadness and solitude added a sense of familiarity to the genre. Garnering the interest of local "noir journalism" — tabloids devoted exclusively to "exposing" the occult — goth kids were automatically branded as Satan worshippers. In juxtaposition, the show will address dark aspects of Kuwaiti culture, such as the practices of black magic and zeeran (exorcism rituals) and the Muslim belief in jinn (demonic spirits), as well as the haunting destruction left behind after the invasion of 1990-91. The show will feature work from Khalid Al Gharaballi, Fatima Al Qadiri, Tareq Al-Sultan, Bassem Mansour, Monira Al Qadiri, and Lauren Boyle.
---
Tehran / San Francisco
Taraneh Hemami: One Day — A Collective Project
Tehran
May 22-June 22, 2009
San Francisco
September 16–November 7, 2009
California-based installation artist Taraneh Hemami is working on a long-term, two-city project, compiling a collective narrative of everyday Tehran. Besides writers, performers, and musicians, the project includes artists Nima Alizadeh, Saba Alizadeh, Nazgol Ansarinia, Mehraneh Atashi, Mohammad Ghazali, Ghazaleh Hedayat, Abbas Kowsari, Mehran Mohajer, Neda Razavipour, and Homayoun Askari Sirizi, who have been charged with responding to the mundane through observations of people, objects, and rituals. Collectively, the participants will "examine the relationship between the patterns, rhythms, and systems that emerge from their everyday experiences." The Tehran stint will be a "collective dialogue," which will then be presented in an exhibition format at Intersection for the Arts in San Francisco in the fall.
---
Venice
Venice Biennale
UAE Pavilion
June 7-November 22, 2009
The United Arab Emirates is the first Gulf state to have a national pavilion at the Venice Biennale. The organizing team, led by Dr. Lamees Hamdan, a well-known art collector and a board member of the Dubai Culture and Arts Authority, made the gutsy choice of Berlin-based critic Tirdad Zolghadr as curator. Zolghadr has centered the show on the young photographer Lamya Gargash, best known for her series of images of abandoned villas, exhibited at the Creek Art Fair in 2008. Gargash's new series will be accompanied by an additional digital exhibition of work by UAE-based artists, including Hassan Sharif, Mohammed Kazem, and Tarek Al Ghoussein.
Zolghadr is expected to dodge the usual promotional fare in favor of a challenging approach that will include an exploration of the "grand exhibition" itself. The UAE Pavilion will be co-designed by Emirati designer Rami Farook, of Dubai's Traffic gallery, and young Belgian architectural collective D'haeseleer & Kimpe & Poelaert.
In addition, federal capital Abu Dhabi is jumping into the Venice game solo, presenting a "platform for Venice" curated by Paris-based Catherine David. Aiming to "reflect the conditions within which Abu Dhabi / UAE culture is being generated," this group show will include a "bank of images and representations" developed by filmmakers, photographers, and artists from the region and abroad. Designed by Sauerbruch Hutton, the exhibition will be located behind the Arsenale, in Thetis space number 102.
---
Venice
Venice Biennale: Lapses
Turkish Pavilion
June 7–November 22, 2009
Curated by Basak Senova, the Turkish Pavilion at the Venice Biennale will take on the theme of "lapses." It will privilege the question of perception: how can lapses in collective memory inspire different conceptions of the same event, and by extension, history as we know it? The project will be realized through the works of two artists. Banu Cennetoglu's Index for Self-Organized Criticality is a rumination on the different lives photographs may take, assuming the form of a fastidiously organized mail order catalog. Ahmet Ögüt's Exploded City, is an exploration of the lives of destroyed buildings past and present in the form of an installation. Three books will be presented on the occasion of the biennial, one featuring each of the artist's work, a second compiling philosophical treatises on the question of "lapses," and a third built around four projects and case studies: "Park Hotel" by Ceren Oykut, "Kriegspiel" by Mushon Zer-Aviv and Alex Galloway, "Postcapital" by Daniel Garcia Andujar, and "Master Plan" by Yane Calovski.
---
Dubai
Silent Conversations
Tashkeel
March 12–April 30, 2009
Tashkeel's January show, 'Point of Encounter' — featuring UAE-based Alia Al Shamsi, Janet Bellotto, Muna Al Ali, and Patricia Millns — was a strong multisensory set of installations and photography. Now the Nad Al Sheba–based gallery and studio center continues its run of exhibitions with an open call to local artists to focus on the "fifty percent of communication that is unspoken and relies on human actions, reactions and expressions," and the cultural mismatches and misinterpretations that result. Artists are challenged to "provoke a silent conversation in any medium."
---
Dubai
Bastakiya Art Fair
Various venues
March 15-22, 2009
Alongside Art Dubai and the Sharjah Biennial (previewed in Bidoun issue 16), the UAE's March arts extravaganza also includes the former Creek Art Fair, which has had a name change and something of a makeover in 2009. Managed by dynamic Abu Dhabi-based curator Emily Doherty on a shoestring budget, it may, perversely, come into its own as the credit crunch bites the U.A.E., shying away from glitz to focus instead on small curatorial initiatives. The old stone houses, grouped around organizer XVA Gallery in Dubai's historic quarter, will host individual artists, including the influential artist and gallerist Fereydoun Ave, designer Zain Mustafa, and photographer Mark Pilkington, as well as local galleries. Highlights include installation artist Buthayna Ali at Green Art Gallery (one of the oldest Dubai galleries, now undergoing some innovative changes under new director Yasmine Atassi), and the Third Line, which will give over its house to work by a new signee, the Emirati conceptualist Ebtisam Abdulaziz. International participants will include Saatchi Online editor Rebecca Wilson and London-based curator Sara Raza, who will be curating a daily BAF Art School, held over brunch each morning. Bidoun will also be hosting artists' work.
---
Dubai
Idris Khan: Be Lost in the Call
Elementa
March 14–April 25, 2009
Elementa is something of a well-kept secret in Dubai. Off the beaten gallery track, located in an unpromising block in the airport zone, it nonetheless is making a place for itself with a strong run of serious shows by Emirati, South Asian, and international artists, mostly organized by in-house curator Mehnaz Tan. In March the warehouse gallery will give the celebrated British artist Idris Khan his first show in the Gulf. A set of new works made for the Dubai show will include photographs combining analog and digital techniques based on musical scores, books, and Sufi texts. The artist will debut a single-screen version of his recent film Lying in Wait, made in collaboration with the British contemporary choreographer and dancer Sarah Warsop. The Elementa exhibition will also include a series of images inspired by Rumi, via American minimalist Agnes Martin. "I found similarities in the way she put emphasis upon line, grids, and fields of extremely subtle color and the way Arabic calligraphy is laid out on a page," says Khan.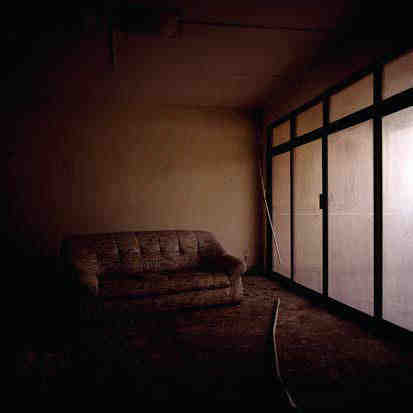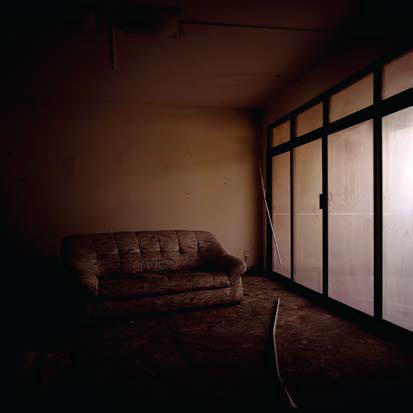 Abu Dhabi
Emirati Expressions
Emirates Palace
January 20–April 16, 2009
Including work by several generations of Emirati artists, this grand survey exhibition is curated by Anne Baldassari, director of the Musée National Picasso, Paris. It sets out to "present a harmonious blend of traditional and contemporary work in which the national culture can be represented visually and symbolically," displaying the work of sixty-four artists in a dark, dramatically lit "black box" at the self-proclaimed seven-star hotel–cum–exhibition venue. Alongside work by established contemporary artists such as Lateefa bint Maktoum, Ebtisam Abdulaziz, Lamya Gargash, and the pioneering brothers Hassan and Hussein Sharif, is a clutch of newcomers; the result is something of a mixed bag. Aspects of the show — including the employment of a curator from afar, and a lack of catalog and texts in Arabic — are, according to local artists, problematic. Nonetheless, the endeavor has resulted in a rare and much-needed burst of documentary material, including a film about the artists by Emirati directors Khaled Al Subaihi, Ahmed Arshi, and Fadel Al Muhairy. It is certainly worth exploring.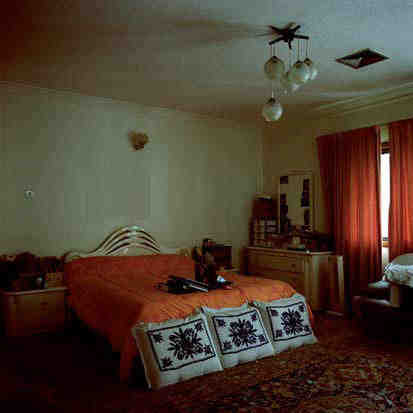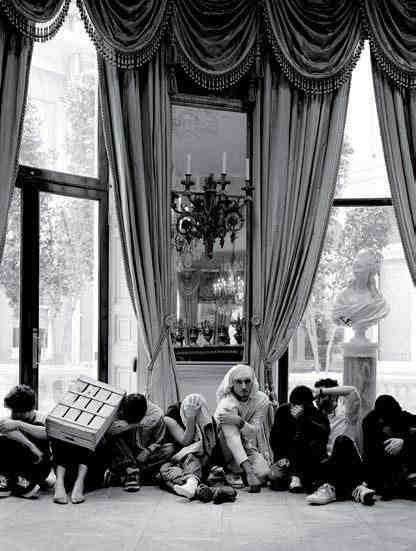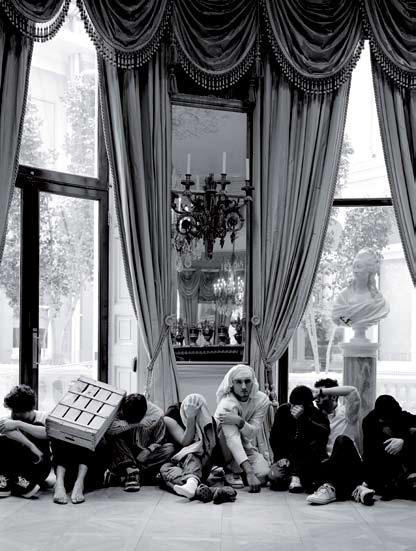 Dubai
Reza Aramesh:Between the eye and the object falls a shadow…
B21 Gallery
April 14–May 7, 2009
Following a run of shows by Tehran-based stalwarts, including Khosrow Hassanzadeh and Bita Fayyazi, Dubai's B21 gallery has scheduled a show with its latest signee: London-based photographer Reza Aramesh. The show will include his 2008 series Between the eye and the object falls the shadow, which draws on both Goya's The Disasters of War (1810–1820) and Reuters photojournalism of war and conflict in the Middle East from the 1960s to the present day. Aramesh has these scenes reenacted by nonprofessional actors of mostly migratory backgrounds within the incongruous setting of stately and historic homes in the idyllic English countryside.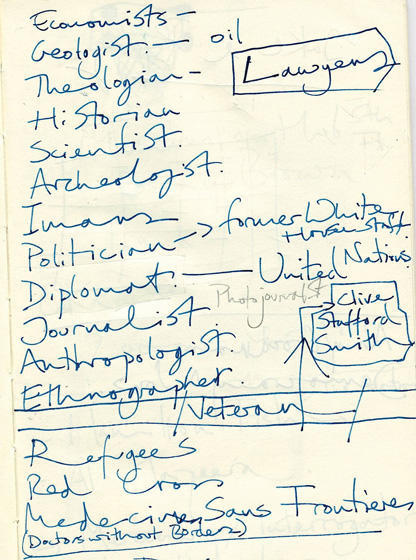 New York
Jeremy Deller: It Is What It Is — Conversation about Iraq
New Museum
February 11–March 22, 2009
On March 15, 2007, insurgents detonated a car bomb on Baghdad's al-Mutanabbi Street — home to the city's historic book market — killing thirty-eight people and wounding over a hundred. The explosion also destroyed fifteen cars, one of which will be on display at the New Museum as part of British artist (and Turner Prize recipient) Jeremy Deller's endeavor to stoke conversation about the current state of affairs in Iraq. The carcass of the automobile will serve as an artifact of the war, and of the pre- insurgency, cultural and intellectual life centered on al-Mutanabbi Street. Deller and a rotating cast of journalists, military veterans, scholars, and Iraqis will chat up museum visitors. One imagines a Baghdad teahouse transported to the secure environs of the downtown institution, the quotidian reflections on ethnic cleansing and the destruction of Iraqi society as related to visitors stopping by on their way to the museum cafe.
Or not. The title of the show suggests an effort to present, with a shrug of acceptance, the facts on the ground, as evidenced by the burned-out car. But the goal is conversation, not just communication. So how might visitors respond to this information? And is the desired event — a conversation — an end in itself? Deller and his cohorts will find out, and not just at the New Museum: the project will travel, via RV, throughout the country, exploded car in tow, stopping at the Museum of Contemporary Art in Chicago and ending up in Los Angeles at the Hammer Museum. Co-organized by New York public arts presenter Creative Time, the road trip promises to test Americans' willingness to engage in a conversation that has to some degree been shelved as the explosions have waned.
---
New York
Emily Jacir: Where We Come From
Guggenheim Museum
February 6–April 15, 2009
For Where We Come From (2001-2003), Emily Jacir asked Palestinians throughout the world, "If I could do anything for you, anywhere in Palestine, what would it be?" Then, during a sojourn in the Palestinian territories and Israel — a trip made possible by her American passport — Jacir fulfilled their requests, among them "Go to Haifa and play soccer with the first Palestinian boy you see on the street." The San Francisco Museum of Modern Art recently acquired the piece and exhibited it this winter. The work was accompanied by a jarring wall text informing viewers that "works of art can engender valuable discussion about a range of topics, including those that are difficult and contested, such as the Israeli-Palestinian conflict." It then directed viewers to the Haas Atrium, where they could find "additional information about Emily Jacir's Where We Come From, including a list of frequently asked questions."
One can assume that such directives and qualifications will be jettisoned with Jacir's solo exhibition at the Guggenheim this spring, on the occasion of her receipt of the $100,000 Hugo Boss Prize. It is strange that while one institution feels compelled to qualify Jacir's political concerns and set them at a distance, another sees them objectively as cause for celebration — but it's not inexplicable. Jacir, a Palestinian-American artist who divides her time between New York and Ramallah, doesn't mince words, which is part of the reason why visitors to the Guggenheim this spring can expect a show that will "engender valuable discussion about a range of topics."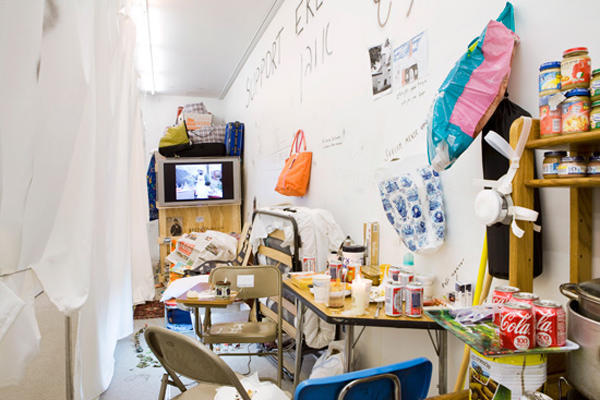 New York
Be(coming) Dutch
New Museum
January 15-March 29, 2009
Since its inception in 2007, the Museum as Hub project has taken an aspirational model of identity and art practice — the free flow of ideas across borders, supported magnanimously by international cultural institutions — and given it a semipermanent anchor on the fifth floor of the New Museum. After exhibitions in Mexico City, Seoul, and Cairo, all complemented by the New Museum's programming, Eindhoven's Van Abbemuseum took up the topic of "neighborhood" last year with a contentious foray into the realm of global capitalism and its discontents.
'Be(com)ing Dutch,' which finished its run at the Van Abbemuseum in September and will be on exhibit at the New Museum starting January 15 (along with the customary lecture and panel fare), reflects on the prosaic questions of national identity, migration, and social conflict with a welcome shot of ambivalence and occasional violence.
In the video Freedom of Expression, Lidwien van de Ven re-edits footage from the hearing at which Ayaan Hirsi Ali, the Somali-Dutch politician and feminist critic of Islam, presents her case for European Union protection against threats on her life. Hirsi Ali resigned from Parliament after it was discovered that she had misstated her name on her asylum application, and she now lives and works in an undisclosed location in the Netherlands. In the video, she is shrouded by men in dark suits, her face slipping in and out of view as they plead on her behalf.
Michael Blum's Exodus 2048 installation offers a vision of Hirsi Ali's past, as imagined from a point in the future. He takes us into the family quarters of a refugee camp for Israelis exiled to the Netherlands in the year 2048, after an explosion of the Palestinian population and the political decline of Israel's allies has decimated the country. The result is something between kitsch and trauma: Imagine Anne Frank's hideaway occupied by despairing teenagers armed with graffiti pens, clippings from celebrity magazines, and salvaged scraps of nationalist propaganda, waiting for their asylum applications to be processed.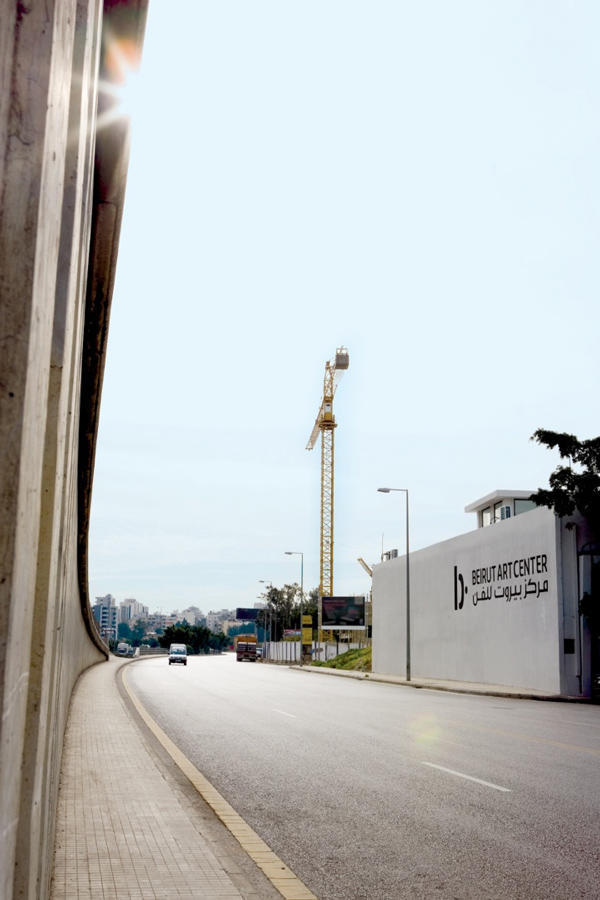 Beirut
Emerging Artists' Exhibition
Beirut Art Center
April 14–June 6, 2009
For its second exhibition to date, the newly launched Beirut Art Center will debut what will soon become an annual program devoted to emerging artists from Lebanon and the greater region. Earlier this year, a call for proposals went out near and far; a committee invited especially for the occasion will select artists based on their submitted proposals. The subsequent show will provide an important follow-up to the new nonprofit space's successful launch this past January (see reviews).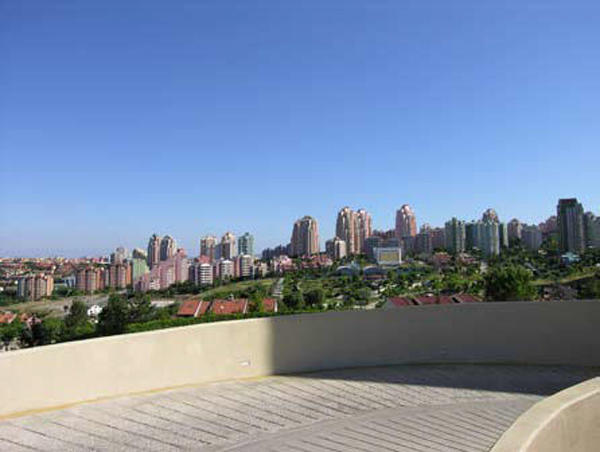 New York
Tarjama/Translation
Queens Museum of Art
May 10–August 2009
Curated by Leeza Ahmady and Iftikhar Dadi, 'Tarjama/Translation' will feature the works of artists from the Middle East and its diaspora who explore questions of "translation" through their respective practices. Encompassing a variety of media and artistic strategies, 'Tarjama/Translation' treats the multiple processes of translation as dynamic and complex, from linguistic and textual maneuvers, to the expansion of consciousness engendered by an increasingly globalized world. Aware of the loaded nature of sweeping exhibitions that take the Middle East as referent, organizers hope equally to take on the unwieldy question of how work from the Middle East is understood in a Western context. What is gained and what is lost in the process of speaking for and about the region? Ambitiousness aside, the lineup looks promising and includes, among many others, Lara Baladi, Gulsun Karamustafa, Emily Jacir, Farhad Moshiri, Wael Shawky, Solmaz Shahbazi, and Mitra Tabrizian. In addition to the exhibition program, supplemental programming will include public discussions as well as individually commissioned artist projects.