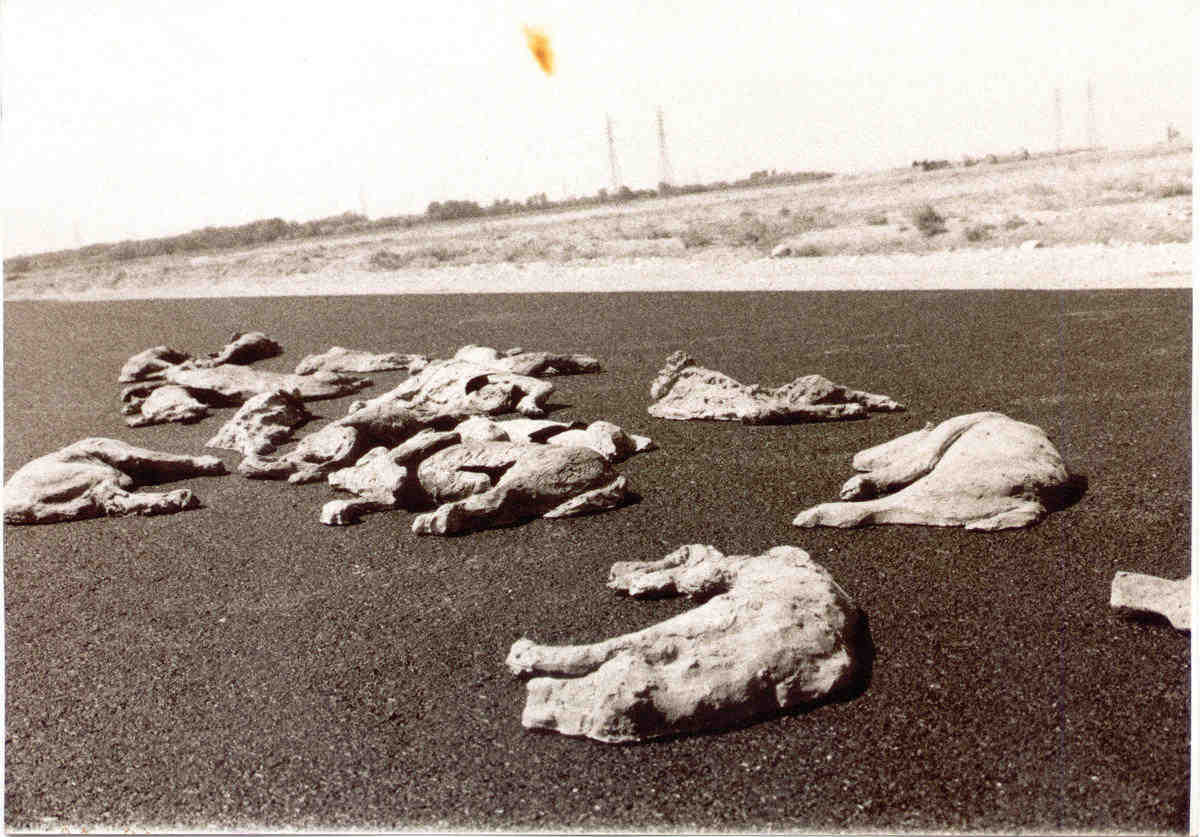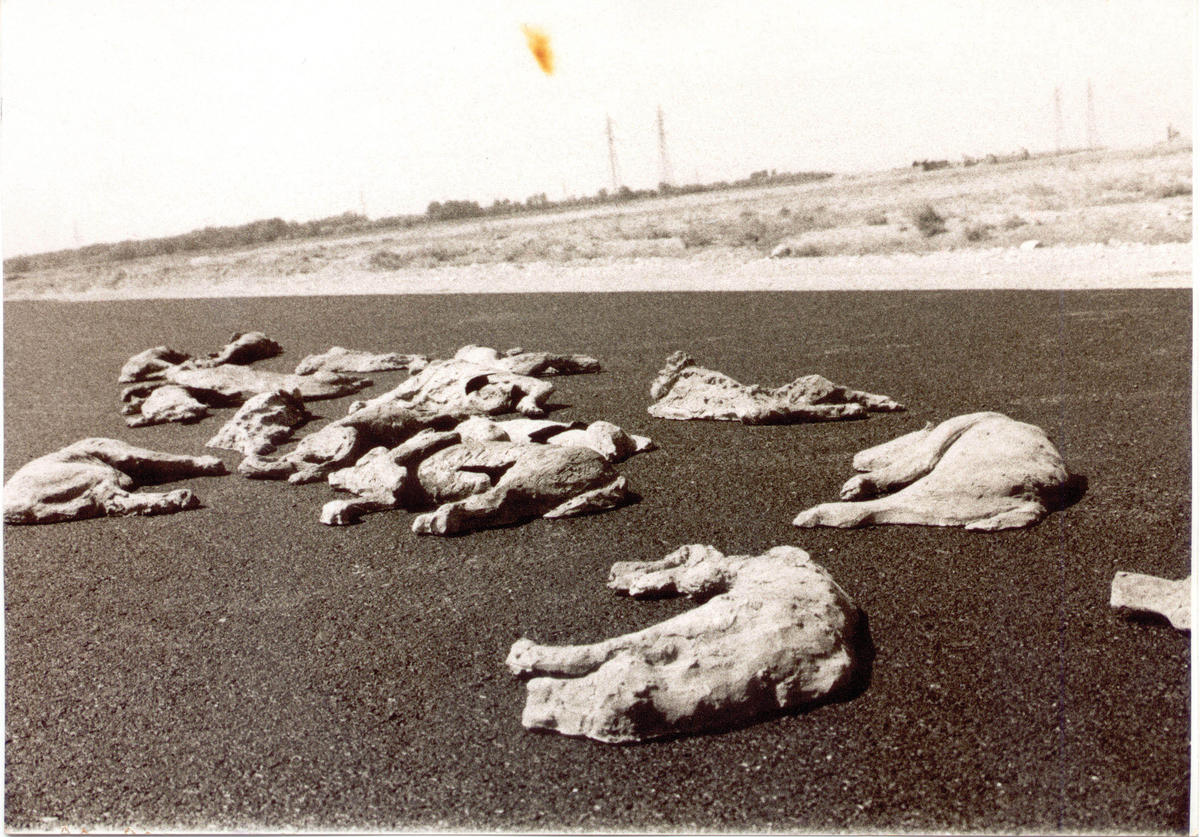 Artistic "happenings"; artists taking their practice to the streets; experimental installation; collaborations between architects, performers and video artists — this might be the stuff of the everyday in New York, Paris, London, Beirut, but in Tehran, it's radical. Over the past decade, groups of established and upcoming artists have begun taking their art out of the city's clutch of contemporary galleries and displaying it instead in houses due for demolition, on the back of trucks circulating the expressways, in old military depots, and in half-built high-rises.
For Tehranis, these public exhibitions are a first. "This is definitely a new movement," confirms Bita Fayyazi, a well-known installation artist and one of the main instigators behind the public art events. "We've had street theater, passion plays, acted out in the streets before and after the Revolution, but no such thing in the visual arts."
Dr. Sami-Azar, director of the Tehran Museum of Contemporary Art and a highly influential figure in the city's art scene, says the impact of these events should be seen "against a background of non-issue-based art advocated by a modernist preoccupation, which tends to avoid subject matter. It has come as a surprise to many that art is now playing a key role in the intellectual growth of the society and in enlightening the people," Sami-Azar told Bidoun. "[The projects] proved that art can remarkably contribute to the quest of our people for social reforms and civil society. Their popularity also rests with the initiative they have taken to bridge the gap between artists and the people that existed for decades — ever since modern art arrived in Iran."
Fayyazi dates the first experimental public art project in Tehran back to 1992, when a group of then younger artists — Mostafa Dashti, Sassan Nasiri, Farid Djahangir and the late Shahrokh Ghiasi — took over a five-storey house, producing original work for exhibition. (A second show in a dilapidated villa in north Tehran, organised by the now US-based artist Houman Mortazavi, took place in 1994; though this is described as impressive, it was unfortunately not documented or reviewed.)
Three years later, in 1997, Fayyazi set up 150 terracotta dogs on a stretch of empty road near Tehran. Lying prostrate as though crushed or run-over, they formed part of an installation project (created with Mostafa Dashti), appropriately titled Road Kill. The dogs were consequently buried in a mass grave — over which a high-rise has now been built — and the process was documented on video.
Media Farzin, formerly the arts correspondent for Tehran Avenue, a dynamic online magazine, describes Fayyazi's projects — the artist's other works include the display of thousands of outsize ceramic cockroaches — as "the earliest installation pieces shown in Tehran." They had, Farzin continued, "a kind of vision and social awareness that was new to an art world that evolved around painting and sculpture neatly contained within their traditional boundaries."
1998's Art of Demolition made the new, collaborative trend explicit. Farid Djahangir and Sassan Nasiri — who had participated in the 1992 project — got together with Fayyazi, Atta Hasheminejad and well-known painter Khosrow Hassanzadeh to turn another abandoned house, near the Hosseinieh Ershad Mosque, into a studio-gallery. At the exhibition, the group was stunned when thousands of Tehranis queued to see the work. It was by far the most popular exhibition in Tehran that year.
"The collaborative quality of these group shows was something of a first," Farzin commented to Bidoun. "I think it still sets a precedent for many of the new 'artistic groups' and multimedia projects forming today." The studio situation was clearly illustrated by the work: Hassanzadeh's stark paintings of falling objects, indicative of an unravelling domestic world, and Djahangir's melancholic canvasses were complemented by Fayyazi's sculptures of men and women walking, falling, gesturing. The space was duly razed to make way for yet another high-rise, and the artworks — including Fayyazi's installation of hundreds of quizzical sculpted crows atop old fruit crates — went with it. Film director Maziar Bahari recorded the process in his sympathetic documentary Honar-e Takhrib (Art of Demolition).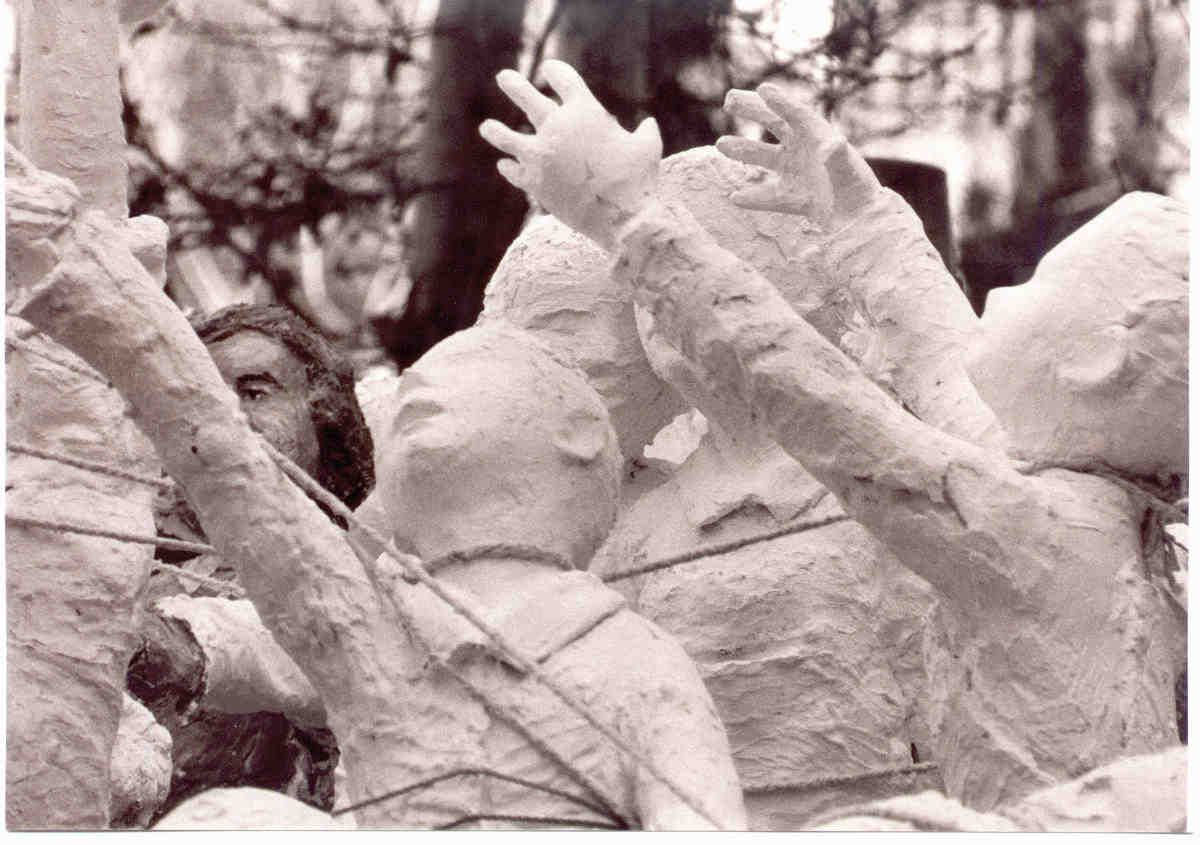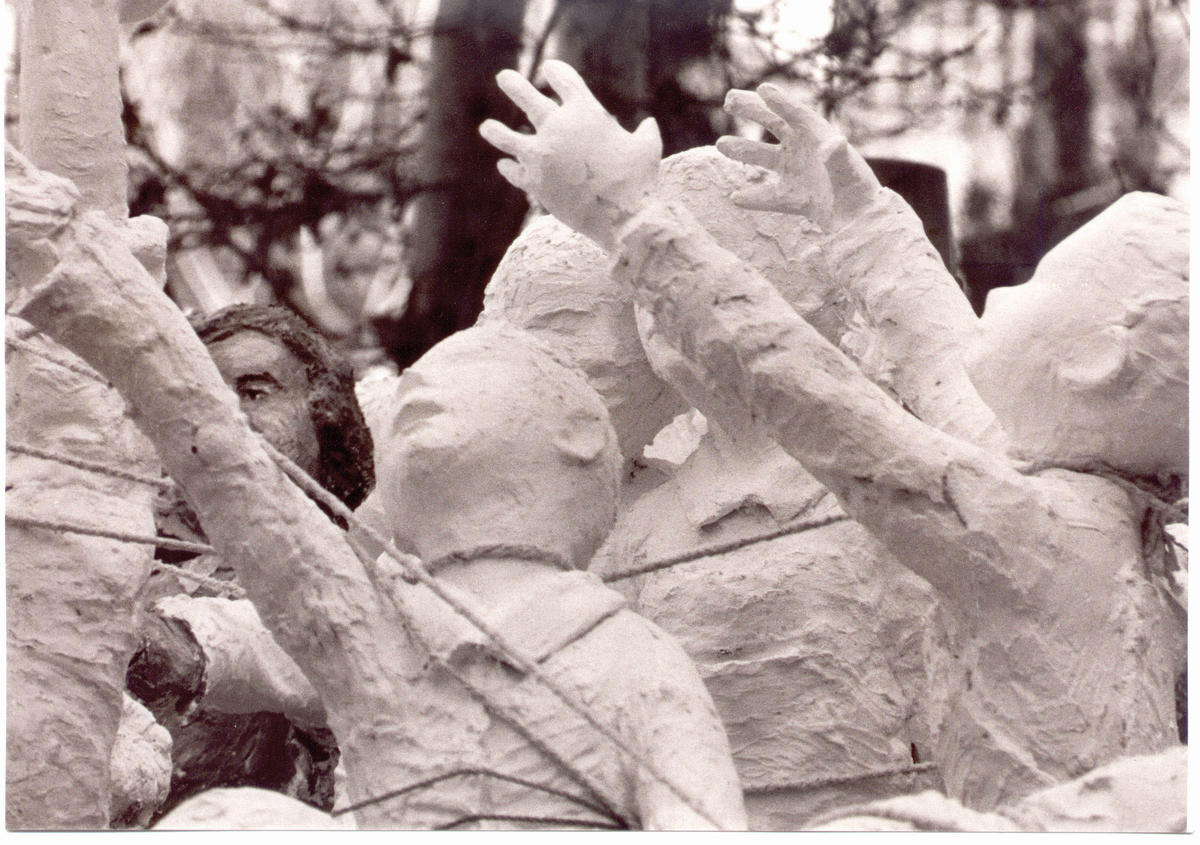 In January 2000, Hassanzadeh, Fayyazi, and Bahari were joined by photographer Sadegh Tirafkan in a more potent reference to the fabric of the city. Again a multimedia show, Children of the Dark City took on Tehran's shockingly heavy air pollution. Fayyazi's groups of expressive, sculpted children appeared to both play and plead; the other works were darker in sentiment — much like the cavernous "gallery," a ramshackle three-storey house on Nedjatollahi Avenue. Once owned by a wealthy Zoroastrian businessman, it had been abandoned since the Revolution and was loaned to the artists for two months by the Tehran Municipality.
Then one day in May 2003, Fayyazi and a group of younger, upcoming artists took their art even more public, setting off from their studio at 11 a.m. — just after receiving the permit, in the knick of time — in two open-backed vans posing as mobile exhibition venues. The tour of Tehran's busy streets lasted all day, with stop-offs every 45 minutes. "Our sculptures were experienced by passers-by, school children, drivers, shopkeepers, road-sweepers, tramps — a cross-section of Tehran society," explained Fayyazi. "We wanted to reach out to new viewers outside the studio, gallery and museum spaces, besides the usual elite who frequent art exhibitions."
Fayyazi pointed out that it's only in the last few years that artists have started to have a voice, aided by these high-profile public exhibitions. "And the younger generation of artists are doing quite astonishing projects entailing mainly social issues which is quite courageous of them," she adds.
Sohrab Mahdavi, editor and founder of Tehran Avenue, describes the kind of artistic co-operation of the On the Road team as "unique to the Iranian culture." "It seems to me that such collaborative efforts are not few in the city of Tehran," she told Bidoun. "During the war and shortages, people had to spend a great deal of time together, learning how to accept each other's ways and eccentricities."
In August of last year, Neda Razavipour and Shahab Fotouhi came up with Census, described by Tavoos magazine as "unprecedented" — the first environment art project in Tehran. They filled the bare windows of a half-built high-rise off the busy Chamran expressway with 70 back-lit portraits of Tehranis, which randomly lit up and faded away.
Media Farzin, now a curator based in New York, included documentation of the event in "Turning Points," an exhibition at Columbia University earlier this year. "Census and public art projects of that kind can have an immense impact on Tehran, and I think they are very important in bridging the divide between public and private spaces, or at least calling attention to it," she told Bidoun. "Artists work in relative isolation and large groups of the urban population are unaware of thoughtful inquiry happening among artists."
In this year's For Bam, Tehran's experimental, collaborative movement stepped back inside, this time to a grimy former military depot. Reviewed in this issue of Bidoun, the charity exhibition involved around 20 artists and performers.
But lest this all appears too simple, it's worth remembering that the permissions required to stage projects like this can be overwhelming, and, as Media Farzan points out, the funding can be "daunting in a country where art funding is rare and grants non-existent."
Artist and gallery owner Fereydoun Ave, whose "shopfront" exhibition space, 13 Vanak Street, has been a key instigator and supporter of contemporary art projects in Tehran. Asked about the development of public art projects, their impact on the Tehran art scene, and their relationship with the established art scene, the maverick gallerist merely replied: "Against the odds. Like water off a duck's back. With a touch of indigestion."
This article was based on interviews with Bita Fayyazi. Thanks also to Media Farzin, Sohrab Mahdavi and Fereydoun Ave. See the review of "For Bam" in the Reviews section of this issue of Bidoun. www.tehranavenue.com includes news and reviews of exhibitions in Tehran, as does art magazine Tavoos (www.tavoosmag.com).