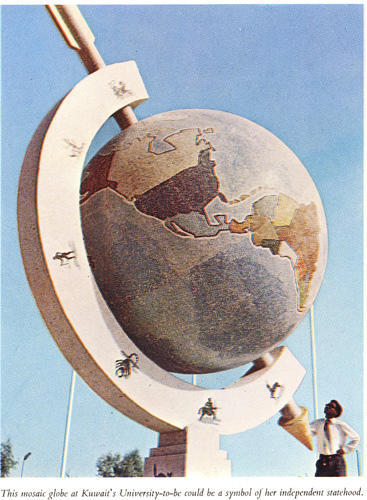 … the Customs and Ports Report, the Police magazine, the Army magazine, publications issued by most other Ministries, account books, rolls of registered letter stickers, schoolchildren's lateness-passes and every other conceivable form of official printing.
The Voice of Kuwait, Kuwait's national broadcasting service, is a loud and far-carrying voice which will soon have world-wide strength. And strength of voice is important in Arab broadcasting, for millions of listeners twiddle the knobs of their radios until they pick up the clearest signal; Kuwait is making certain, with the purchase of the most up-to-date equipment, that her voice is not neglected by Arab listeners.
It could make Kuwait the loudest Arab voice over an area covering Alexandria, Beirut, Northern Iraq, Afghanistan, Karachi, the Gulf towns and round to Aden, Riyadh and Mecca.
All text and images from Kuwait Today: A Welfare State. Nairobi: Quality Publications, 1963