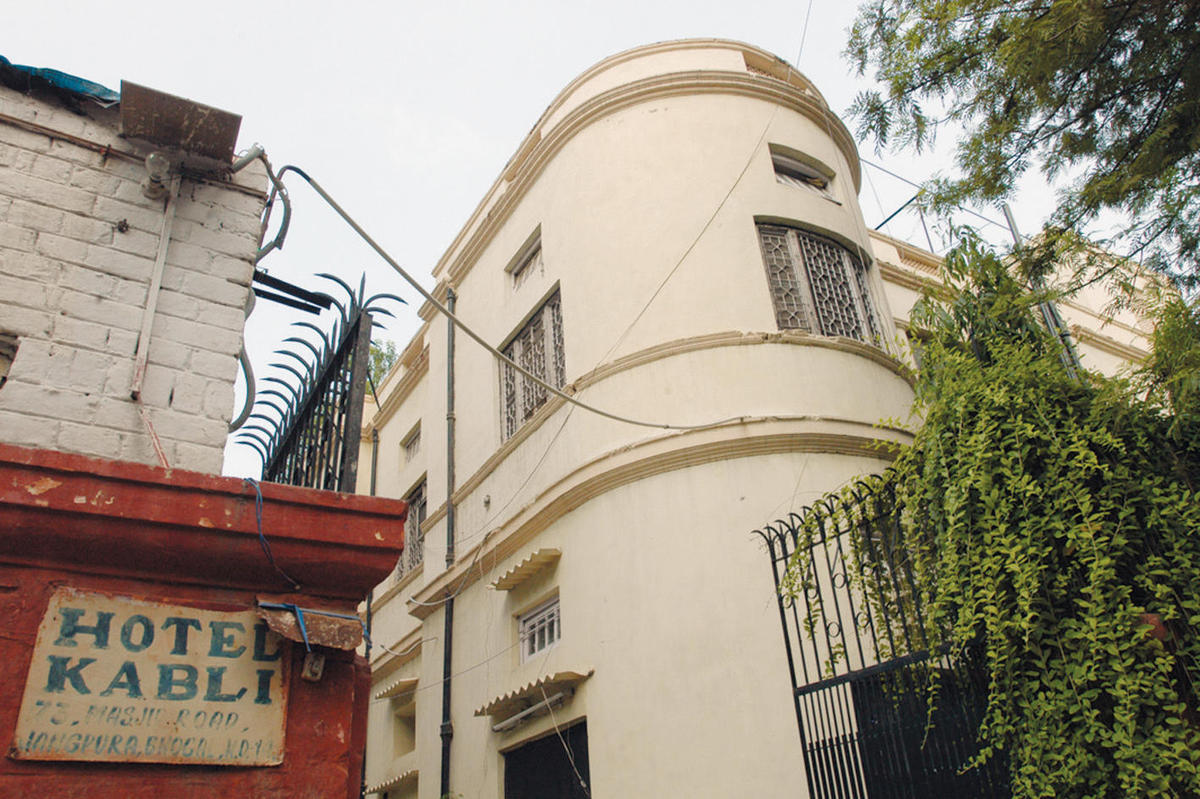 Hotel Kabli
73 Masjid Road
Jangpura Bhogal
New Delhi, India
0091 24374603, 24371482
Hotel Kabli is a ramshackle colonnaded bungalow tucked in the crowded folds of Delhi's history. Behind it lie the congested lanes of Bhogal, one of the many pastoral villages engulfed by the postcolonial growth of the capital. Before it lies the restless (and increasingly vertical) real estate of Jangpura Extension, originally a refugee colony carved out of fields and scrubland to accommodate some of the thousands of Hindu and Sikh citizens who fled east from Lahore in 1947, as similar numbers of Muslims were driven west. Trains run past the hotel's garden wall all day, the lament of their horns an almost ludicrously sentimental reminder of the histories of exile and homecoming that swirl around the stillness of this unlikely half-acre of New Delhi.
I know the Kabli is an anachronism, but I forget that as soon as I step through its gates — even when I see the Farsi Western Union sticker on the reception window, even when Inder Bir Singh, the young Sikh proprietor who has just shaken my hand, turns to address one of his guests in gentle, fluent Dari. And even though it's now easier to get a macchiato doppio in this city than it is to come by a glass of the pale green Afghan tea that has just been placed before me.
Just entering these grounds, just the scent of this tea, is all it takes to remind me of the forgotten history that binds Delhi and Kabul. Not the history lesson of when the Mughal emperor Babur took Delhi (1526), or the Sikh Maharaja Ranjit Singh reached the gates of the Khyber Pass (1835), but of the ties that bind ordinary Afghans and Indians. Inder Bir's grandfather, Pritam Singh, built this bungalow in 1947. "We had our own kiln, and every brick in the building is stamped PSK," I'm told. K for Kabli, because Pritam Singh came from Kabul, where the family had lived — and continued to live — for generations.
Pritam Singh came to Delhi in 1920 to live with an uncle and receive an "English medium" education. He stayed on to make (and lose) a fortune as one of the contractors who built New Delhi. In 1942 he won a contract to build the runways of Palam (now Indira Gandhi International) Airport. He built the Bhogal bungalow as a guesthouse for his employees but came to live in a corner of it when he lost most of his money in a bank collapse — one of the minor casualties of the 1947 Partition of India. He returned to Kabul in 1969 to visit his dying mother, and his relatives convinced him to set up a guesthouse for Afghans in Delhi.
The hotel has thrived ever since, despite — or perhaps because of — the turbulent fortunes of Kabul. "Ninety-nine point nine percent of our guests are from Afghanistan," says Inder, as his father Sukhbir Singh shows me the bulky ledger recording their Afghan guests: 2796 guests between May 23, 2002 and August 8, 2006.
Sukhbir and Inder Bir grew up in the Hotel Kabli. Although the last of the clan fled Kabul after the Taliban takeover in 1996, Inder Bir visited the Afghan capital in 2004. "I was overwhelmed," he tells me. "I grew up with these people, and in Kabul news spreads fast. I met so many of our old friends." "Hotel Kabli is world famous in Kabul," I quip, and Inder Bir smiles.
On the day of my visit, all twenty rooms are occupied by Afghan families, mostly long-term guests. Some come for medical treatment, others to pass the winter. The rooms are clean and simply furnished. I'm disappointed to see false ceilings obscuring the high eaves, but I'm told they make the air conditioners more effective. AC is a luxury in a hotel where rooms cost just Rs 350–800. But I prefer the simple pleasures of the lawns and the catering, which is mostly self-catered, supplemented by two daily deliveries of fresh and deliciously hot two-foot naans from the Afghan bakery in nearby Lajpat Nagar.
As I leave, I'm introduced to one of the guests, Maliha Niyazi. She's here to enroll her son in a local school, for an English medium education. When I hear she's come from Minden in Germany, I'm as overcome as Inder Bir was in Kabul. My grandfather ran a hotel — Hotel Friese — not too far from Minden. How does she like the Kabli? I ask her in German. "Ganz toll," she says. ("Super!") Hotel Kabli is world famous — and not just in Kabul.